Zangetsu Becomes an Enemy
Talk

0
1,875pages on
this wiki
Zangetsu Becomes an Enemy is the two-hundred thirty-third episode of the Bleach anime.
Muramasa releases Zangetsu and Ichigo fights him as Hollow Ichigo begins to take control.
Summary
Senbonzakura looks out across the Seireitei in silence until Hōzukimaru and Ruri'iro Kujaku appear to try and start a conversation. Ruri'iro Kujaku is annoyed by Senbonzakura's quietness, but is reminded by Hōzukimaru who their real enemies are, and the two Zanpakutō then talk about how much they despise their masters.
Ichigo is shocked to hear that Muramasa is actually another Zanpakutō Spirit. Muramasa tells Sode no Shirayuki to leave, which she does. Ichigo attempts to run after her, but stops when he realizes that Muramasa knows who he is. After a brief exchange, Muramasa states his intention of freeing all the Zanpakutō Spirits, revealing that he is the one behind everything. He then explains more about a Zanpakutō and his powers, topping his whole explanation by saying that the spirits only left their masters because of the latter's ignorance. Rukia struggles to get up and attempts to argue with Muramasa, though he shrugs off her words and tells her that her duty is fulfilled. Ichigo realizes that Rukia was only being used and angrily says he'll finish off Muramasa on his own, and the two leave Rukia to rest.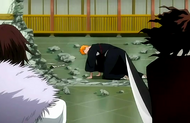 Away from her, the two begin clashing until Muramasa starts to cast an illusion, to which Ichigo strikes first with his Getsuga Tenshō. Muramasa then disappears. Ichigo then starts feeling the effects of Muramasa's illusion and is paralyzed on the ground. Muramasa reappears and stomps on Ichigo's hand, causing him to let go of Tensa Zangetsu. Muramasa performs an incantation and reaches into Ichigo's soul and pulls forth Zangetsu's spirit. Ichigo reverts to his Shikai and sees Zangetsu besides Muramasa. Zangetsu charges at Ichigo. The two clash briefly, but Ichigo is easily overwhelmed. Zangetsu then swings a Getsuga Tenshō at Ichigo.
In the Fourth Division Barracks, the medics start working to help their patients and Unohana stares at a defeated Komamura. Isane arrives and informs her captain of a field report from the Twelfth Division. Lieutenant Kurotsuchi informs Unohana and Isane that Captain Kurotsuchi performed tests on himself earlier and concluded that the Zanpakutō have become separate entities. The news worries Unohana and Isane asks Nemu what will happen if a Zanpakutō is broken. Nemu states that it is possible that the Zanpakutō will be lost forever and then asks if Captain Unohana can provide Mayuri with data on the Shinigami's treatment within the barracks. Unohana agrees to help Mayuri with the best she can. A new field report arrives, this time of Rukia's and Ichigo's encounter with Sode no Shirayuki and Muramasa.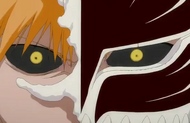 Zangetsu's Getsuga Tenshō is fired, but Ichigo remains unscathed, as his inner Hollow begins taking over. A Hollowified Ichigo then starts attacking Zangetsu and gains the upper hand against him. After Ichigo throws Zangetsu aside, Muramasa asks who the new Ichigo is and is told by Zangetsu, who reappears, that he is actually witnessing the other soul inside of him. Zangetsu and Hollow Ichigo both use Getsuga Tenshō creating an explosion. They hurry off and resume their battle near a column of massive pillars. Zangetsu lands a deep cut on Hollow Ichigo, but with his regeneration abilities, not only does the wound heal, but the injured part of his body transforms. Shortly thereafter, Hollow Ichigo takes over and assumes his full Hollow form.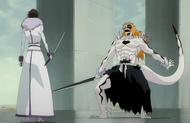 Hollow Ichigo begins to overwhelm Zangetsu, who is struggling to keep up with the furious attacks. The Hollowfied Ichigo knocks Zangetsu back and fires a Cero at him. After seemingly defeating Zangetsu, Muramasa tries to blindside him, but the attack is ineffective due to the instantaneous regeneration. Hollow Ichigo turns to face Muramasa, but before he can start on Muramasa, Ichigo regains control. Unwilling to let his inner Hollow have control of his body, he manages to rip off the mask. The full Hollow form then breaks apart and Ichigo emerges as a Shinigami. Ichigo, exhausted and confused, collapses to the ground.
Shinigami Illustrated Picture Book
Iba is asked why the Shinigami Women Association gets to go to the beach and wants to enjoy his romantic adventure this summer. Hisagi agrees with Iba and imagined himself at the beach with Rangiku wearing a bikini. Iba says he wants to go to the beach right now, but Kira says that they'll have to fill out a bunch of forms. Both Iba and Hisagi say that they'll finish it in a day. After much hard work, they finally went to the beach, but since the weather was bad, Kira states that it has always happen to them.
Characters in Order of Appearance
Fights
Powers and Techniques Used
Techniques used:
Shinigami techniques used:
Hollow Techniques:
Zanpakutō released:
Shikai:
Bankai: