Yumichika Ayasegawa vs. Ruri'iro Kujaku
Talk

0
1,878pages on
this wiki
Yumichika Ayasegawa vs. Ruri'iro Kujaku
Combatants
Powers & Abilities
Damage Sustained/Casualties

Yumichika is uninjured, but exhausted.

Ruri'iro Kujaku is defeated.
Yumichika Ayasegawa vs. Ruri'iro Kujaku is a fight taking place in the Zanpakutō Rebellion. It focuses upon the conflict between the 5th Seat of the 11th Division and his Zanpakutō spirit.
Prelude
As the Zanpakutō spirits are surrounded by the Onmitsukidō, Ruri'iro Kujaku agrees with Hōzukimaru's observation, blaming their current predicament upon Captain Byakuya Kuchiki and Senbonzakura's failure to keep things in control. As Kazeshini states that they should fight, since they are all present, he agrees once more, moving out, cutting down several of the Onmitsukidō in his path. Yumichika leads Ruri'iro Kujaku to a rooftop far away from the main battlefield, as they exchange pleasantries.[1]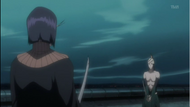 Ruri'iro Kujaku states that he is surprised, that Yumichika was able to recognize his form on the spot. Yumichika reveals that his appearance annoyed him, calling him Fuji Kujaku. He tells Yumichika that he's a dead man should he refer to him by that name again. Ruri'iro Kujaku praises Yumichika's physical appearance, but he believes that his Zanpakutō is making fun of him. Yumichika asks him whether he knows why he brought him away from the others, to which Ruri'iro Kujaku states that he doesn't want to reveal his powers to the other Shinigami. Yumichika reiterates that he prefers to fight that way, calling him Fuji Kujaku once more. In response to this, Ruri'iro Kujaku repeats his warning to him.[1]
Battle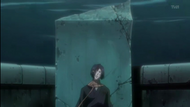 Yumichika pants heavily, as the pillar above his head explodes. Ruri'iro Kujaku confronts him, stating that his bark was worse than his bite. He tells him to be quiet, charging at his Zanpakutō promptly, before he is pushed back across the rooftop. Yumichika tells Ruri'iro Kujaku that what he has done is unforgivable, but reasons that he doesn't need forgiving. Ruri'iro Kujaku tells him that prolonging their fight is meaningless, stating that he will spare his life if he surrenders now. [2]
However, Yumichika refuses to admit defeat, causing his Zanpakutō spirit to sigh. He asks Yumichika to sense the Reiatsu surrounding them, informing him that Ikkaku's Reiatsu disappeared moments ago. Yumichika counters, stating that Hōzukimaru's Reiatsu disappeared also, but Ruri'iro Kujaku assumes that he was matching the fighting style of his opponent, as he comments upon the similarities between Ikkaku and Hōzukimaru. He, however, states that he is nothing like him, and does not fear releasing his true power.[2]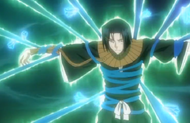 Yumichika attempts to stop him, but it is too late, as Ruri'iro Kujaku releases his Shikai, with the vines proceeding to ensnare a surprised Yumichika, crashing into the edge of the rooftop. Ruri'iro Kujaku taunts him, asking him what it is like to have his power used against him, as he groans in pain, telling him that he would be kicked out of the 11th Division if his true powers were ever revealed. Angrily, Ruri'iro Kujaku throws him across the rooftop, causing Yumichika to lose hold of his katana.[2]
Ruri'iro Kujaku berates his former master's belief in the 11th Division, as Yumichika screams out in pain. From afar, Ruri'iro Kujaku senses the defeat of Wabisuke by the hands of the 11th Division captain, Kenpachi Zaraki, to which he commends Kenpachi's level head. Ruri'iro Kujaku divulges that, despite being on different sides, they are too similar in characteristics to ignore. He states that it is impossible for Yumichika, an individual who doesn't believe in his true abilities, to defeat Ruri'iro Kujaku. He tells Yumichika that he is putting an end to his suffering, as the flowers begin to grow on the vines.[3]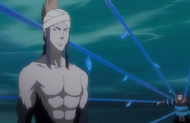 Ruri'iro Kujaku says farewell to his master, as Kenpachi once again releases tremendous amounts of Reiatsu, which they both notice. However, Ruri'iro Kujaku explains that his ability to detect Reiatsu diminishes with one's Reiatsu, and as such, will not be able to sense it for much longer. As the flowers bloom, Ruri'iro Kujaku tells his master to wilt away beautifully, as Yumichika resolves himself to defeat his Zanpakutō. The Shinigami releases more Reiatsu, as the flowers bloom more quickly. Ruri'iro Kujaku is surprised at this, telling him that his death will come quicker now.[3]
Yumichika agrees that that is the case, releasing Hadō #31 Shakkahō, releasing his right hand from the vines. He proceeds to cut the remaining vines from his appendages, as he pants heavily once again. Yumichika and Kenpachi both state that they will fight to the very end. Yumichika keeps his distance from Ruri'iro Kujaku, realizing that he is unable to utilize his Shikai. He contemplates upon the ironic nature of his situation, that he requires the powers of his Zanpakutō to defeat Ruri'iro Kujaku.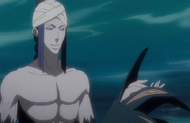 As if he heard this, Ruri'iro Kujaku permits Yumichika to use his abilities, who refuses outright. Ruri'iro Kujaku wonders whether his strength is sufficient to defeat Yumichika on equal levels. Yumichika stands up, stating that, if he doesn't use his abilities, then one would assume that he lacks confidence in his own strength. As a result of this, Ruri'iro Kujaku decides to use his powers to defeat Yumichika, releasing his Shikai, as the vines proceed towards him once again.[3]
However, Yumichika uses Bakudō #4 Hainawa, proceeding to bind the vines, much to the surprise of Ruri'iro Kujaku. He tries to pull his vines away from the Kidō spell, as Yumichika appears from behind him with Shunpo. He tells Ruri'iro Kujaku that the fight is over, thanking Ruri'iro Kujaku for staying true to his egocentric values, and that, if he had strayed from them, Yumichika would never have had the chance to defeat him. They comment upon their similarities again, as Ruri'iro Kujaku concedes defeat. [3]
Aftermath
Yumichika states that he would rather die than have someone witness the true powers of his Zanpakutō, saying that, if he cannot use Ruri'iro Kujaku's abilities, then he has no choice, but to win through sheer willpower. He states that those are his true aesthetics, as he collapses alongside the sealed sword of Ruri'iro Kujaku.[3]

References