---
SHAMELESS PLUG TIME
---
We now have an official Facebook page, where we'll be posting these blogs, the podcasts, and presumably anything else interesting that happens, so feel free to begin following said page so we can further clog your feed. We've also got a Youtube channel, so if you subscribe to that you'll have another way of knowing when we get these podcasts up, as well as an easy way to access the older ones.
---
THIS CONCLUDES SHAMELESS PLUG TIME
---
Song to listen to while reading this chapter: "Tyrant of Servant" from the JoJo's Bizarre Adventure OST
Quoth der Schifmeister, "THE HYPE TRAIN IS NO MORE. IT HAS CRASHED AND BURNED IN A FIERY PIT OF DEATH. ALL ABOARD THE HOLY FUCKING GODDAMN YES TRAIN."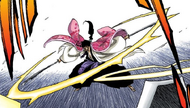 So we start off with Shunsui fleeing like a proper gentleman. Apparently, despite having a hole in his shoulder and left side, he's still able to move and run because he's so damn tough, but this doesn't stop Lille from firing more at him during his monologue. Since he can see it coming this time, Shunsui dodges the shots and goes inside one of the buildings, which actually has stuff inside, to my surprise. However, Lille teleports in front of him Aizen-style and is all "can't touch this", but Shunsui can only wonder if he can stand up to A MOTHERFLIPPING LATE 70s HADŌ SPELL (spoiler alert: he can).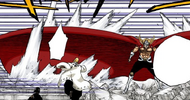 Meanwhile, the other, less relevant Shinigami keep moving toward the tower, but they're interrupted by the sudden appearance of Gerard, who, in his infinite strength and hamminess, jumped from one branch of the city to another in order to confront them. Leveled some buildings in the process, no less. While Gerard rambles about how they have to beat him in order to keep moving (amusingly not even listening to them), Renji binds his arm while the others try to keep going, but Gerard flares his cape out (I swear he made it bigger somehow) and tells them to come at him all at once because even a miracle wouldn't save them in a 1-on-1 battle. Hue.
Back to Shunsui, who's ended up back where the Shinigami first entered the realm. Apparently, the Kidō did NOT harm Lille, but now Shunsui's far enough from everyone else for...something. He apologizes to Nanao for possibly getting her caught up in this as well before he holds out his swords and OH
OH MY GOD
OH GOD YES
BANKAI
KATEN KYŌKOTSU
KUROMATSU SHINJŪ
AAAAAAAGGGHHHHHHHHHH
*ahem*
Sorry about that, my spirit pierced the heavens for a minute there.
But yes, Shunsui has FINALLY gone Bankai, and the initial spread of it alone looks very creepy. The name apparently means something like "Black Pine Lovers' Suicides", which explains the title when coupled with the existence of this Japanese play. No goddamn idea what it could do, but I cannot wait for next week. Time to use King Crimson, I suppose.
Thoughts on this chapter?
Ad blocker interference detected!
Wikia is a free-to-use site that makes money from advertising. We have a modified experience for viewers using ad blockers

Wikia is not accessible if you've made further modifications. Remove the custom ad blocker rule(s) and the page will load as expected.