In a post by anime news network, the new Bleach moved named Bleach: Jigoku-Hen(Bleach: Hell Chapter) which will be released on December 4th. The article states this "The official website of the fourth Bleach anime film has launched on Monday with the movie's title and release date: Bleach: Jigoku-Hen (Bleach: Hell Chapter) on December 4. According to the website, the Jigoku-Hen subtitle signifies that the story takes place in a place unvisited by Tite Kubo's original manga, which will celebrate its 10th anniversary next year. As Eiichiro Oda did with last December's One Piece Film Strong World, Kubo is personally overseeing the production of the new Bleach film.
Sales of advance passes bundled with nine exclusive double-sided character posters will start on July 13. The Naruto Shippūden: The Lost Tower anime film will open on July 31 with a trailer for Bleach: Jigoku-Hen.
Source: Saishin Anime Jōhō" So guys if its by Kubo, I guess technically the movie is cannon(sort-of) I can't wait to see it! Here is some gorgeous posters that will be available if you pre-order tickets for the movie. Ulquiorra, Gin and Ichigo Oh My! Plus Rukia looks beautiful!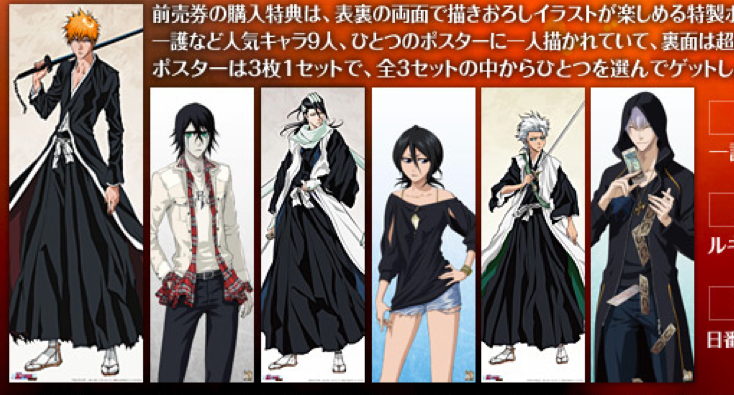 --Lemursrule 03:39, July 13, 2010 (UTC)
Ad blocker interference detected!
Wikia is a free-to-use site that makes money from advertising. We have a modified experience for viewers using ad blockers

Wikia is not accessible if you've made further modifications. Remove the custom ad blocker rule(s) and the page will load as expected.