Please consider helping to improve Bleach Wiki:
Can you help with one of the many tasks that need doing here? Some of the main ways you can help out are listed here. Thanks!

This will be really short but out of the Blue! There was a trailer released today that the Bleach Ps3 game will be released this August (Just in time for my birthday) in North America under the name Bleach: Soul Resurrección. I was in complete and utter shock when this came out! This is 100% I am so excited that I will buy a Ps3. Here is the trailer. --Lemursrule (talk) 00:02, May 14, 2011 (UTC)
Update
Here is the video of the NIS event and more details about the game and Bleach's popularity. It's still VERY popular despite what people tell you. The speaker ( I forget his name) said the mission mode is really difficult, it took the guys at NISA about 100 hours to beat it!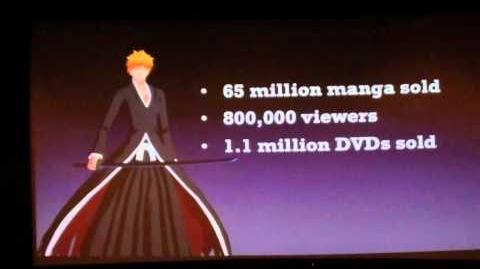 --Lemursrule (talk) 20:09, May 14, 2011 (UTC)
Update
Here is a new Japanese Trailer for the game. The graphics are absolutely gorgeous, it looks like you are in the anime, a vast improvement over the heat the soul series. This is kinda off-topic, but unmasked looks awesome, a must buy!
--Lemursrule (talk) 00:39, May 27, 2011 (UTC)
Update
New Japanese TV Spot for the game. --Lemursrule (talk) 00:25, June 20, 2011 (UTC)
Ad blocker interference detected!
Wikia is a free-to-use site that makes money from advertising. We have a modified experience for viewers using ad blockers

Wikia is not accessible if you've made further modifications. Remove the custom ad blocker rule(s) and the page will load as expected.