Favourite Characters
Well this is just a list of my absolute favourite characters, and only the ones that really stick out for me. I do like others, but then that'd make my list way too long. Might add some extra ones later, but for now I'm keeping it to these five.
Hollow Ichigo
I love this guy. He's insane, and that's what makes him fun. Never seem's to take anything serious and his fights are always enjoyable to watch because of their fast pace and his tendency to go wild. While I did think the first hollow form he produced was a little strange, the one he pulled out to fight Ulquiorra was as my mate would say, brutal. I really would like to see him play a much larger part in Bleach as so far all he does is give Ichigo a mask and have maybe a chapter or two as a full hollow before dissapearing for a few years. He really does have what it takes to be a main character, and if he and Ichigo worked together for once, well I'm just curious what would happen.

Shunsui Kyōraku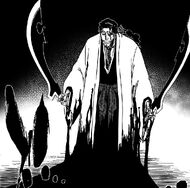 Laidback and carefree like me. This guy knows what I'm talking about! With a flashy outfit and a killer Zanpakuto this guy was on my top characters list from the word go! To be honest I can't think of much to say about him, I honestly like everything about him. Though the way he looks at someone when he's about to cut them, like in Starrk's case, he did seem kind of creepy which I feel leaves his character to be quite mysterious. I think I read somewhere the Tite Kubo once said that him and Unohana are the two captains who are not what they seem. Plus his bankai being something that shouldn't be seen by large amounts of people, I actually take that as something that has abilities other people may not be comfortable knowing about, not that seeing it will affect people in the wrong way like Aizen's shikai.

Ichigo Kurosaki
Okay, okay, main character I know. I really just agree with his whole, protect my friends to the death whole concept and his speed based bankai makes for some really interesting fights. Plus without him there'd be no Hollow Ichigo and well that would just be sad if he didn't exist. This guy is determined to get his way, but he's smart enough not to go claiming he'll save EVERYBODY, he knows his limits even if he pushes them all the time.

Kenpachi Zaraki & Yachiru
Kenpachi is the anti-hero everyone loves. He's always looking for a good fight while trying to do the right thing at the same time. With his super-side-kick Yachiru in tow any situation with this guy is going to turn wild. An interesting background and great potential for a future story plot, Kenpachi is going to be around for a long time. I wouldn't be surprised if at some point in the story he ends up learning his Zanpakuto's name and potentially bankai only for Soul Society to label him a liabiltiy to their safetly and therefore banishing him resulting in a spin-off of events as either he's on the run or Ichigo tries to prove him as more of an asset then liability. Oh well, only Tite Kubo knows what's going to happen, though then again even he doesn't plan too far ahead!

Urahara Kisuke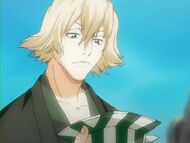 The ultimate mystery man who has an answer for everything, except himself! A Zanpakuto that is speculated to be based in the manipulation of blood is a unique kind of blade, perhaps inspired by the Muramasa blade of old. Really though this guy is hilarious though, while he's serious when it's something big like Aizen going god, if it's anything less then he just can't be taken seriously. The whole time when he was training Ichigo was just making smartass comments before getting elbowed in the face or almost blown up.
Motivational Posters
Just a few motivational posters I found, thought I'd put some up and see what people think of them.