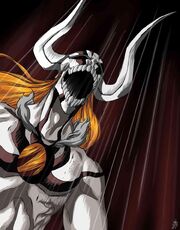 Welcome to Oblivion
Call me Ming Ling, since I prefer to keep my true name a secret. I also go by "Sinful Serpernt" since I have taken a liking to the mouthless toju of 261 of the sword beast filler arc. Now why am I here you ask? Well I'm a huge fan of the series and adore the plot. Sure it drags at some points with the fillers, but it makes up for it with the epic fights and amazing dialect and attacks.
Another favorite entity of mine happens to be Zangetsu, hollow albino form, Tensa, and of course old man form. And who can forget the epicness that is the 2nd State Hollow Ichigo? =3
But anyways I shall help in whatever form I can on here. And you can also find me lurking on other parts of the wikia as well.
On another note; I happen to be an artist and author of a few sites. I'm more well known on FAC though than on TLKFAA. I'm also pondering on joining DA..but since I heard alot of negativity about it; I think i'm happy where I am at the moment. xP The dark clothing and designs of Tite Kuboe happen to inspire me alot with clothing and character designs, cause I love his taste in dark yet stunning outfits and creatures that go bump in the night.
Not to mention his taste in spanish titles for some of his attacks and sword names is pretty wicked too.
But anyway, enjoy your stay and have a look around. Tatty bye for now! =3
My favorite links
   * http://legendofdragoon.wikia.com/wiki/Lloyd
   * http://legendofdragoon.wikia.com/wiki/Divine_Dragon
   * http://legendofdragoon.wikia.com/wiki/Rose
   * http://kingdomhearts.wikia.com/wiki/Vanitas
   * http://legacyofkain.wikia.com/wiki/Raziel
   * http://assassinscreed.wikia.com/wiki/Ezio
   * http://finalfantasy.wikia.com/wiki/Sephiroth?&cb=4251
   * http://casshernsins.wikia.com/wiki/Casshern