Random Bleach Adventure of the day
So new section! Recently, I find myself relating my daily life to random Bleach things! Or simply thinking of Bleach for no reason at all... And I wanted to post them somewhere, but using the Blog would be off-topic-ing myself, which would be pretty dumb, so I decided to use this (Tinni inspired me with her Random thought of the moment). Old posts will be removed and archived in my PC, I can't just clutter my Userpage.
Beware: Things said here are completely random, you have been warned. This is a drawing of Lia dressed as Urahara. Done by my brother [1] This is an Ulquiorra drawing made by Lia [2]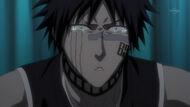 The other day it was like 3 am and my tweet feed started to get flooded with Kubo's tweets. Usually I don't pay them much mind since I can't read them, but I saw BLEACH and I jumped! So I did my best to try and read what he was saying.
It all started with him talking about BLEACH FOOD. So I read back a little and with the little I could read, I got he was talking about the Bleach Village in Namja.
Then he suddenly starts tweeting Bleach character names with random things. Kon Curry? Ichigo Pizza? I think at this point we all know that the Bleach Village has this lot of Bleach special dishes that include a Grimmjow Ice Cream among many other things.
Long story short, Kubo was at Bleach Village, or at least eating the stuff they served there and commenting about them (and uploading freaking pictures). And he thinks most of them are adorable. He kept tweeting "KYA" every two minutes.
A list of what Kubo ate and what he said about them (or at least, what he mentioned): Kon curry, Ichigo Pizza (he said the black part was specially delicious), some Ishida thing that I couldn't quite tell what it was, a Kenpachi thingy, Chappy Ice cream, Seaweed Ambassador Ice cream (he said Kya!), Urahara Shoten Ice crem (another Kya!), Grimmjow Ice cream (Kya! again), Komamura... thing (Kya!). I think that's it.
Summary: 1. The man eats A LOT. 2. He eats reaaally fast (seriously). 3. He ate a lot of Ice cream (so his bronchitis must be better now. Please?) 4. Everything was "Kya!" to him. Don't blame him though, those Bleach food are so adorable >w< I want them too!! 5. Everything is delicious according to him 6. He made my Friday 3 am very enjoyable, what with "watching" him eat lol
All of this is subject to my VERY rough interpretation of Japanese. I can barely read Katakana and Hiragana and very few kanji, so there it is
Any comment can be made at my Talk page, not that I think anyone will read this. It's too random.
About me
No idea of what I should add here. Just got tired of seeing my name in red letters. Pretty lame, I know. I promise I'll write something at some point.
Just in case you were wondering, no, I won't delete that one. I think it reveals a really silly part of my personality. And I think it's fun.
Well, for the record. Lia Osaka, Lia Schiffer, Lia Lawliet, Lia Nekoi, and possibly 90% of the Lia's you'll find out there, will be almighty me. You'll find me as Lia Lawliet on Anime Paper and DA, Lia-Saber-Shinku on Gendou.com, Lianekoishinkurukia (all damned names were picked!) on Minitokyo, Lia_Osaka92 on FF.Net, Lia_Nekoi on Planet Renders, and Lia Schiffer here and on Mangafox. Yeah, I'm pretty easy to track. And I don't care.
I finally decided to do something here. So I'll start saying that my imaginary friend says that I've got mental problems, but don't mind her, she's just jealous.
I'm just another Bleach fan. OK, that was a BIG lie. I'm an obsessive Bleach fan. There, better. I met the series when the manga was licensed in my country and one of my friends bought volume 1. The more episodes I watched, the more addicted to it I became. I came to a point in which I called my brother (who had bought the anime) and DEMANDED that he brought me the next DVD (after Renji, Hitsugaya and Rangiku release their limiters in the fight vs Grimmjow's Fraccion). I've come to a point where I nearly breathe Bleach-ness. Everything reminds me of Bleach. When I see butterflies, I think of ButterflAizen. When I see '69' I think of Shuuhei. It's like I can relate anything to Bleach
I love chocolate and Bleach. And cats. I'm Mexican, so English is not my mother language. I apologize beforehandedly for any mistake I may have during editing.
I'm a rabid fanfiction reader and writer. And I love Yaoi. I love vectoring too, but it's really tiring.
On another note, I love how popular my blog is getting. It's like, I post my crazy stuff about the weekly chapters every thursday, and in five hours there are 20 comments, that's so awesome! I remember the first entries only got like 1 comment so now I feel so important XD. Especially when I see my blog on the "Hot Spots" and it has the "On fire!" thingy! It looks so cool! Man, I can be so random at times... Like, the other day I broke a coat hanger and mom found out, so I told her "Well... that was my fault *grabs another one from bed* but to make it up to you, I produced a new one with ALCHEMY!" (I admit Ihad been watching too much FMA at the time)
My contributions
Mostly, I check other users' edits and keep an eye for vandalism, I also correct any typo I catch (not many, since I don't read the articles very often). I also spend a lot of time in Discussion pages answering questions and such. I also used to answer questions about Spanish translations, but now that the Arrancar arc is over, I don't think I'll be doing that anymore. Unless people keep discovering that Tite Kubo doesn't speak Spanish, and that Harribel's Tres should be Tercera and that Espada is a feminine noun so Nnoitra's Quinto should go Quinta. At this point I'm not sure if I should laugh or just bang my head in the wall. Just because some of us speak Spanish doesn't mean Tite Kubo does, people should get over it, honestly.
Apart from reverting vandalism and bad edits (junk trivia, speculations, unreferenced text, etc.), which is basic everyday work, my self-imposed job consists mostly on checking pictures (mostly anime) to see if I can get a better quality/resolution version and upload it. I also have become very fond of the Uncategorized Photos tool because it helps me track down pictures with no fair use and rationale, so I can add it to them (adding the rationale has become quite a hobby of mine)
I worked in the Text Reduction of Ulquiorra's, Kenpachi's, Ikkaku's, Sui-Feng's and Starrk's articles. I also worked adding pictures for the Arrancar arc to all the Visored articles, Ulquiorra's Arrancar arc, and to a big part of Urahara's article (those Picture projects were so tough and so fun! I want another one like those)
Basically, I work in the picture department because I epic fail writing summaries and because I love pictures! I'm currently working in some Trivia info from the Bootleg that is quite fun to do (and much easier than writing summaries)
My favorite characters
Arrancars
I think my nick speaks for itself. Ulquiorra isn't just my favorite Arrancar but my favorite character of all Bleach (and all anime, possibly). Maybe he reminds me a bit of L from Death Note, and that's why I like him so much (I had a huge crush on L for a pretty LONG time). But I positively think that it was his eyes that caught me. I mean, he seems so dead and his eyes are so beautifully impossibly green and alive... And his Resurreccion, both of them, are on my list of "most amazing, beautiful and perfect things I've seen". And his hair grew longer! That made me oh, so HAPPY! I love long hair! And yes, I'm positively furious at Tite Kubo. I think we could've seen much more of him, I wanted to know more of his powers. I found it pretty funny when he missed the first shot with his Lanza del Relámpago (I saw some joke about that on DA). I also got a bit mad with the change of spelling on his surname, I liked Schiffer better. And for the record, ULQUIHIME is a damned ILLUSION! The Ash-Heart scenes were pure gross fanservice. Ulquiorra belongs to Grimmjow and Grimmjow alone (and myself, sometimes). But really, leaving fangirlism and OTP's aside, I think Ulquiorra doesn't fit with Hime. That's my last word on it. I also loved his outfit, it was awesome! Especially the cloak-like thingy.
Lia loves cats. Grimmjow's a panther. Lia loves long-haired men. Grimmjow's hair goes crazy when he turns into a Cat. Do the math. Besides, his hands turn into PAWS. PAWS! You've gotta love that. I'm also dying to see more of him. I strongly believe that he's still alive... somewhere... eating Whiskas (fine, kidding). His outfit must be one of the hottest of all Espada. I hope we see more of him, I've noticed we don't really get to see Ichigo's enemies really fighting 'coz Ichigo goes Hollow and they lose rather easily, and too soon for us to see their true abilities.
While Nel's child form annoyed me to some extent (though I found her a bit funny), her adult form immediatly took the first place of hot girls in Bleach. The way they showed us her 3 was one of the most shocking scenes of the whole series. I loved her Resurreccion, I've always had some fondness for Centaurs. I'm still waiting to see what her role in this war will be, I refuse to believe that it's over for her after fighting Nnoitra. Poofing her back into a child was an epic fail!!. Her love-hate relationship with Nnoitra is one of the most interesting in the series, and I feel sad that they didn't elaborate any further on it. Nnoitra himself is a pretty interesting character, his battle with Kenpachi was pure awesomeness, and his Resurreccion was amazing. Another character from whom I would've loved to see something more. I quote the manga from the pages where he died "Power, he desired. Weakness, he despised. And now, he falls".
Shinigami
Remember what I said about long, black hair? Yeah, simple math. But leaving hair aside, the combination of his kenseikan and his ginpaku kazahana no uzuginu make him look really elegant and... I dunno, he's just got something (and I suffer from a scarf-fetiche since Kai Hiwatari). They way he speaks and the way he moves caught me since the beginning. Senbonzakura is on my top three zanpakuto (along with Benihime and Sode no Shirayuki). The Senkei and Shukei Hakuteiken are amazing techniques that match Byakuya perfectly! When I read the Pendulum arc, I absolutely LOVED him. He's possibly the most gorgeous teen I've EVER seen. And
that
smile (look over there >>) they gave him on the anime was the best gift I could've received. The way he protects Rukia while keeping his cold attitude is really lovely. And that thing he told Zommari "I've rescinded your right to live because you aspired to cut my pride with such a dull blade." That was so sweet! (and I'm not into ByakuRuki, by the way). His tag games with Yoruichi are also hilarious. You've gotta love him.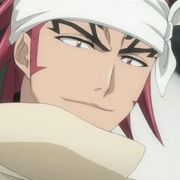 I know he's close to being one of the weakest characters, but they way he was introduced, and especially his background make him make it impossible not to love him. I think Tite Kubo has been a real d*ck with Renji, he didn't get to fight a Privaron Espada, thus never had the chance to prepare himself for his battle with Szayel. I mean, he's a Lieutenant who achieved bankai, and yet he appears to be weaker than even Rukia (but I consider Rukia to be of lieutenant level, for the record). I like his relationship with Zabimaru, I get the feeling that he has a deep bond with his zanpakuto. His personality is also very attractive and cool, he's the kind of character that you just can't hate. I think he deserves a chance to have a good fight, 'coz the one against Szayel was simply not fair.
Rukia has proved to be one of the most powerful female Shinigamis (not counting Unohana, Soi Fon, Yoruichi or the Vizards). She managed to defeat the 9th Espada and the captain of the Exequias, while four lieutenants couldn't handle Allon. I strongly believe that Ukitake is saving the Lieutenant position for her. I also love her personality, she's so funny! Yet, she's a determined fighter, she cares for her friends and doesn't look down on others just because she's a noble. She doesn't need to have huge boobs to be called beautiful and her eyes seem so strong and gorgeous. Her zanpakutoh is also part of my top three, for it's gorgeous and very powerful.
Exiled Shinigamis
I think you must give him the credit for the most misterious character in Bleach. He's had a lot of screentime, we've seen a lot of his past, and the main storyline spins around him, Aizen and Ichigo, yet we know almost nothing about him. Whatever he's got in mind remains a mistery to all of us. And Benihime is my top favorite zanpakutoh since Urahara said she was "Not nice". I'm dying to see her [Benihime's] bankai and her spirit form. Those little bits of his serious side that we've seen, when he apologized to Ichigo and on TBtP, along with how funny he can be, give him an extra point.
I think I must be sincere about this one. I barely noticed Shinji's existence before I read Pendulum. But then I saw his beautiful long hair and I was instantly lovestruck. And so, I started to pay more attention to his personality and what he said and how he acted and he immediately became my second favorite character. One of the things I like the most about him is how he dresses. His style is unique among the Bleach characters, elegant yet trendy. My favorite scene is when he discovers Aizen spying on him and Urahara, and Aizen asks "Since when did you know, sir?", and he answered "Since ya were in yer momma's womb". And his shikai came to top my list, it's just gloriously perfect, the design is amazing, and its powers are really unique, just like Shinji himself. That inverted world makes me think so much of Alice in Wonderland... Not to mention that, with L and Ulquiorra gone, I needed to re-focus all my crazy, fangirlish love. And Shinji came to be the next
victim
fortunate target. I loved it how he was the first one to draw blood out of Aizen, at least he got that before Ichigo came to Karakura to steal away his battle and be hopeless and useless. So you can imagine how disappointed and mad I was when he was so easily taken down and with such a lame excuse. I'm still hoping he'll get up and show more of that amazing zanpakuto of his. He deserves more screentime!!
Along with Nel, Yoruichi tops the list for "Hottest girl in Bleach". Her golden eyes are just irresistable and she's simply beautiful! And she's a cat (I think I mentioned cats earlier?). But other than that, her personality is simply charming, and that she could take on Yammy with her bare hands was totally amazing. Her relationship with Urahara, I think, is quite unique among the series, and I'm eager to see them fighting together. I also loved how she mocks Byakuya, it's just hilarious! As for all the exiled Shinigamis, I'm dying to see her fighting for real and with all of her power.
Best of Bleach
There are a series of moments or just "things" that happen that I consider to be the best of all Bleach.
Turn Back the Pendulum mini arc
The whole arc was pure awesomeness! Just having Shinji with his beautiful, long hair was enough for me to love all of it. The whole series of events was amazing, and I kept screaming with every page. Seeing Shuuhei, Byakuya and Gin as kids was so cute! And I think we learned a lot of the characters through it. We finally discover why was Urahara banished to earth and a lot about Tessai and Yoruichi. We also got to know the Vizards, and kind of feel and understand their hatred for Shinigamis.
Ulquiorra vs Ichigo fight
It was AWESOME. Seeing Ulquiorra fighting for real was a total blessing. I loved all of it! Except for how it ended. I loved Ulquiorra's power and his Resurreccion and Segunda Etapa. The drawing was amazing and all of his dialogues sent chills down my spine. The "This is the true form of despair" is my personal favorite.
Byakuya vs Zommarri fight I think this fight showed us much more about Byakuya than any other. His quick-thinking, his power and his pride. His personality and the extent of his rage. And yet another power for Senbonzakura. Byakuya combined the raw power of his zanpakuto with high-level Kido, something that Shinigamis rarely do. And I loved how he said he "didn't like to use it because that woman taught it to him" speaking of the Utsusemi.
Favorite manga vignettes
The Deathbringer Numbers
Just how Halibel reveals her mask and Stark's smile when he says "I'm sorry to disappoint you. I'm the Primera". Enough said, I was like WTF!
The Sloth p.14
I was astonished and I screamed and went all crazy. Simply awesome.
Azul-Blood Splash
When Halibel cut through the fake Hitsugaya. That was amazing! I'm not a rabid Hitsugaya fan, but I think he's cute, and kinda sensed from the beginning of the fight that Shiro-chan wasn't strong enough to defeat Halibel. But my jaw still dropped to the floor when I saw it.
Countdown to the End: 0
Oh god I nearly cried there. How Rukia thanked Byakuya for not looking at her, thus not pitying her. That was soooo IchiRuki! I loved it!
Hoshi to norainu (A star and a Stray Dog)
I loved Renji's hair when it was set free and he screamed in despair after his defeat. That was so... touching. I started liking him at that moment
Fervorous Ferocious
That last page, with Nnoitra locking eyes with Nel and that last sentence "Weakness he despised, power he desired, and now... he falls". I shivered. I decided I loved Nnoitra after that.
The Blade and Me
The whole Urahara-Ichigo fight was amazing, but the fire in Urahara's eyes when he threatened to kill Ichigo was so scary! Though the vignette that I really love the most is the one in which Ichigo stops Benihime with his crumbling zanpakuto and Urahara says that Benihime is "not nice". I liked it because it kind of revealed some of his personality, as zanpakuto's are supposed to be similar to their Shinigamis
The Bestial
That's gotta be one of the most memorable panels in HISTORY. Shuuhei piercing Tosen's throat with Kazeshini, that black picture, those shadows, the feeling, made my skin crawl so good. That's the good old feeling from Bleach. Too bad the guy ruined it with that stupid explosion, but that beautiful panel is one of the most amazing pieces of art I've seen in quite some time. It's hard to describe what it made me feel at the moment, I think I screamed, and I think I went so crazy in the blogs.
Ignited
Shinji! OMU did I love this! "Yokoso sakasama no sekai e" (welcome to the inverted world) I loved that so much!!! (and I hunted for those RAW so MUCH to find out the japanese) That panel of Shinji standing upside down in his inverted world, finally revealing his true power. My Ulqui, this was one of the most marvelous moments ever!!! And of course, the fact that he became the first person to actually injure Aizen made this SO special. Not to mention that I loved Sakanade, it's so beautiful