Hiya, I'm Chiisana Mahou. I'm mostly on the wiki to fix spelling and grammar errors. I love drawing, and I've done a few Bleach fanarts over the years.
My favourite characters:

Well, why not? She's one of the most badass characters in this show. I like how strong-willed she is, and also how she seems indifferent most of the time. And because she's open about who she dislikes [i.e., Shinji Hirako and Kisuke Urahara].
How can anyone not like him? Seriously, I cannot even begin explaining why I like him. He's smart, he's sexy and he's got a killer sense of humor. He's easily one of my favourite characters on the show.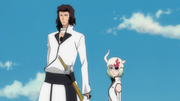 The Privaron Espada[s], Coyote Starrk and Lilynette Gingerbuck. They're an awesome comedic pair, they have a epic back story, and not to mention that the twist about them being the same being is just too cool.
No words can express how much I admire her. She is one of the 2 female Espadas, which I highly respect. She's just... amazing.