Super Cathal FAQ! All you'll ever need to know about him & more!
Nationality: Irish
Height: 6 foot something.
Occupation: Actor, news host, photographer, content video creator guy for the internet.
Age: 20.
Other useful information: None... whoopiedoo.
Stuff I contribute to:
Favorite Bleach Characters
My list of favorite characters always has someone missing. I always forget to include somebody. For all we know this can fully change by tomorrow!
Rukia has stayed one of my favorites ever since I began Bleach. When I first saw her, I knew she was unlike any type of female anime character I ever seen. I have always admired how selfless she is. Plus, her rabbit themed drawings pwn', don't let anyone tell you otherwise. Her Zanpakutō, Sode no Shirayuki is also one of my all time favorite Zanpakutō, up there with Zangetsu, Wabisuke and Senbonzakura.
Favorite Quote: From Deathberry Returns 2
"Ichigo, these fools do not realize that it will take far more than this farce to drive you to despair. They do not understand how many times you have faced certain despair and emerged victorious! Show them, Ichigo! Make them see that despair holds no power over you!"
Urahara was always a character that made me laugh. His very likeable personality and carefree like attitude along with his amazing intellect combined juggle up to make a very unique but very likeable character. He never seems to take anything too seriously, nor even worry about great consequences that may occur. It's characters like him that we need more in the main stream media today.
Favorite Quote: From episode 20 (english dub)
"That wasn't very nice. I do believe you killed my hat."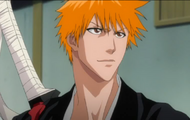 Like Rukia, Ichigo has always been one of my favorite characters. His short tempered attitude towards other people and his determination are what make him one of my favorites. He carries my all time favorite Zanpakutō, Zangetsu. Ichigo has been in my favorite fights from the entire series, favorites would probably be his fights against Grimmjow, Ulquiorra and his showdown against Aizen.
Favorite Quote: From Quiet Chamber, Noisy Heart
Who cares! It's not like telling me would've made me more careful. And I'm sure I would've forgotten right away! Stop complaining forever about stuff that already happened! Dumbass!
I love how Tite Kubo was able to disguise what Isshin really was for over 180 chapters. The moment I saw him in his Shinigami attire was one of my all time favorite moments in the entire manga. The fact that he was shown as merely a comic relief (and still is) are just perfect ways of disguising who he really was. I really want to know more of history though, hopefully we will learn more about his past in the coming months.
Favorite Quote: From Tell Your Children The Truth
"I'm sorry, Mr. Hollow, but Ichigo's not in right now. As a replacement or something, how about playing with me instead?"
Kenpachi's funny way of displaying how badass he is alone a reason to be on my favorite characters. But his fighting skills and the extra comic relief from Yachiru push him really high up the ladder of my favorite characters. His most recent triumph was his victory against Giriko....where he sliced him in flippin' half! Class act ownage if I ever saw it.
Favorite Quote: From Everything Relating to the Crumbling World
"It's been so long that I forgot the pain of not having a name. Everyone had a name that friends use to call them, but I didn't. That pain."