Turning Point: Rescue the Captain-Commander
Talk

0
1,878pages on
this wiki
Turning Point: Rescue the Captain-Commander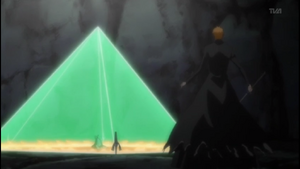 Turning Point: Rescue the Captain-Commander is an event taking place in the Zanpakutō Rebellion. It focuses upon the discovery of Genryūsai Shigekuni Yamamoto's whereabouts, as well as the unveiling of Muramasa's true plans.
Captain Mayuri Kurotsuchi confronts Captain Kenpachi Zaraki, stating that he had no right to handle his Zanpakutō. Kenpachi curses under his breath, as Mayuri smiles brilliantly. Ichigo Kurosaki screams out in pain as Mayuri prepares to inject him with a vaccine. He reassures Ichigo, stating that if he doesn't heal him, he shall die. However, Ichigo resists Mayuri's jabs, saying that he does strange things to his patients whilst healing them. Almost to confirm this statement, as Mayuri squeezes the trigger, an acid-like serum splashes onto the ground.[1]
Mayuri then asks him who told him such a thing, to which he states that Uryū Ishida did. As Mayuri prepares to inject Ichigo, he uses Shunpo to move out of the way. However, Mayuri calls out to Nemu Kurotsuchi, who appears almost instantaneously, proceeding to subdue Ichigo, much to his surprise. Whilst Ichigo is pinned to the ground, Mayuri prepares to administer the serum, until he is interrupted by the arrival of Captains Shunsui Kyōraku and Jūshirō Ukitake.[1]
Shortly after the arrival of the two captains, Captain Retsu Unohana arrives on the scene with the remainder of the 4th Division. She relieves Mayuri of his duty, and Ichigo feels relieved at this. However, Mayuri states that creating a cure to the poison is no easy feat, to which Unohana counters, saying that they have successfully healed the other victims of Ashisogi Jizō. As Mayuri relents, the two exchange icy glares with him, declaring that he shall create a more potent variant of the poison, the likes of which even she could not cure.[1]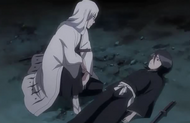 Renji Abarai interrupts them, as Unohana states that several lieutenants were being pursued around Seireitei by Ashisogi Jizō. She explains further, stating that they succumbed to its poison, but have since recovered in the 4th Division barracks. Ukitake approaches a stricken Rukia Kuchiki, asking whether she is alright. He asks whether or not she was able to stop Byakuya, to which she stares silently at him, as Ukitake wonders what Byakuya's motives are.[1]
Meanwhile, in the Zanpakutō cave, Byakuya Kuchiki appears before Muramasa, who congratulates him upon his task. As a Jigokuchō flies towards him, Byakuya asks whether he will make travel to the Real World, but Muramasa beckons him into following. Kenpachi states that he is leaving to find Byakuya, but Yoruichi Shihōin and Captain Suì-Fēng appear, stating that finding him will be no easy feat. They ask her whether she knows where Byakuya is, to which she divulges that she is aware of where the Zanpakutō spirits are keeping the Captain-Commander, much to their surprise.[1]
The Prisoner AppearsEdit
As Byakuya proceeds to follow Muramasa into the depths of the cave, they come across a large pyramid-like structure guarded by three figures. Much to Byakuya's surprise, in the epicenter of the pyramid, sits the Captain-Commander, Genryūsai Shigekuni Yamamoto, as Muramasa understands that he is affiliated with him. Byakuya inquires of the three beings levitating above the massive structure, to which Muramasa confirms that they are Zanpakutō spirits and that their strength together is enough to rival his own.[2]
Byakuya seems at edge with this comparison, and moves towards the pyramid. As he nears the construct, Yamamoto senses his presence, instinctively releasing Ryūjin Jakka. The resultant flames are stopped by the barrier, but several are able to get through, scalding Byakuya slightly. One of the figures calls out to him, stating that he cannot just interfere with their channeling Reiatsu. Muramasa states that he hasn't been able to get his Zanpakutō to obey him, stating that Yamamoto is a difficult man to crack.[2]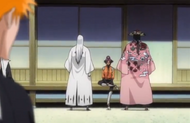 As Ichigo walks around the manor, he reminisces about his prior encounter with Byakuya, as he overhears the conversation with Yoruichi and the two captains. Yoruichi reveals that she has detected Yamamoto's new Reiatsu, at which point they wonder what their next course of action will be. Kenpachi asks Yoruichi whether he will be able to fight if he goes, to which she tells him not to go berserk and kill the Captain-Commander by accident. They then resolve themselves to invade the Zanpakutō cave, as the Zanpakutō patiently await their arrival.[2]
Suddenly, a figure approaches them, as Haineko is alerted to his presence. Kazeshini stumbles into the clearing, collapsing before the others. They crowd around his body, revealing a deep cut in his back, as Muramasa appears. He promptly approaches Kazeshini, telling him to rest and heal his injuries. However, Kazeshini questions Byakuya's presence amongst them, as Muramasa explains that he is achieving something essential to their aims.[2]
Entering the Den of the Enemy
Edit
The other Zanpakutō catch onto this as well, asking why they had to get injured whilst protecting a Shinigami. He reassures them, stating that the Shinigami will not interfere with them so long as they have Yamamoto in their possession. Meanwhile, at a forest entrance, Kyōraku and Ukitake recognize Yamamoto's Reiatsu, as they also recognize the presence of a strong barrier. He postulates that Muramasa was unable to control Ryūjin Jakka, so he had no choice but to seal him within a barrier.[2]
Ukitake agrees, stating that they are lucky that Ryūjin Jakka is not an enemy. Yoruichi says that the cave was designed to act like a maze, stating that she has discovered a secondary entrance, which she believes the Zanpakutō are using. Yoruichi tells them to proceed with caution in the enemy's den, but Kenpachi refutes this, walking into the cave without thinking. Despite this, Ukitake agrees with his logic, stating that they cannot let the enemies make the first move, proceeding to enter the cave.[2]
Aftermath
Edit
As they enter the cave, the Zanpakutō proceed to split them up, with the objective of trying to separate them from Ichigo. Ichigo proceeds alongside Yoruichi, who in turn gets side-tracked by Haineko and Tobiume. He proceeds alone in the cave, whereupon he discovers the location of the Captain-Commander. Whilst the fights rage on inside the cave, Ichigo faces off against Muramasa, who aims to use Ichigo's ultimate attack as a means to destroy Yamamoto's barrier. [3]
References
Edit
↑ Bleach anime, Episode 247