Trapped by the Flames: Desperate Situation
Talk

0
1,875pages on
this wiki
Trapped by the Flames: Desperate Situation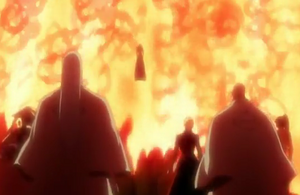 Outcome:

Ichigo Kurosaki is tricked by Muramasa into breaking the Captain-Commander's barrier.
Muramasa reveals that the rebellion was a smoke screen for his true plan.
Muramasa takes control of Ryūjin Jakka and defeats Sōgyo no Kotowari and Katen Kyōkotsu.
Muramasa has Ryūjin Jakka trap Ichigo and the Shinigami while he escapes to the Human World.
Captain Hitsugaya arrives with Hyōrinmaru and helps Ichigo escape.
The Captain-Commander joins with the other Shinigami to regain control of his Zanpakutō spirit.
Trapped by the Flames: Desperate Situation is an event taking place in the Zanpakutō Rebellion. It focuses upon Muramasa's true plans coming to light, as well as the origins behind Muramasa and his Shinigami master, Kōga Kuchiki.
Prelude
Whilst Ichigo runs through a passageway, he senses Yamamoto's Reiatsu from afar, whereupon a cloaked figure appears in his path. Ichigo tries to slash at the figure, which merely uses Shunpo to move away from him, as if beckoning him to follow. He pursues the Zanpakutō spirit, who leads him to a large rock formation, where he senses Yamamoto's Reiatsu again. He immediately scales the formation, but as he reaches the top, an injured Kazeshini appears before him.[1]
Kazeshini spins and creates a twister, proceeding to entangle Ichigo within his chains. As Ichigo falls helplessly to the ground, Kazeshini tells him to die, prompting him to release his Bankai in free fall. From the resulting explosion, he is able to cut Kazeshini easily, pushing him back. After briefly clashing, Ichigo releases a point-blank Getsuga in Kazeshini's face; the attack sends him hurtling into the ground. Ichigo looks despondently into the crater, noticing Kazeshini's broken Shikai, and promptly apologizing to Shūhei.[1]
The Confrontation
He makes it to the top layer, noticing the pyramid-shaped barrier surrounding Yamamoto. As he approaches the barrier, the flames flare up, scalding Ichigo's hand. When he prepares to attack the barrier, Muramasa attacks from behind, his sword hurtling at Ichigo. He deflects this attack. Muramasa is impressed that he made it this far. Ichigo states that he can no longer go easy on him, as everyone is depending on him to free Yamamoto.[2]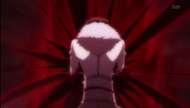 Ichigo's blade immerses itself in black Reiatsu, sending a Getsuga Tenshō racing towards Muramasa. Yoruichi senses his Reiatsu flaring, and assumes that he is currently facing off against Muramasa. The attack collides with him, which he fends off with his katana. He tells Ichigo that that attack is insufficient to defeat him, provoking Ichigo into releasing his Hollow powers. While the other Shinigami fight the Zanpakutō spirit, they come to the conclusion that their efforts were solely focused upon stalling for time.[2]
As Ichigo clashes with Muramasa, the Zanpakutō spirit tells him to fight harder, telling him to release his ultimate attack. As the other Shinigami attempt to go to Yamamoto's location, their Zanpakutō spirits stop them in their tracks. As Yoruichi pins her opponents to the wall, she deduces that their role in the proceedings was to separate them from Ichigo, which prompts Ukitake to wonder why Muramasa is so interested in Ichigo, noting that Muramasa does not intend to kill him. [2]
Kyōraku deduces that he is waiting for something, as they simultaneously come to the conclusion that Muramasa is waiting for Ichigo to use his ultimate attack. Ichigo sends the Hollow-powered Getsuga towards Muramasa, who fends off the attack with his sword once more. Yoruichi arrives on the scene moments too late, as the swathing energy circles around the area. Ichigo watches on in awe, as Muramasa sends the attack hurtling towards Yamamoto's barrier.[2]
A huge explosion emerges, causing clouds of smoke to encompass the area. Kyōraku and Ukitake emerge in the aftermath of the attack, as Ichigo pants heavily. The other Zanpakutō watch eagerly as the barrier cracks into pieces, with Yamamoto emerging from his fugue state. As he emerges, Muramasa seizes the opportunity, raising an outstretched hand towards him.[2]
Subjugated! The Strongest Zanpakutō Unleashed!
Kyōraku realizes what Muramasa's goal was in luring them there, to which Ichigo asks him what he means. Yoruichi fills in for him, stating that his objective was to get Ichigo to release his Hollow-powered Getsuga. Kyōraku observes that Muramasa fused his Reiatsu together with Ichigo's, in order to generate a huge explosion to break through the barrier concealing Yamamoto. Ichigo wonders why Muramasa would want to break his own barrier, but the two captains state that their original thesis was mistaken.[2]
Yamamoto stands up promptly, stating that the Shinigami have lost this round. He appears next to his protege, explaining that Muramasa's goal was to enter his inner world, and that his actions were leading up to this defining moment. Muramasa praises Ukitake's deductive skills as a captain, confirming that he desired to learn about the memories hidden deep within the Captain-Commander's mind. But when he confronted Yamamoto, he sealed himself away within a barrier, thus preventing Muramasa from intercepting his inner world.[2]
Muramasa then reveals that the reason he materialized the Shinigami's Zanpakutō was to stall for time, in order to figure out how to break Yamamoto's barrier. He then states that he deceived the Shinigami and even his own comrades, in the hope that the Shinigami would arrive and try to "save" Yamamoto in order to resolve the rebellion. Ichigo cannot believe that they were fooled, as Muramasa states that his plan is still going ahead. He thanks the Shinigami for their efforts, as Katen Kyōkotsu and Sōgyo no Kotowari turn on their leader.
They ask him whether their rebellion was just a cover for his own nefarious goals, to which he confirms this. They raise their blades towards Muramasa, calling him a liar, as the Shinigami attempt to calm their Zanpakutō spirits down. Muramasa dematerializes his sword, stating that they can do as they wish, as their actions no longer concern him. As they charge headfirst at Muramasa, flames emerge around him, encircling the Zanpakutō spirits, much to their surprise.[2]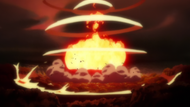 Ukitake and Kyōraku recognize the flames, as Yamamoto confirms that Ryūjin Jakka is now under Muramasa's control. The Zanpakutō spirits are then engulfed in its swathing flames, as they scream in pain, being blown away by the incredible force. The flames proceed to destroy the roof of the cave in a tumultuous explosion, as Kyōraku comments upon the direness of the situation with Ryūjin Jakka as an enemy. Muramasa stands before them, resplendent in the fiery inferno, and says farewell to the Shinigami, stating that they no longer have a chance of defeating him. [2]
He disappears in a plume of fire, leaving the Shinigami stranded in the middle of the fissure. Ukitake turns to his master, asking who Muramasa is, to which the Captain-Commander explains that he is a Zanpakutō with tapeworm-like abilities. He outlines that it is the Gotei 13's duty to stop Muramasa, at all costs.[2]
Imprisonment
As Muramasa leaves their presence, Ryūjin Jakka attacks the Shinigami, preventing them from pursuing Muramasa. Kyōraku comments that he is probably taunting them, as Ukitake states that he is trying to trap them within the area. Ichigo tries to evade Ryūjin Jakka's grasp, by jumping up into the sky. However, the fire-type Zanpakutō intercepts his movements, sending him hurtling back down to the ground. Ukitake tells him that escape will be nigh impossible as they are dealing with the Captain-Commander's Zanpakutō spirit.[3]
Yoruichi turns to Yamamoto, asking whether he knows where Muramasa is heading next. To their surprise, the Captain-Commander informs them that he is headed towards Karakura Town. A Senkaimon appears above the sky of Karakura Town, and Byakuya Kuchiki, Senbonzakura and Muramasa step out of it. As they walk out into the open, Muramasa states that he wouldn't have been able to find the town if it weren't for Byakuya, and thanks him.[3]
Byakuya merely states that he was moving as his pride dictated, and moves out. Senbonzakura proceeds to follow him, as Muramasa wonders what Byakuya is thinking. Muramasa suddenly collapses, his body quivering, and states that he doesn't have much time. Ichigo repeats his question to Yamamoto, as Ryūjin Jakka proceeds to attack him. Yoruichi intervenes, bringing him out of harm's way, telling him to remain focused.[3]
Ichigo notices that the attack left a small hole in the ground. He asks Yoruichi whether they could escape through there, and she uses Shunkō to blast through the rubble, telling Ichigo to cover her. The other Shinigami proceed to guard the chasm, but Yoruichi is surprised by a fire blast, which proceeds to seal the hole up once more. Ichigo asks whether she is okay, to which she states that she will be fine. Ichigo fires a Getsuga Tenshō at the writhing flames, but it has no effect upon Ryūjin Jakka.[3]
Dark History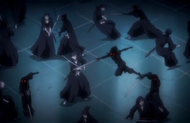 Ukitake fires Hadō #63 Raikōhō, which blasts a segment of the flame wall away, but the flames billow up just as quickly. He wonders how they are going to escape from Ryūjin Jakka's seemingly impenetrable prison, as Yamamoto approaches them. He states that he could control his Zanpakutō for a short while; given enough time, but states that Muramasa will break the seal if they do not stop him. He explains the true goal behind Muramasa's motives: to break the seal confining his Shinigami master, Kōga.[3]
He states that, in the past, Kōga led a revolt in the past with Muramasa, using its powers to turn Zanpakutō against their Shinigami. At the cost of great sacrifice, Kōga was eventually sealed away, causing the Shinigami to contemplate the implications of this development. Ichigo states that Muramasa killed his master with his own hands, but Yamamoto states that to be another one of his lies. The Captain-Commander explains that his revolt was left out of the history books, and that he was the only one who had knowledge of the method to free Kōga, hence why he was targeted.[3]
Ice and Flame
Kyōraku and Ukitake proceed to slash open the flames, as Ichigo attempts to cross through to the other side. He fires a Getsuga Tenshō, creating an even larger opening, as he proceeds to pass through the flames. As he travels through, Ryūjin Jakka closes in on him, and he is forced to retreat. He emerges from them, crashing onto the ground. The others ask if he is okay. He claims that it will be entirely his fault, should Muramasa break Kōga's seal.[3]
He dons his Hollow mask, attempting to use his enhanced speed to evade Ryūjin Jakka's grasp. However, as he breaks through the dome, Ryūjin Jakka merely extends its flames, surrounding Ichigo in a compressed sphere of fire. It then proceeds to attack Ichigo from all directions. However, Captain Tōshirō Hitsugaya emerges, using his Shikai to dispel the flames and freeing Ichigo. Hyōrinmaru lands alongside his master, as the captains wonder whether he is fit for duty.[3]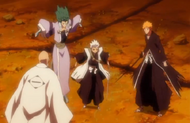 He tells them there are other things more important than this, asking whether the flames surrounding them belong to Ryūjin Jakka. They confirm this, as Hyōrinmaru inquires as to where Muramasa is, to which Ichigo states that he is headed to Karakura Town in order to revive his Shinigami master. Yamamoto states that their primary focus right now is to ensure that Ichigo makes it safely outside. Ichigo wonders if this is the appropriate mode of action, to which Yamamoto says that, if he truly feels responsible for Muramasa's actions, then he should stop him himself.[3]
Ichigo resolves himself, as Hyōrinmaru and Hitsugaya prepare to move out. They both release Bankai, proceeding to freeze Ryūjin Jakka's flames with their ice-based attacks. Hitsugaya releases Ryūsenka, creating a small hole within the recently frozen flames. He tells Ichigo to hurry and leave, who dons his Hollow mask again and proceeds through the small tunnel, the flames in hot pursuit. He escapes from the dome in the nick of time, as Kyōraku states that they are counting upon him. Yamamoto states that it is time his katana received punishment for betraying him.[3]
As Ichigo rushes through the sky, he tells Muramasa that he is coming for him, and that he will stop him, no matter what it takes.
Aftermath
After Ichigo is freed from Ryūjin Jakka's control, he heads to the Real World to confront Muramasa. In the Real World, Uryū Ishida and Yasutora Sado encounter Muramasa. Meanwhile, the Shinigami are still facing off against their respective opponents, whilst Yamamoto and the other captains are still imprisoned by Ryūjin Jakka. Senbonzakura protects Muramasa, who prepares to release Kōga from his seal. Ichigo arrives too late, as Kōga reawakens before their eyes.[4]
References