The long awaited... Kenpachi appears!
Talk

0
1,877pages on
this wiki
The long awaited... Kenpachi appears! is the two-hundred forty-fourth episode of the Bleach anime.
Kenpachi Zaraki arrives and defeats Wabisuke before moving on to Byakuya Kuchiki. Meanwhile, Yumichika Ayasegawa is able to defeat Ruri'iro Kujaku.
Summary
While battling Kazeshini, Izuru Kira slashes the Zanpakutō Spirit, knocking him down. As Izuru prepares to leave and help the other Shinigami, he is attacked from behind by Wabisuke, who pins him down and holds his sword to Izuru's head. As Wabisuke prepares to finish Izuru, the building they are on top of is ripped apart by the release of a powerful Reiatsu, which the other Shinigami and Zanpakutō Spirits notice. This forces Wabisuke to flee, allowing Kira to escape. As the dust clears from the area, Captain Kenpachi Zaraki, who was inside the building, steps forth.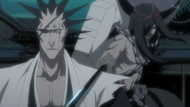 As Kenpachi takes note of the events going on, Captain Suì-Fēng questions why Kenpachi is making such a dramatic entrance, and why is he late. Kenpachi simply responds that he got there as quickly as he could so he could join the fight and that any mess he made is his style. While looking for a fight, Wabisuke attacks Kenpachi from behind but is unable to cut him. In response, Kenpachi slashes and defeats Wabisuke, who transforms into Kira's sealed, but broken, Zanpakutō. As the Shinigami and Zapakutō look upon the scene, Suì-Fēng points out to the other Zanpakutō Spirits that the same fate awaits them if they are defeated by anyone other than their wielder, as Kenpachi looks for another fight.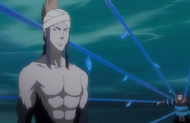 Elsewhere, Ruri'iro Kujaku discusses Kenpachi's power, stating he dislikes it and asking Yumichika Ayasegawa if he dislikes Kenpachi as well. As Yumichika questions him, the Zanpakutō Spirit talks about the similarities between himself and his former master, stating they both value aesthetics and appearances, while other squad members do not. As Yumichika questions why he'd talk about such things, Ruri'iro Kujaku tells him he can't win against him because he doesn't accept his own powers. With that, the Zanpakutō Spirit begins to drain Yumichika of his Reiryoku.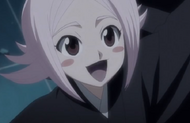 Meanwhile, Gonryōmaru comments on Kenpachi's power, stating it's understandable how he defeated Wabisuke so easily. As Suzumebachi suggests that Wabisuke was weak in the first place, Gonryōmaru asks Kenpachi where had been hiding before he showed up. In response, Kenpachi denies having been hiding and warns Gonryōmaru about talking to him in such a manner, while Yachiru Kusajishi explains that they were in Rukongai fighting Hollows. When word reached them about the rebellion of the Zanpakutō, they rushed back to Seireitei, but lost their way. As the two begin arguing, Ichigo questions his focus until Yachiru leaves and Kenpachi decides to battle.
Kenpachi then sets his sights on Byakuya Kuchiki, but Senbonzakura steps in to defend his master and attacks the 11th Division captain instead, activating his Bankai. In response, Kenpachi removes his eye-patch, releasing an overwhelming amount of Reiatsu. The Reiatsu clashes with the Bankai and overwhelms it, much to Sendonzakura's surprise. Approaching Senbonzakura, Kenpachi cuts down the Zanpakutō spirit with ease, creating an explosion which engulfs the area and blows everyone else away.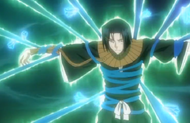 Sensing Kenpachii's actions from far away, Ruri'iro Kujaku praises the captain's abilities and notices a look on Yumichika's face, one which shows his fear as he gets close to death. With that, Ruri'iro Kujaku wishes that he dies beautifully. In response, Yumichika states his decision to defeat his Zanpakutō spirit, stating that he was worried about other people's thoughts over his power. Suddenly, Yumichika releases a large quantity of his Reiatsu and attacks the vines of Ruri'iro Kujaku's Shikai with a mid-level Hadō, freeing his arm. With that, Yumichika grabs his sword and cuts through the remaining the vines.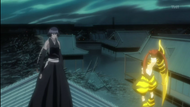 Elsewhere, Rukia Kuchiki finds Renji Abarai in the debris. The latter asks about Ichigo, to which Rukia states he was blown away like everyone else. In another area, Ichigo is found by Senbonzakura who, having been forced away from Kenpachi, resumes his battle with him. At the same time, Tenken helps Gonryōmaru get free from the rubble. As Suì-Fēng comments on how Kenpachi scattered everyone with his Reiatsu, Suzumebachi also resumes her attack on her wielder, who leave to fight elsewhere.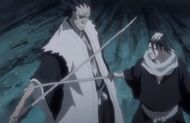 As Kenpachi re-places his eye-patch, he once again targets Byakuya. Asking Byakuya if he will attack first, Kenpachi does so after the 6th Division captain declines, this time succeeding in engaging the rogue captain in battle. Byakuya activates his Shikai, to no effect as Kenpachi destroys it and releases his reiatsu in response, attacking Byakuya with a blast of energy, who defends against the attack. Byakuya quickly gets behind Kenpachi and attacks him, but the latter manages to block the slash. As Byakuya questions Kenpachi's confidence in his speed, the latter suggests he can use it to catch Byakuya.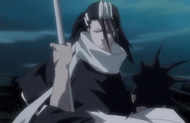 Despite Kenpachi's attempts, he is unable to catch Byakuya, who manages to get behind him and slash his left arm. As Byakuya states he can't be caught by Kenpachi, the latter attempts to do so again, which he succeeds in by grabbing the former's Zanpakutō and attacks. Meanwhile, Yumichika battles Ruri'iro Kujaku, but is unable to win due to using a great deal of Reiatsu to escape the vines. At the same time, Byakuya reels from the blow dealt by Kenpachi, who admits surprise that Byakuya managed to dodge his attack. In response, Byakuya attacks again.
As Yumichika clashes with his Zanpakutō, he considers his options while rejecting the latter's offer to let him use his power. In response, Yumichika suggests Ruri'iro Kujaku use his Shikai on him. As he does so, Yumichika uses a low-level Bakudō to bind the vines, and uses the opening to Shunpo behind Ruri'iro Kujaku and defeat him. With his Zanpakutō spirit defeated, Yumichika states how far he'll go to win before collapsing himself.
While Kenpachi recovers from Byakuya's attack, the latter prepares to leave, but warns Kenpachi that if they have to battle again, he'll kill him. In response, Kenpachi tells him a battle to the death is what he always wanted with him and that they should have one. Concurring, Byakuya turns to face Kenpachi as both raise their Zanpakutō.

Shinigami Illustrated Picture Book
With everyone engages in battle, Gonryōmaru, along with Tenken, is left with no one to fight. In order to find an opponent, Gonryōmaru asks Tenken to bury him in the ruins in hopes to land a surprise attack on any enemy to comes near. Tenken does so and walks off while Gonryōmaru waits. Despite waiting for a long time, nobody shows up.
Fights
Characters in Order of Appearance
Powers and Techniques Used
Kidō used
Zanpakutō released
Shikai:
Bankai: