The Rebellion Begins: Rise of Muramasa
Talk

1
1,877pages on
this wiki
The Rebellion Begins: Rise of Muramasa
Outcome:

Zanpakutō around the Seireitei stop responding to the wielders.
Sajin Komamura fights his manifested Zanpakutō Tenken and is defeated.
Zanpakutō take physical form and leave the service of their owners.
Soul Society is in absolute chaos.
Participants:

Protagonists:


Antagonists:
The Rebellion Begins: Rise of Muramasa is the beginning of the Zanpakutō Rebellion. It focuses upon Muramasa's rise to power, the liberation of the Zanpakutō from their respective Shinigami and the subsequent conflict between the two factions.
Prelude
In a cave in Soul Society, mysterious beings are seen sitting at a table. one of the beings gets restless, wondering when they will be able to leave and tells the others she is going outside. She is stopped by another one of her allies, who tells her that they are still missing several people. Haineko wonders how many people are going to join them, to which another ally states that he can handle this on his own. The leader then arrives at the cave, announcing that they have a new member. A male walks down the steps as the first female approaches the leader, questioning his orders to remain in the cave. He walks up to her, telling her that all of their comrades will awaken in time. She protests, but he raises an outstretched hand towards her face, telling her that the reign of the Shinigami is coming to an end. [1]
Calm Before the Storm
In Ichigo Kurosaki's inner world, he is approached by Zangetsu, who asks him whether he can hear it. Ichigo tells him that he can only hear his voice. Ichigo stops and listens for several moments. He tells Zangetsu that he can't hear anything else, to which Zangetsu assumes that everything is in order. Ichigo berates his Zanpakutō spirit for being so gullible. Meanwhile, in Soul Society, Lieutenant Renji Abarai is training with his Captain Byakuya Kuchiki in the 6th Division courtyard. During their battle, Senbonzakura momentarily goes out of control, causing it to nick Byakuya on the arm, much to his surprise.[1]
After their training session, Renji is praised upon his improved abilities by Captains Jūshirō Ukitake & Shunsui Kyōraku. Byakuya is still partially disturbed by his momentary loss of control over Senbonzakura and he leaves their company, puzzling both Ukitake and Kyōraku. Outside of the 10th Division barracks, Captain Tōshirō Hitsugaya attempts to commune with his Zanpakutō. His katana disappears from his hands, as a giant icy blue dragon appears before him. Hitsugaya asks his Zanpakutō what the problem is, reaching out to touch it. But as he does so, his Zanpakutō inexplicably reverts to its sword form, much to his surprise.[1]
He is, however, interrupted by the antics of his lieutenant, Rangiku Matsumoto, who is also attempting to commune with her Zanpakutō. Hitsugaya interrupts her, asking her what she is doing. They are met with fellow Lieutenants Momo Hinamori and Isane Kotetsu, who present Rangiku with the announcement for the lieutenant's meeting. Isane asks Rangiku what she is doing to her Zanpakutō, to which she says that she wanted to make Haineko stronger and that she refuses to come out. Momo tells her that she should be more understanding with her Zanpakutō, citing that when she was depressed, Tobiume was worried about her.[1]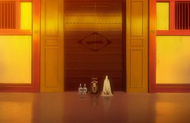 Isane brings up the topic of Itegumo, who hasn't been responsive in the past couple of days, which shocks Hitsugaya and to which Rangiku says that it is a common occurrence for Haineko. Hitsugaya attempts to leave their presence, but Momo interjects, telling him that she brought his favorite sweet beans from Captain Retsu Unohana, but he shrugs her off. He remembers back to his commune and wondered what occurred at that moment. As the sun is setting, three mysterious beings approach the 1st Division barracks, stating that they have arrived.[1]
The Rebellion Begins
Captain-Commander Genryūsai Shigekuni Yamamoto writes some notes down at his office, when the doors suddenly open. He asks who is there and motions for his lieutenant, Chōjirō Sasakibe, to proceed out. Sasakibe approaches the door, clenching his katana and repeats Yamamoto's question, as his eyes go wide with shock. Meanwhile, several Jigokuchō inform the captains and lieutenants of the Gotei 13 to assemble at the Sōkyoku Hill for an emergency meeting. Once assembled, they wonder why Yamamoto would call them to such a place. As the fog surrounds them, a figure approaches them from behind. As Lieutenant Sasakibe walks towards them and collapses, they ready themselves for combat.[1]
As the 4th Division cares for the fallen lieutenant, another figure approaches them, informing them that the Captain-Commander won't be joining them tonight. As he says this, he is immediately surrounded by several lieutenants and captains. Captain Sajin Komamura asks what he has done to Yamamoto, but since the figure does not reply, he unsheathes his sword, causing Muramasa to dodge the attack. Komamura then releases his Bankai, Kokujō Tengen Myō'ō preparing to cut down the intruder. He claims that Komamura's attack will not harm him, but he dismisses this. When he swings his sword, his Bankai instead slams down on him, before disappearing in a cloud of smoke. As Komamura emerges surprised, he notices another figure standing before him. Komamura asks him who he is, to which the tall figure exhales fire from his mouth. Komamura then assumes it is Tenken. As he fights his own Zanpakutō spirit, the spirit's bolas wrap around his arm and he attempts to release his grip. However, fire travels along the length of the bola, causing Komamura to be reeled in and eventually cut down by his Zanpakutō spirit, much to the surprise of the other Captains. Hitsugaya attempts to attack Tenken with his Shikai, but is unable to, prompting the other Gotei 13 members to try and release their Zanpakutō.[1]
Captain Mayuri Kurotsuchi senses that there is no Reiatsu in his katana and asks the intruder what has he done. The intruder explains that their Zanpakutō Spirits have left their swords and that he is responsible for doing so. As he says this, blood emerges from his eye. He wipes it away with a single stroke from his hand, as several explosions occur in the background. Renji asks him what he has done, to which the intruder states that he wasn't the cause of the explosions and that their Zanpakutō spirits did it themselves.[1]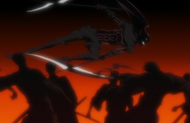 He explains that he has freed them from the Shinigami's imprisonment and he laughs loudly. Several Shinigami are trying to extinguish the fire, as a figure watches from overhead. They notice him and wonder who he is, as the figure quickly appears before the hordes of Shinigami and cuts them down. From behind, a female comments upon his animalistic nature, before giving the Shinigami one warning, proceeding to attack them with her bells, which shoot off exploding fireballs. Several Shinigami are trying to ward off a larger intruder, who tells them that they have no chance of defeating him. As he pushes them away, a woman in white approaches him from behind, telling him that Muramasa calls for them. As he leaves, the ice-type Zanpakutō Spirit releases a stream of ice from her fingertips, freezing several Shinigami in her path.[1] On the Sōkyoku Hill, Muramasa explains that this is just the beginning, proceeding to introduce the materialised forms of their Zanpakutō, much to the inherent surprise of their Shinigami masters. The Zanpakutō begin to walk towards Muramasa, as Byakuya steps forward, asking who he is. Muramasa tells them his name, proclaiming that this night brings forth the end of Shinigami rule and that the Zanpakutō will hereby rule over the Shinigami. After he says this, he materialises his own Zanpakutō and thrusts it into the ground, sending an energy wave hurtling towards the Shinigami, causing the terrain to splinter and crack up, as the Shinigami watch on.[1]
Aftermath
After Muramasa denounces the Shinigami, they proceed to fight against the Zanpakutō spirits, to which they find themselves extremely outmatched. Rukia and Renji run from the Sōkyoku Hill and they encounter Gonryōmaru and Kazeshini, who proceed to attack them. However, Rukia is easily defeated by Gonryōmaru, but Byakuya subdues him with Rikujōkōrō. As he does this, Muramasa commends his abilities as a captain, stating that he is powerful enough to have once enslaved a Zanpakutō. Senbonzakura proceeds to fight him, as he gets cornered by the thousand blades and is thrown into a building. As Rukia calls out for him, Sode no Shirayuki appears before her. [2]
References
↑ Bleach anime; Episode 231