The Awakening Hyōrinmaru! Hitsugaya's Fierce Fight
Talk

3
1,875pages on
this wiki

The Awakening Hyōrinmaru! Hitsugaya's Fierce Fight is the two hundred thirty ninth episode of the Bleach anime.
Hitsugaya tries to convince Hyōrinmaru that he is his master, but the Zanpakutō will not believe it.
Summary
In the Forest of Menos, numerous bodies of Gillians dissipate around Muramasa. As he walks through the Forest, still visibly weakened and ill, he is attacked by a Hollow, but summons his Zanpakutō and easily slays it. He is then confronted by a humanoid Hollow with two horns of differing lengths, bathing the area in the light of its Reiatsu. Muramasa comments that he has found what he has been searching for.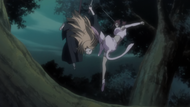 Meanwhile, in Soul Society, Momo Hinamori darts through the forest, chased by her Zanpakutō spirit, Tobiume. Tobiume talks about how she was infuriated as she watched Hinamori be betrayed by Sōsuke Aizen, saying that she'll end up dead if she is still naive and continues attacking Hinamori, knocking her into a tree. Nearby, Rangiku Matsumoto is fighting Haineko, parrying the others' attacks, but Rangiku is distracted upon hearing Hinamori being attacked by Tobiume, and is knocked down by a punch from Haineko. Rangiku, enraged by Haineko's taunts and insults, proceeds to attack her bare-handed. However, Rangiku simply clenches her spirit's head, making her wince in pain. Now angered as well, she claws her owner, tearing some of her clothes.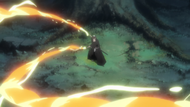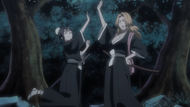 Hinamori, weakened, hears Tobiume lecture her on how she is the only one who feels that everyone is kind on the inside, and that they cooperate with her because they have no other choice. Tobiume looks over at Rangiku's and Haineko's fight, where Rangiku, surrounded by her Zanpakutō's attack, charges up a Shakkahō spell, while Hinamori uses Hōrin. Not realizing that the two Shinigami were not aiming for their own spirit, Tobiume is caught by Rangiku's Kidō while Haineko is bound by Hinamori's. Hinamori casts another Hōrin spell, binding the two Zanpakutō Spirits together and they fall to the ground. The two lieutenants regroup and celebrate their victory, explaining to their spirits that they were so entangled with their own opponent that they failed to pay attention to anything else.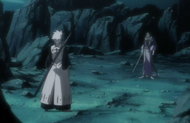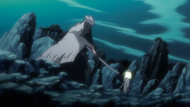 Elsewhere, Tōshirō Hitsugaya tries to convince Hyōrinmaru that he is his master, but Hyōrinmaru dismisses this notion, as he believes Hitsugaya is only a child who is too weak to control his vast power, surprising Hitsugaya. Hyōrinmaru reveals that he lost his memories when he was released from his former master, and that while he is currently working for Muramasa, his real goal is to find his true master. When Hitsugaya insists about his identity, Hyōrinmaru attacks him to assess his strength. Hitsugaya charges at his spirit and then binds him with Sajō Sabaku, but Hyōrinmaru freezes it and to free himself and causes the sky to darken with storm clouds, simultaneously making Sennen Hyōrō close in on Ichigo Kurosaki. Hitsugaya tell him to stop pursuing him, as he is now his opponent and uses Shakkahō on Hyōrinmaru, but the Kidō is stopped and Hitsugaya is encased in ice.
Hitsugaya recalls the time when he still used to live in Rukongai, where everyone was afraid of him, except for Hinamori and his grandmother, who was becoming skinnier. One day, he went to buy some more food at the market. The clerk set the change down on the table. As Hitsugaya picks the Kan up and turns to leave, he bumps into Rangiku's bosom, making him fall. She picks him up, yelling at him not to mope around and cry. Hitsugaya yells back, stating that he wasn't crying and runs off. That night, he wakes up from a dream, only to see Rangiku standing beside him, telling him to control his Reiatsu when he's asleep, as it is making his grandmother cold. She suggests that he become a Shinigami, so that his power doesn't unintentionally harm others.
Hitsugaya unleashes his Zanpakutō's Shikai, stunning Hyōrinmaru, and summons forth his Ryūsenka technique, freezing them both, while Ichigo breaks out of Sennen Hyōrō with Getsuga Tenshō. Wrapped in ice, Hyōrinmaru finally remembers his master, briefly transforming back into his original form. While in that form, Tōshirō is levitating due to the spirit energy of his Zanpakutō. Hitsugaya convinces Hyōrinmaru that he is his master he has been searching for, and not a child. Hyōrinmaru howls and returns to his spirit form, carrying an unconscious Hitsugaya as Ichigo watches.
Back in the Forest of Menos, Muramasa has defeated his new-found opponent. After realizing that time is limited, he picks up the defeated Hollow, absorbing its power and stating that it would have to suffice for today.

Shinigami Illustrated Picture Book
Kon, whilst in Ichigo's Human body, is staring at some of Ichigo's female classmates when he's supposed to be finishing up Ichigo's schoolwork. Uryū notices this and asks Kon if he's already done. Kon says how he doesn't want to work and tries to escape, but Chad stops him and sets him back in a desk. Kon then asks what they have against him. Uryū replies by setting down two stacks of books on the desk and saying how Kon is inhabiting the body of a Shinigami, who are his enemies. Kon is disgruntled by his reason.
Characters in Order of Appearance
Tōshirō Hitsugaya's Unnamed Grandmother
Fights
Powers and Techniques Used
Kidō used:
Bakudō #63. Sajō Sabaku (鎖条鎖縛, Locking Bondage Stripes)
Techniques used:
Zanpakutō released:
Shikai:
Bankai: