That Man, For the Sake of the Kuchiki
Talk

0
1,877pages on
this wiki
That Man, For the Sake of the Kuchiki is the two hundred fiftieth episode of the Bleach anime.
Kōga Kuchiki's past is revealed.
Summary
This section is under construction and requires editing and corrections. Please help by editing this section.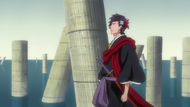 Kōga Kuchiki is released from his prison, and a flashback from several hundred years ago occurs, explaining the circumstances of Kōga's acts during a civil war, where he fought with distinction, his relationship with his father-in-law, Ginrei Kuchiki and Genryūsai Shigekuni Yamamoto, who put a special forces unit under Kōga's command, and his betrayal by other elites which leads to his arrest by the Onmitsukidō and Ginrei Kuchiki. Muramasa breaks out the cell and asks Kōga to go with him, which he agrees, but makes it clear he is charge. Back in the present, Ichigo Kurosaki and Rukia Kuchiki attack him, but are repulsed. Muramasa approaches Kōga, only to be stabbed by his master.

Shinigami Illustrated Picture Book
Uryū Ishida screams out, cursing the materialized Zanpakutō. Ichigo pats Uryū on the shoulder, reassuring him, only to receive a shaking by Uryū and a question on whether or not it's weird or not, to have a materialized weapon. Ichigo, in return, shakes Uryū, telling him to calm down. Ichigo devises a plan, asking Uryū if he hears something. Ichigo disguises his voice to sound different, asking Uryū if he's there. Ichigo states he's Ginrei Kojaku, flashstepping behind Uryū, when the Quincy asks if it's really him. Ichigo says he is and Uryū finally thinks his bow has materialized, much like the Zanpakutō.
Characters in Order of Appearance
5 unknown elites
Powers and Techniques Used
Zanpakutō released
Shikai:
Bankai: