Suì-Fēng vs. Suzumebachi
Talk

0
1,875pages on
this wiki
Suì-Fēng vs. Suzumebachi
Combatants
Powers & Abilities
Damage Sustained/Casualties

Suì-Fēng is lightly injured.

Suzumebachi is defeated.
Suì-Fēng vs. Suzumebachi is a fight taking place during the Zanpakutō Rebellion. It focuses upon the conflict between the Head of the Onmitsukidō Suì-Fēng against her Zanpakutō spirit.
Prelude
Suì-Fēng activates her Shunkō, negating the effects of Gonryōmaru's lightning, much to his surprise. As the rubble levitates all around her, she redirects the attack into the sky. This dispels the dark storm clouds hanging overhead, and Suì-Fēng charges at Gonryōmaru. Before he can react, the 2nd Division captain kicks him away, clashing blades with Tenken. She blocks his fist with her bare hands, stating that she will not be able to finish him in one blow.[1]
She notices Gonryōmaru getting up from her initial strike, as a tiny voice calls out to her. She is surprised at this, and uses Shunpo to move away. However, an imposing Homōnka appears on her back, as the tiny voice states that she could have got a second hit in. The voice comments that this is the first time she has been stung by this, so surprise is a natural emotion. Suì-Fēng notices a tiny bee-like form, as Suzumebachi reveals herself to her former master.[1]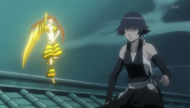 Suì-Fēng asks her whether she truly is her Zanpakutō, to which Suzumebachi confirms this, using Shunpo to appear next to her. She asks her former master what she thinks of her physical appearance, to which Suì-Fēng is at a loss for words. Suzumebachi asks what her problem is, stating that she sounds stupid when doting over Yoruichi, resulting in Suì-Fēng doubting that this is her katana's spirit. However, Suzumebachi threatens that if she does not believe her, then she will pierce her again and see what happens.[1]
Kenpachi's Arrival
However, Kenpachi Zaraki interrupts their fight, appearing before the waging combatants. Suì-Fēng berates him upon his late arrival, but Kenpachi states that he arrived as soon as he could. After Kenpachi destroyed Wabisuke, Suì-Fēng remarks that that is the fate for all Zanpakutō who will get defeated by someone other than their master. However, Suzumebachi tells her not to look down upon them. Kenpachi then proceeds to release a massive amount of Reiatsu, sending Suì-Fēng and Suzumebachi flying away.[2]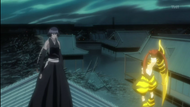 Suì-Fēng comments that Kenpachi is still releasing a large amount of Reiatsu, as Suzumebachi charges at her preoccupied master. Suì-Fēng dodges her strike with Shunpo, as Suzumebachi praises her reflexes, resulting in Suì-Fēng praising her quick thinking. Suì-Fēng states that she will not be able to counter her Zanpakutō's attacks from this poor footing, realizing that she won't be able to fight quietly either. She tells Suzumebachi to follow her, as they run off into the distance.[2]
Battle
Suì-Fēng runs across a rooftop, which Suzumebachi in hot pursuit. She watches her Zanpakutō's movements closely, as Suzumebachi asks her how long she is going to run away. Suzumebachi charges at, which she barely dodges. The 2nd Division Captain jumps down to the ground, as Suzumebachi comments that was a smart way to dodge, as a Homōnka appears upon her left shoulder. Suzumebachi explains that Suì-Fēng let her stinger pierce her, as she was well aware that she could not completely evade the strike.[3]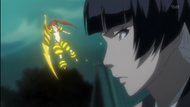 Suzumebachi states that that was a one-off, as she now has more targets to aim at. She taunts Suì-Fēng, wondering which Homōnka she should hit first. Suì-Fēng wonders why Suzumebachi is able to intercept her moves, as their speed should be the same. Suzumebachi realizes how surprised she is that her moves are interceptable, as she explains that, as the fastest Shinigami and Zanpakutō, that they should have the same speed. She continues to taunt her former master upon her uselessness, causing Suì-Fēng to retaliate. [3]
She slashes at the air around her Zanpakutō spirit, as Suzumebachi dodges and asks her whether she has faced off against an opponent who is smaller than her. Suzumebachi reveals that her lighter frame provides an edge in battle, stating that it is only natural. She goes on to taunt her once more, criticizing her idolization of Yoruichi Shihōin. Suì-Fēng asks her what she knows of Yoruichi, slashing out at her Zanpakutō spirit. Suzumebachi appears on the hilt of her katana, stating that she knew a lot about her.[3]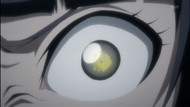 Suzumebachi continues, stating that Yoruichi is making her rot. Suì-Fēng looks despisedly at her Zanpakutō spirit, prompting Suzumebachi to wonder what that expression is for. She slashes at her once more, while Suzumebachi taunts from the air. Suì-Fēng takes an opportunity to strike, surprising Suzumebachi. However, the attack barely misses, and Suì-Fēng proceeds to attack her multiple times, all of which Suzumebachi is able to evade. She mocks her master's fruitless attempts at attacking, appearing directly in front of her. [3]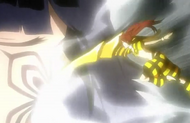 As Suzumebachi charges at her, Suì-Fēng uses Shunpo to dodge her attack, a Homōnka appearing on her cheek. Her Zanpakutō spirit laughs, stating that it is useless to try and intercept her attacks. Suzumebachi resolves herself to finish the fight, proceeding to surround Suì-Fēng in a rapidly moving yellow blur. Suì-Fēng is seemingly daunted by Suzumebachi's rapid gyration, as she tauntingly wonders which Homōnka she should pierce. She chooses the Homōnka on Suì-Fēng's left cheek, as silvery wisps of energy form from the contact.[3]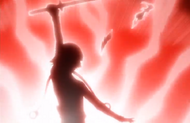 Suzumebachi wonders what happened, realizing that she used Shunkō to disperse the attack. Suì-Fēng grips her Zanpakutō, proceeding to sever Suzumebachi's stinger from her main body. As Suzumebachi falls backwards, Suì-Fēng explains that she used her Shunkō, focusing it upon the point of impact, in order to prevent the blade from piercing her. Suì-Fēng states that her victory was due to her variations in attack methods during a battle. She states that that is how she was taught to fight, and how she continues to fight. [3]
Aftermath
Suzumebachi's Shikai then clatters to the ground. Although victorious, the fight has exhausted her and just as Suì-Fēng is about to collapse she is held up by Yoruichi who carries her back to meet the others. Suì-Fēng is present when Yoruichi reveals that she has found where Muramasa is keeping Captain-Commander Yamamoto.[3]
References