Stray Snake, Tortured Monkey
Talk

0
1,877pages on
this wiki
Stray Snake, Tortured Monkey is the two hundred fifty-eight episode of the Bleach anime.
Renji and Zabimaru must defeat a Tōjū, but the snake form of Zabimaru, Hebi, wants freedom.
Summary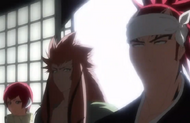 From within Karakura Town, there is a Senkaimon opening near one of the rivers, from which Renji Abarai and Zabimaru emerge from.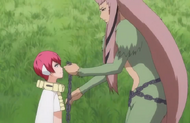 The snake form of Zabimaru, Hebi, spots a frog jumping around and immediately wants to go play with it. However, his monkey half, Saru, reprimands him for his childishness. Renji reminds them that he allowed them to accompany him so that they can catch a Tōjū together and walks off. Saru is reminded to unchain herself with Hebi, which she does.
All three sense the reiatsu of a Tōjū and move towards it, except for Hebi, who is distracted by the sight of fish in a nearby river. Renji and Saru encounter the Tōjū and quickly engage in combat with him. They manage to injure his arm, but he quickly flees afterwards, causing them both to chase after him. They chase him towards Hebi's location, but he fails to capture the Tōjū. Saru scolds him for his careless behavior. Renji, on the other hand, says that it doesn't matter since the Tōjū can't move far with his injuries.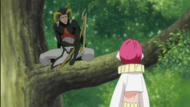 Renji and Zabimaru again split up. Hebi relocates to a park, grumbling about Saru's lecture, but spots the Tōjū up a nearby tree. He faces the rogue spirit, but instead has a conversation with him about freedom. Listening to the Tōjū distracts Hebi and he lets the beast escape. Renji and Saru catch up to him. They both ask why he left the Tōjū escape, then Saru tries to chain Hebi back, to which Hebi states he does not want to lose his freedom. He then runs away from the two. Saru attempts to chase after him, but is stopped by Renji.
Hebi starts walking around Karakura Town, enjoying his newfound freedom. He starts off by attempting to eat several onigiri without paying for them, though Karin Kurosaki stops him. She attempts to bring his acts to attention, but he leaves before she can do anything. Hebi then spends the rest of the day chasing little animals and sleeping. However, while having fun he develops hunger. Hebi tries to buy food from a market on the streets, but none of the customers or employees can see him; with this in thought, he wonders how Karin knows of his presence.
He spends the evening in silence and with the thought of food constantly rushing inside his head. Karin and her sister Yuzu walk in the area nearby. Karin recognizes him and tries telling Yuzu about him, only to realize her sister cannot see him at all. They approach Hebi and invite him to eat, but the Zanpakutō stubbornly refuses to. Karin and Yuzu decide to leave him alone, but place an onigiri next to him. Hebi reluctantly decides to eat it and goes back to them. He introduces himself as a Zanpakutō spirit, though Karin cannot understand what he means by it. Oblivious to the situation, Yuzu offers to bring him to the Kurosaki's house.
Renji and Saru spend their evening on a bench in the same park where Hebi left them. Saru remains solemn the entire time. When asked about whether she's worried for Hebi, she replies that Hebi is starting to act like a Tōjū, which upsets her. Renji taunts her for not being so truthful with herself. Ichigo then arrives saying he sensed Renji's reiatsu. He asks what is bothering them. Renji informs him that they're searching for Tōjū, aware that Ichigo himself knows of the situation, and when asked says that a situation came where Hebi had to split up. Ichigo ponders his words.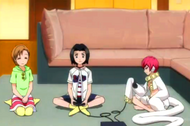 At the Kurosaki household, Hebi is served tea while also informed that the twin girls' family is not present. He learns more about their relationship with their family and calls it lame, as they are tied down to someone specifically, while now he is free and unbounded. Karin reasons against this and the two have a brief argument about the subject. To drive them both off the topic, albeit unintentionally, Yuzu serves Hebi pudding and then asks if he'd like to play games with the two of them. He cannot find himself to play anything, but enjoys a television program. The three have fun together before eventually they all fall asleep.
When Ichigo arrives home that night, he sees Hebi asleep, and wakes him up. He inquires why the spirit is inside his house before then asking why he's not with Renji, being his Zanpakutō. Hebi immediately flares up and leaves the household with a now-awakened Karin chasing after him.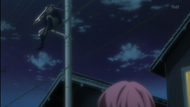 As he runs outside, Hebi re-encounters the Tōjū, who states that with his injuries now healed, he shall kill every one of them. Realizing this as the rogue's ambition, Hebi decides to take him on himself. The two engage in combat shortly though Hebi manages to knock him down. Before he can deal a finishing blow, Karin runs towards them. Realizing that she's connected to Hebi, the Tōjū knocks her unconscious and holds her hostage, threatening to kill her should he be attacked again. Hebi reluctantly drops his weapon allowing the Tōjū to strike back.
He sarcastically asks Hebi if he's enjoyed his brief freedom and adds in delight that masters or friends mean nothing to him. Hebi, having changed his initial thoughts following his meeting with Karin and Yuzu, says that friends aren't such a bad thing. The Tōjū taunts him and throws his boomerang at Hebi. Luckily, he is saved by an arriving Renji and Saru, who decide to finish things off for him.
In the meantime, Hebi takes an unconscious Karin back to Ichigo. He tells the Substitute Shinigami that he must promise not to tell her or Yuzu about him when they awaken. Ichigo keeps his word and pretends to Karin that he does not know who Hebi is. Renji and a regrouped Zabimaru look down on the Kurosaki household from afar. Hebi says it's fine that he parts with his new friends like this. A Senkaimon opens near them. Renji and Zabimaru enter it and return back to Soul Society.

Shinigami Illustrated Picture Book
Zabimaru begins to follow Renji everywhere he goes; whether they're out for food, sunglasses, or sleep time. Eventually, he begins to grow weary of their constant companionship and finally draws the line when they start following him to the restroom.
Fights
Characters in Order of Appearance
Powers and Techniques Used
Shinigami techniques used:
Zanpakutō released:
Shikai: