Shin'etsu Kisaragi (如月 信越, Kisaragi Shin'etsu) was a Shinigami from the First Division and the father of Shūsuke Amagai.
Appearance
Similar to his son, Shin'etsu keeps his dark brown hair in a messy fashion, though he has a small beard. As a seated member, he wore the standard Shinigami uniform, albeit it was tattered.
History
When the Kasumiōji Clan began manufacturing the Bakkōtō, the Central 46 denied Captain Genryūsai Shigekuni Yamamoto's request to investigate the compound. Nonetheless, Shin'etsu offered to sneak in anyway. While there, Gyōkaku Kumoi found him and forced a Bakkōtō on him. Kumoi then ordered for him to kill the person that sent him. He returns to Yamamoto, but his captain unleashes his Shikai to defend himself. Despite his hesitation, he kills Shin'etsu. Shūsuke finds his dying body and hears his father's last words, "Beware the Bakkōtō".
Powers & Abilties
Zanpakutō
Despite having a Zanpakutō, it was never seen released, due to his capture and later on death.
Bakkōtō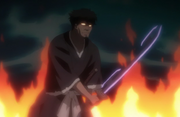 Upon being captured by Kumoi, he was forcibly given an experimental Bakkōtō. It has two curved extensions on both ends of the blade that take the appearance of a hook. Its powers, if any, are unknown.

Ad blocker interference detected!
Wikia is a free-to-use site that makes money from advertising. We have a modified experience for viewers using ad blockers

Wikia is not accessible if you've made further modifications. Remove the custom ad blocker rule(s) and the page will load as expected.