Senbonzakura's Bankai! Offense and Defense of the Living World
Talk

0
1,878pages on
this wiki
Senbonzakura's Bankai! Offense and Defense of the Living World is the two hundred and forty ninth episode of the Bleach anime.
Kenpachi Zaraki squares off against Tenken's Bankai as Muramasa is able to free Kōga.
Summary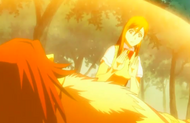 In the World of the Living, Muramasa wakes up injured. He is surprised to find that he is being healed by Orihime Inoue, recognizing her as a friend of Ichigo Kurosaki, which surprises her. He demands to know why she is helping him, to which Orihime replies that she can never look away when she sees the injured and must always try to help. She informs him that before, he had looked like he was really suffering, causing Muramasa to have a flashback of when he arrived at the lake and collapsed.
Stunned, Muramasa cries out, causing Orihime to dispel her Sōten Kisshun in surprise. A dark aura becomes visible around Muramasa as he pulls himself into a seated position. Orihime senses it and mentally remarks that his Reiatsu feels evil, like that of an Arrancar. Just then, Muramasa moves away, narrowly avoiding an attack from Uryū Ishida who arrives along with Yasutora Sado to help Orihime and to stop Muramasa from achieving his goals.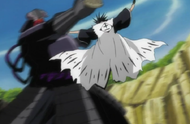 Back in the Soul Society, Kenpachi is battling Tenken's Bankai, Kokujō Tengen Myō'ō, with the giant towering over him. He challenges him to make his next move as Yachiru Kusajishi watches from behind. Impatient, Kenpachi moves to attack the giant, which prompts the beast to swing his own sword in retaliation. Kenpachi is flung against the canyon wall, inciting Yachiru to call out in a worried fashion. Kenpachi gets up, barely injured and tells Yachiru to stop screaming before creaking his neck from the attack.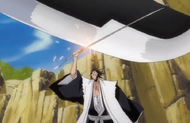 The Shinigami then reappears in front of the giant and declares that this was now a real fight, blocking an incoming attack from the massive sword. He compliments his opponent, but states that he needs more punch before unleashing his own Reiatsu to counter the attack. Kenpachi then proceeds to ascend the giant's large body and to then cut off the giant's left horn of his helmet. Landing, he turns back to his adversary and excitedly declares that the battle is far from over.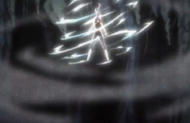 In the cave, Yoruichi Shihōin easy dodges one of Tobiume's bells, much to the Zanpakutō Spirit's frustration. Haineko then attacks using her Shikai, declaring that they cannot let Yoruichi escape. The Flash Goddess uses Shunkō to easily dispel the attack when it surrounds her. Yoruichi then uses her superior Shunpo abilities to easily evade several of Haineko's attacks. Appearing behind the spirit, she observes that she clearly spends too much time worrying about fashion, looks and men than training, which is evident from her attacks.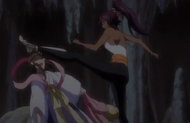 In retaliation, Haineko swings her sword at her, insulting her again. Yoruichi lands on a stalagmite, again poking fun at Haineko, insisting she was going easy because both of them have an affinity for felines. Tobiume then attacks, but Yoruichi easily dodges, mockingly ruffles her hair before kicking her away, insisting it is time the both of them gave up the battle. She reminds them of her status and how they will never catch her, needing another hundred years or so of training before even having a chance to.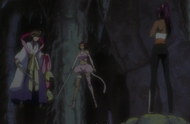 Tobiume insists that they cannot afford to lose the battle, much to Yoruichi's indignation. She demands to know why they have not yet realized that Muramasa was just using them to achieve his own goals. Yoruichi insists that he was deceiving them all along. When they ask how, she informs them that he betrayed their comrades. Yoruichi elaborates further by explaining that Muramasa had both Katen Kyōkotsu and Sōgyo no Kotowari killed. Both spirits refuse to believe her, insisting that she is lying as a tactic. Yoruichi laments that she will have to start fighting them for real.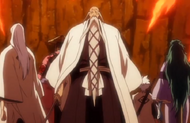 Elsewhere, the spirit of Ryūjin Jakka has trapped Tōshirō Hitsugaya, Genryūsai Shigekuni Yamamoto, Shunsui Kyōraku, Jūshirō Ukitake, and Hyōrinmaru. Kyōraku wonders how they are going to calm Ryūjin Jakka down while Ukitake reminds him that the flames will be very difficult to deal with. Hyōrinmaru informs Hitsugaya that they will need to fight with every ounce of strength that they have. Hitsugaya disagrees with this, stating that with four captains, they will only have to fight as normal. Kyōraku agrees with this and they all decide to end it so they can go help Ichigo defeat Muramasa.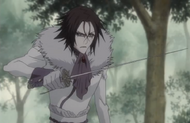 Back in the Human World, Uryū and Sado ask Orihime if she is alright. When she replies positively, Uryū notices that Muramasa's Reiatsu is not that of a Shinigami or an Arrancar and demands to know what he is. Muramasa asks if they are friends with the Shinigami, Uryū replied that he is a Quincy. Stating he's never heard of Quincy, Muramasa draws his sword and attacks them. Uryū shoots several arrows, but Muramasa dodges them before slashing at the duo.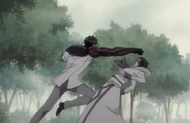 They manage to avoid his attack with Sado rushing in, throwing his fist which Muramasa manages to evade. Uryū attacks once more and again Muramasa eludes the attack. Sado then attacks using El Directo, but Muramasa uses Shunpo to avoid it, appearing near Uryū as he does so, stating that he doesn't have the time to fight with them. He raises his hand a puts a spell on Uryū, distracting him. He rushes in to attack, but Sado interrupts him, causing him to retreat again, cursing them once more as he is so close to his goal.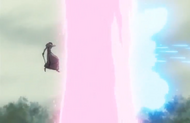 Uryū orders Sado to flank him, which he does, as both move to attack at the same time. When Muramasa evades Sado's blast, Uryū shoots the second he reappears. Just as the arrows are about to hit, Senbonzakura's blades shield Muramasa and protect him. Both Sado and Uryū are stunned by this development, recognizing Byakuya Kuchiki's technique. Uryū realizes that Senbonzakura is also part of the rebellion and is thus an enemy. Senbonzakura tells Muramasa to leave Uryū to him, which he agrees to do so.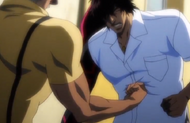 Senbonzakura moves off to battle Uryū while Muramasa attacks Sado by placing him under an illusion. Sado has visions of being in Mexico where he lived with his Grandfather, Oscar Joaquín de la Rosa before moving back to Japan. His Abuelo appears to him, causing him to become shocked and then stunned further when his vision lashes out and punches him in the gut. Sado collapses with Muramasa appearing before him, where his Grandfather had previously stood.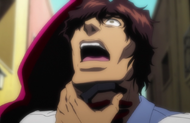 The spirit deduces that Sado is definitely not a Shinigami, calling him pathetic before moving to walk away. Determined, Sado reaches out, grasping Muramasa's arm to stop him. Surprised that he can still move, Muramasa uses his powers to asphyxiate Sado before sending him flying. In the Real World, Orihime rushes to her friend's side as Muramasa states that she is wasting his time, as he can no longer fight, which Orihime denies. Nearby, a tree falls down and Orihime realizes that it's due to Uryū's battle with Senbonzakura.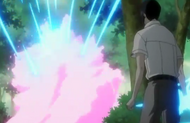 In their battle, Uryū and Senbonzakura continue to fire their projectile weapons at each other, alternatively dodging each other's attacks, or cancelling their attacks out. Sensing the stalemate, Uryū shoots into the air so that that directions of his attacks vary. In response, Senbonzakura releases his Bankai and uses it to shield himself from the energy arrows. This stuns Uryū for a moment, during which Senbonzakura tries to attack him, causing Uryū to swiftly retreat to Orihime's side while Senbonzakura retreats to Muramasa's side.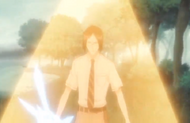 Muramasa moves to put Uryū under another illusion, but Orihime steps in a protects him using her Santen Kesshun. The shield blocks the attack easily. Orihime then demands to know why Muramasa is attacking her friends, the expression in her eyes shocking the spirit. She states that in his eyes, she saw a terrible and deep sadness when she was healing him. Muramasa violently rejects her words, declaring that she knows nothing about him and that he has the power to change the world.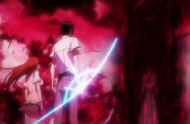 The darkened red aura that Orihime witnessed earlier, reappears around Muramasa, forcing Senbonzakura to take a step away from him. A spiritual gust explodes from the base of Muramasa's feet and it soon envelops the entire area. The air around them all becomes red from the light of his Reiatsu and dangerously windy. Orihime appears stunned by this development, clearly terrified by the spirit's powers and what he can possibly do.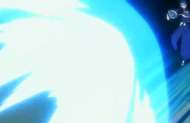 The scene is interrupted by the arrival of Rukia Kuchiki who uses Hadō #33, Sōkatsui to attack Muramasa. The spirit blocks the attack as Rukia lands next to Orihime, asking her friend if she is alright. Rukia maintains that she found them by tracking Byakuya's Reiatsu, insisting she will explain everything later. She also informs them that Muramasa is the one behind the rebellion and that they have to be careful with his abilities.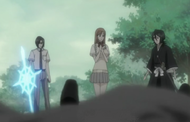 Uryū then asks where Ichigo is, with Muramasa replying that he has been more than likely killed by the flames of Ryūjin Jakka. Rukia is shocked that Muramasa has managed to take control of Yamamoto's Zanpakutō as well. Orihime is confident that Ichigo is alive. Muramasa goes to rebuff her, but is interrupted when he coughs due to his deteriorating health. Senbonzakura asks if he is alright and he replied that he is, but reminds them all that he is running out of time.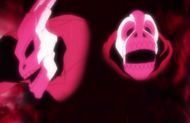 He envelops himself in the dark Reiatsu once more and soon, a number of Hollows start to crawl from the Reiatsu. The strain of this causes Muramasa's eyes to bleed making it appear as though he is crying blood. Rukia demands to know how he summoned Hollows if he is supposed to be the spirit of a Zanpakutō. Muramasa reiterates that he is a Zanpakutō, but one with the power to change the world. He then insists that he is about to be freed from a lonely battle he has been partaking in for years.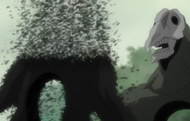 Muramasa retreats, leaving the youths to deal with the Hollows. Uryū tries to attack Muramasa as he flees into the air but his arrows are intercepted by Senbonzakura, who declares that none of them shall pass. In frustration, Uryū goes on the offense and the two engage in another skirmish. Rukia advises Orihime to get the injured Sado to a safe distance before attacking the Hollows with another Hadō #33, Sōkatsui, destroying one of them with the attack.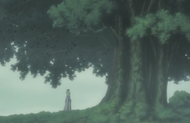 Across the lake, Muramasa emerges from the water onto the island, walking slowly given his condition, but still determined to press on with his goals. He reaches a large tree with a wide base in the middle of the island. The sight of it brings a smile to his face as he mutters the name "Kōga", clearly relieved having reached his target. However, his current state continues to deteriorate, causing him to wince painfully before reaching his arm out for the tree. He begins to recite an incantation as he does this.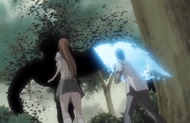 Orihime and Rukia have gotten Sado safely behind a tree, so Orihime tells her Shinigami friend to go after Muramasa due to the deep sadness she felt in his soul. Rukia is about to disagree when one of the Hollows finds them, forcing her to go deal with it. The Hollow dodges her attack, but is soon destroyed by Sado, who has managed to pull himself to his feet despite his injuries. As other Hollows approach, Sado insists that Rukia chases down Muramasa, which she reluctantly agrees to, leaving them to sort out the Hollows.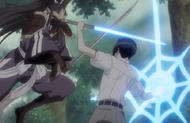 Uryū continues his fight with Senbonzakura as they continue to cancel out the attacks of one another. He notices Muramasa over on the island in the middle of the lake, seeing the tree begin to show signs of electrical charge due to the spell the spirit is casting. Uryū recognizes this is a bad thing and decides they need to do something fast to stop the process from being completed. Senbonzakura tries to take advantage of his distraction and attack from behind, but Uryū blocks his sword with one of his Seele Schneider, surprising the spirit.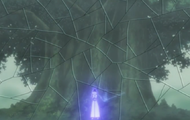 On the island, Muramasa completes his incantation, which causes the entire scenery around and including the tree to crack and disintegrate. Rukia realizes that it was some form of a seal that Muramasa had just destroyed. Senbonzakura is surprised to see a Quincy using a sword, but informs Uryū that he will never defeat him using a weapon that he is not accustomed to wielding. He pushes Uryū back and releases his Shikai to finish the battle.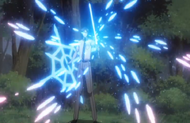 However, Uryū contradicts this remark and advises the spirit of Seele Schneider's true abilities, weakening the bonds between spirit particles, allowing him to absorb them more easily. He does so using the particles surrounding Senbonzakura's blades, surprising the Zanpakutō Spirit once more. Taking advantage of Senbonzakura's stunned state Uryū is able to attack him swiftly, breaking the spirit's mask as he knocks him out of the battle.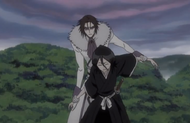 Muramasa stands in front of a large coffin that is bound by a seal, stating that it is finally time for whatever is inside to be released. Rukia attacks him using Hadō #33, Sōkatsui, but Muramasa easily negates the attack. He then confines her hands to prevent her from interfering in the process further. Uryū tries to help her, but is prevented from doing so by Senbonzakura who had gotten up following the previous attack, the bottom part of his mask shattered revealing his chin.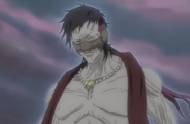 Rukia demands to know what is contained within the seal and Muramasa informs her that the prisoner is his master, who once tried to take over the Soul Society and who Muramasa now wants to be revived. He maintains that all his actions up until this moment have been for this one goal. Suddenly, his eyes glow and the coffin is covered with electrical charges; the chains break before the seal itself explodes, revealing a withered, unconscious man inside.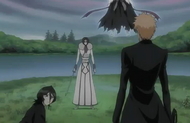 Muramasa throws Rukia aside, raising his arms towards his master, calling out his name to revive him. He is soon interrupted by the surprise arrival of Ichigo Kurosaki, who attacks Muramasa, but is easily blocked. His friends are shocked by his appearance and he apologizes to Rukia for being so tardy in his actions. Muramasa demands to know how he escaped, but Ichigo replies that it doesn't matter how, and that he will stop him.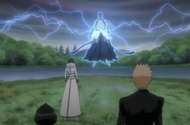 Muramasa laughs at this statement, declaring that his arrival has been too late as he has already achieved his goals. He looks up at his unconscious master as more and more energy begins to sizzle around him in a charged fashion. Ichigo swears in frustrations upon seeing the unconscious Shinigami hovering above them. Muramasa cackles upon stating that at last his dream have come true as, with a last burst of energy, Kōga Kuchiki opens his eyes.
Shinigami Illustrated Picture Book
Yamamoto recalls the times that Ryūjin Jakka has been there for him when needed to heat up an oven, when it was cold and when he baked sweet potatoes. Using Hyōrinmaru's Bankai, he intends to freeze his Zanpakutō Spirit to snap it out of Muramasa's brainwashing. Shunsui remarks that perhaps, Ryūjin Jakka had become tired of doing chores.
Fights
Characters in Order of Appearance
Powers and Techniques Used
Kidō used
Techniques used
Shinigami techniques used:
Fullbring used:
Zanpakutō released
Shikai:
Bankai:
Other Powers