Rukia Kuchiki vs. Sode no Shirayuki
Talk

0
1,877pages on
this wiki
Rukia Kuchiki vs. Sode no Shirayuki
Combatants
Powers & Abilities

Rukia:


Ichigo:

Damage Sustained/Casualties

Rukia sustains grievous wounds

Sode no Shirayuki is uninjured
Rukia Kuchiki vs. Sode no Shirayuki was the first major fight between a member of the Gotei 13 and their Zanpakutō during the Zanpakutō Rebellion. The battle between the two combatants began in Soul Society, moved briefly to the Human World where Ichigo Kurosaki shortly joined the fight, and later continued and concluded back in Seireitei.[1][2]
Prelude
Yoruichi Shihōin shows up at the Urahara Shop, where Rukia Kuchiki is recovering after her experiences during the initial stages of the Zanpakutō Rebellion. Following Yoruichi's update on the current situation, she also confirms that Byakuya Kuchiki is not one of the Captains that are accounted for and is currently missing. Rukia appears worried over this, but Ichigo Kurosaki reminds her that Byakuya is one of the most talented fighters they knew, and thus, couldn't be dead.[1]
Despite these words, Rukia is still uneasy and later that night, Noba teleports the other Mod Souls to Ichigo's house as he rests on his bed. They inform him that Rukia has disappeared, and Kisuke Urahara surmises that she has likely returned to the Soul Society. Despite Urahara's warnings, Ichigo demands that he open a Senkaimon so that Ichigo can follow her to ensure that she doesn't get hurt. Yoruichi agrees with Ichigo, giving Urahara little choice, but to do as they ask.[1]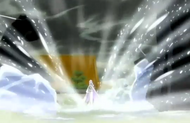 In the Seireitei, Rukia rushes through the Sixth Division barracks towards Byakuya's office to see if he has returned. When she finds Renji Abarai instead, her old friend enthusiastically greets her, unaware of her injuries, which enrages Rukia enough to punch him. Renji informs her that the search squad he sent out has yet to find Byakuya, but reassures her that they wouldn't have been able to defeat his Captain which makes Rukia smile. Despite this, she continues to reflect on the situation before she encounters the spirit of Sode no Shirayuki attacking Shinigami not far from her. Rukia rushes onto the scene and demands that her Zanpakutō stop attacking innocent Shinigami, but Sode no Shirayuki states that she does not take orders from her any longer.[2]
Elsewhere, Ichigo arrives in the Seireitei with Yoruichi, who warns him not to overdo anything and to pull back if anything starts to feel wrong with Zangetsu. Sode no Shirayuki states that she is now free of Rukia's control and, in hurting innocent people, is merely doing as she pleases and she will not look kindly on anyone that tries to stop her.[2]
Battle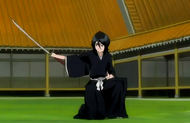 Clutching her sealed blade, Rukia advises the spirit of her Zanpakutō that she does not want to fight her, but in response, Sode no Shirayuki suddenly rushes forward, surprising Rukia with her speed. Using her hand, the Spirit tries to use an ice attack on her former master, but Rukia manages to barely avoid the attack before she is harmed. In retaliation, Rukia attempts to release the Shikai form of her Zanpakutō, but Sode no Shirayuki informs her that it's useless to try given that she no longer resides within the blade and that up until now, she had no choice over whether or not her master could use her powers, which confuses Rukia enough to question the matter.[2]
In response to the question, Sode no Shirayuki releases her power, bitter in regards to Rukia assuming the power of her Zanpakutō was her own. Despite Rukia's denial, Sode no Shirayuki uses Some no mai, Tsukishiro, forcing Rukia dodge the attack by jumping onto a nearby roof, clearly stunned by being attacked by her own technique. Her shock increases when Sode no Shirayuki proves knowledgeable on the technique, and how the ice tower is supposed to be able to reach the heavens. The Zanpakutō spirit uses the technique again, forcing Rukia on the defensive before appearing behind her and blasting her with icy breath, forcing her to crash into the ground.[2]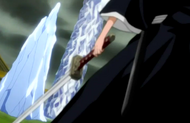 Rukia begins to understand the seriousness of the situation and resorts to using Kidō against the Zanpakutō spirit. With a full incantation, Rukia fires a Hadō #33. Sōkatsui towards Sode no Shirayuki, but when the smoke clears, it is revealed that the spirit generated an icy barrier to protect herself. Sode no Shirayuki tells her former master not to be surprised and not to underestimate her, beginning to attack Rukia in much more earnest than before by flinging projectile icicles towards her.[2]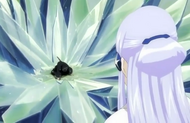 While evading the attacks, Rukia wonders why her Zanpakutō suddenly hates her, reminiscing how they've always worked together as a team since Kaien Shiba helped her achieve Shikai. Suddenly, Sode no Shirayuki vanishes, reappearing behind Rukia, noting from her fluctuating Reiatsu that she was thinking about the past. Rukia manages to block her attack with her blade, but the resulting explosion weakens her greatly, while Sode no Shirayuki retreats to a nearby roof. Before Rukia can move, Sode no Shirayuki uses Tsugi no mai, Hakuren in order to finish off her former master.[2]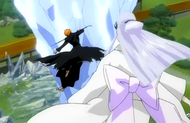 The attack is blocked in time by Ichigo arriving at the scene, using Getsuga Tenshō while in Bankai. Rukia yells at Ichigo for coming to the Soul Sociey at such a dangerous time, given that they do not know why the Zanpakutō are rebelling, but Ichigo shrugs off her worry before engaging Sode no Shirayuki in battle. The Zanpakutō spirit unleashes several long range attacks at him and he evades them easily, but does not attack her directly. When Sode no Shirayuki realizes what he's doing, she promises to make him regret not taking her down, manifesting her blade again. Ichigo almost gets caught in Sode no Shirayuki's Some no mai, Tsukishiro attack, but escapes with just his foot frozen. The Zanpakutō spirit continues to engage him, freezing his hand and using her icy breath to push him towards the ground.[2]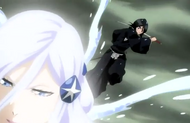 Rukia looks on in horror as Sode no Shirayuki smiles manically, mocking Ichigo for coming to the Seireitei to protect her former master. Both begin to unleash a great amount of Reiatsu in order to attack one another, but Rukia interrupts their scuffle, swinging at Sode no Shirayuki from behind. The Zanpakutō spirit blocks her attack easily so that Rukia lands in front of Ichigo, still prepared to fight. Ichigo tries to protest against his friend continuing the fight, but Rukia requests that he stays out of her battle.[2]
Rukia requests that Sode no Shirayuki hate only her, but the spirit replies that because she hates her, she will take away all that Rukia holds dear. Rukia understands, stating how she was proud of the beautiful Zanpakutō that belonged to her, but the spirit denies that Rukia owns her. Rukia agrees, setting her Zanpakutō free, which shocks Sode no Shirayuki. Rukia advances towards her, inciting an incantation. At the last moment, Sode no Shirayuki tries to defend herself with a whirlwind of ice, but Rukia is undeterred by this, binding herself with her Zanpakutō using Bakudō #61. Rikujōkōrō. Rukia requests that her Zanpakutō let go of her hatred because she can't let her destroy those that Rukia must protect. Letting her Zanpakutō go, Rukia uses Hadō #73. Sōren Sōkatsui in an attack that inflicts damage upon them both and ends the fight.[2]
Aftermath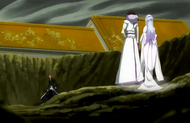 Sode no Shirayuki expresses surprise that her former master went to such lengths, while Rukia laments that Shinigami care about their Zanpakutō just as much as they care about their own lives, bidding farewell to the spirit of Sode no Shirayuki as she loses consciousness. At the last minute, Sode no Shirayuki tries to reach out for Rukia, but Muramasa appears and catches her hand before she can do so. Ichigo rushes to Rukia's side, but Muramasa comes up behind him and introduces himself. Ichigo demands to know more and he reveals that he is another Zanpakutō spirit.[2]
References
↑ 1.0 1.1 1.2 Bleach anime; Episode 231