Rangiku Matsumoto & Momo Hinamori vs. Haineko & Tobiume
Talk

0
1,875pages on
this wiki
Rangiku Matsumoto & Momo Hinamori vs. Haineko & Tobiume

| | |
| --- | --- |
| Outcome: | Matsumoto & Hinamori capture their Zanpakutō spirits |

Combatants
Powers & Abilities

Hinamori:

Matsumoto:

Tobiume:

Haineko:

Damage Sustained/Casualties

Matsumoto & Hinamori are uninjured.

Haineko & Tobiume are uninjured.
Rangiku Matsumoto & Momo Hinamori vs. Haineko & Tobiume is a fight which takes place during the Zanpakutō Rebellion. It involves the 5th Division & 10th Division Lieutenants battling against their respective Zanpakutō spirits.
Prelude
As Lieutenant Isane Kotetsu walks through the 4th Division barracks with Captain Retsu Unohana, they are informed many more injured are arriving, and they need more medical personnel in order to deal with the increase in patients. When Unohana requests her lieutenant does what she can, Isane agrees, but at first, she turns back to her superior, as if about to say something worrisome about the situation, before apologizing and moving on. In Unohana's office, Captains Jūshirō Ukitake and Shunsui Kyōraku discuss how close they were to catching multiple Zanpakutō spirits, and what a shame it was they had failed. As Ukitake worries Captain-level Zanpakutō spirits are bound to start attacking as well, Kyōraku tells him to relax, since everyone is trying so hard. They wonder how the 6th Division is doing without their captain, and just what Captain Byakuya Kuchiki is doing at this moment.[1]
As Lieutenant Momo Hinamori waits outside the barracks, Lieutenant Rangiku Matsumoto, rushing towards her, apologizes for being so late. Having let the guards go, the two lieutenants decide it is their turn to go on duty. In another area, Ichigo Kurosaki pursues Byakuya, whom he has just seen on top of a nearby building, though Ichigo expresses doubt over why Byakuya would help the Zanpakutō spirits or if it really was Byakuya he had seen.[1]
Muramasa is walking through what appears to be the Forest of Menos, seemingly in a weakened state, though he does manage to destroy an attacking Hollow without much effort.[1]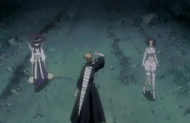 In the forests of Soul Society, Haineko and Tobiume walk about in search of Hyōrinmaru, whom they soon begin to argue over. Senbonzakura, showing up as they argue, surprises the two of them. When he asks where Muramasa is, both deny having seen him. When Haineko asks why he is looking for him, Senbonzakura leaves without speaking another word. As the two of the begin arguing again, they spot Ichigo running through the woods and, recognizing him, waste little time in confronting him. They argue over who gets to fight him, confusing Ichigo and causing him to run away, not having time to deal with them. As they refuse to let him get away, Momo and Rangiku appear before they have a chance to engage in battle.[1]
Battle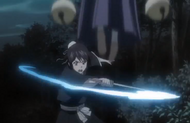 Haineko, becoming upset she both lost the chance to play with her new toy and is now being confronted by Rangiku, calls her an Old Hag, expressing how happy she is to be free of her. As Rangiku expresses regret at ever talking to her Zanpakutō as if she were her equal, the two engage in combat, with Haineko materializing her sword to clash with Rangiku's own. Momo, glad she found her Zanpakutō, lets Tobiume know how much she has missed her company. Tobiume, declaring she does not share this sentiment, says she is tired of sharing her life with somebody so weak, mocking Momo for her naivety, reasoning this aspect of her personality is why everyone always betrays her. Enraged, Momo attacks the spirit of her Zanpakutō, but Tobiume, evading the attack, lands behind her calmly.[1]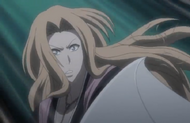 As Rangiku and Haineko continue to trade blows, Haineko cuts off some of Rangiku's hair. When Haineko threatens to make her bald, Rangiku states she would still look good, wondering if her Zanpakutō was always this talkative. Annoyed, Haineko, unleashing her power, sends her ash cloud towards Rangiku, who runs out of the way. As the ash cloud continues to chase Rangiku, Haineko is almost able to catch her until she is knocked over by Tobiume, who was sent flying when Momo used Bakudō #37. Tsuriboshi to block her attack. As Haineko and Tobiume immediately begin to argue over whose fault the interruption was, Momo and Rangiku observe their Zanpakutō do not seen to get along; they become more perplexed when both of them confirm their hatred for each other.[1]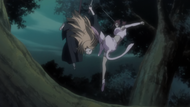 Tobiume, chasing Momo through the forest, tells her to wait, letting her former master know how much her betrayal at the hands of Sōsuke Aizen had infuriated her, as she had been unable to do anything. Now, Tobiume can barely look at Momo anymore, and, deciding to put her out of her misery, attacks her with fireballs, the force of which throws Momo against a tree. As Haineko and Rangiku continue their conflict, Haineko gains an upper hand when Rangiku is distracted by Momo getting hurt behind her. Haineko, punching Rangiku across the face, starts to insult her again, which irritates Rangiku enough to physically retaliate by grabbing Haineko by the hair, and the two of them continue their scrabble.[2]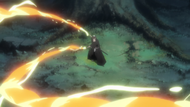 As Momo gets to her feet, Tobiume tries to manipulate her emotions by pretending nobody cares about Momo, as not even Rangiku is looking her way to see if she is alright. In reality, Rangiku is busy fighting her own Zanpakutō, who, unleashing her powers again, unleashes her ash cloud to surrounded her former master. Rangiku begins to recite a Kidō incantation just as Momo begins to do the same. Momo unleashes Bakudō #9. Hōrin which misses Tobiume, much to the Zanpakutō's amusement. Rangiku shoots a Hadō #31. Shakkahō which also misses Haineko, and the Zanpakutō makes fun of her. Haineko is captured by Momo's attack, having not expected it. When Tobiume is forced to dodge Rangiku's blast, she is distracted enough to allow Momo to capture her as well, ending the fight.[2]
Aftermath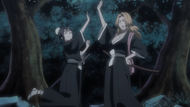 As Tobiume and Haineko argue about being placed so close together, Momo and Rangiku reveal it was their plan all along to distract their opponents in order to surprise them in that manner. Momo reveals she cannot wait to grow older like Rangiku so she is not as naïve as she was now. The two spirits, still not understanding, continue to antagonize one another, much to their masters' aggravation.[2]
Elsewhere, Muramasa consumes a strong Hollow in the forest after killing some other Gillian-class Menos. Ichigo and Captain Tōshirō Hitsugaya meet up with and confront Hyōrinmaru, who has lost his memory and is not aware of who his master is.[3]
References
↑ Bleach anime; Episodes 238-239