Pursue Byakuya! The Confused Gotei Divisions
Talk

0
1,877pages on
this wiki

Pursue Byakuya! The Confused Gotei Divisions is the two-hundred forty-fifth episode of the Bleach anime.
Kenpachi Zaraki and Byakuya Kuchiki fight while Yachiru Kusajishi chases Ashisogi Jizō. Mayuri Kurotsuchi blows up his Zanpakutō Spirit and tells others not to interfere. Byakuya is taken to see Genryūsai Shigekuni Yamamoto who is inside a barrier guarded by Katen Kyōkotsu, Sōgyo no Kotowari, and Minazuki.
Summary
As Byakuya Kuchiki and Kenpachi Zaraki fight, Rukia Kuchiki runs towards their battle. Ichigo Kurosaki manages to get away from Senbonzakura. As Byakuya prepares to attack Zaraki again, their battle is interrupted by the arrival of the Bankai form of Ashisogi Jizō, which releases its poison on Byakuya, Zaraki, Rukia, and Renji Abarai. Byakuya emerges from the poisonous cloud in front of Ichigo, who is knocked into the poison by Senbonzakura. As Ichigo collapses, Byakuya and Senbonzakura disappear.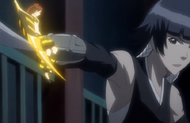 Elsewhere, Suì-Fēng is having trouble with the faster Suzumebachi, forcing her to allow the Zanpakutō Spirit to strike her on different parts of her body, rather than be hit in the same place twice. Suzumebachi taunts Suì-Fēng about Yoruichi Shihōin, causing Suì-Fēng to try in vain to attack her. Suzumebachi decides to end the fight, and starts flying around Suì-Fēng at high speed. As she rushes in to strike one of her Hōmonka, Suì-Fēng activates her Shunkō and slices off the Zanpakutō Spirit's attack arm. Suì-Fēng reveals that she focused her Shunkō on the Hōmonka that Suzumebachi was about to attack to prevent the second attack from landing.
Meanwhile, as Ashisogi Jizō examines those caught in his poisonous cloud, it is startled by Yachiru Kusajishi and tries to run away. Yachiru, however, views this as a game of hide-and-seek and follows it. This morphs into a game of tag, and Yachiru eventually grabs onto the Zanpakutō Spirit's wings, stopping it. The Zanpakutō breaks free and attempts to release its Bankai, but it is grabbed by Zaraki before it can. Kenpachi complains that Ashisogi Jizō ruined his fight. Mayuri Kurotsuchi arrives and activates a self-destruct system in his Zanpakutō. He tells Zaraki that he has no right to touch Ashisogi Jizō, and that it is Mayuri's duty to punish the Zanpakutō for disobeying its master.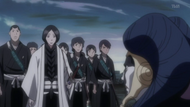 As Suì-Fēng decides to hurry back, Yoruichi arrives to help the weakened captain. Mayuri tries to treat Ichigo for his poison, but Ichigo refuses his aid as he has heard bad things about Mayuri from Uryū Ishida. When Ichigo frees himself, Mayuri has Nemu Kurotsuchi pin him down so that he can administer his medicine. Ichigo pleads with Zaraki to stop Kurotsuchi, but Kenpachi replies that he does not care what Mayuri does to him, so long as he can still fight him. Jūshirō Ukitake, Shunsui Kyōraku, and Retsu Unohana arrive along with a contingent from the 4th Division. Having healed Isane Kotetsu and the others poisoned by Ashisogi Jizō as it roamed Seireitei, she has already developed an antidote to the poison.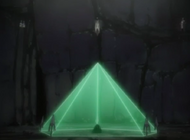 The 4th Division members find Izuru Kira and Ikkaku Madarame and are ordered to treat them, while Unohana attends to Ichigo. Kyōraku asks Mayuri about his Zanpakutō. Kurotsuchi explains that he needs the Zanpakutō to help understand how Muramasa's brain-washing works. In the Zanpakutō Spirits lair, Byakuya returns to Muramasa, who receives a message via a Hell Butterfly. Byakuya asks him if he is going to the Human World. As day breaks in Seireitei, Zaraki searches for Byakuya again so he can finish their fight. Yoruichi tells him that he will not find the rogue captain by simply wandering around. She reveals that she does not know where Byakuya is, but that she has found the location of the Captain-Commander. Muramasa takes Byakuya to see Genryūsai Shigekuni Yamamoto, who is trapped inside a barrier maintained by Sōgyo no Kotowari, Minazuki, and Katen Kyōkotsu.
Shinigami Illustrated Picture Book
In the Zanpakutō hideout, Haineko looks through a clothes catalogue for outfits that will make her look cute since she has taken Human form, while Rangiku Matsumoto does exactly the same in the 10th Division offices. Both find an outfit that they think the other will not like and go to try it on in the shop, only to discover that they have both chosen the same outfit.
Fights
Characters in Order of Appearance
Powers and Techniques Used
Kidō used:
Techniques used:
Zanpakutō released:
Shikai:
Bankai: