Narunosuke
Talk

11
2,042pages on
this wiki
Narunosuke (鳴之助, Resounding) is a Tōjū.
Appearance
He appeared as a thin young man with short indigo hair and purple eyes. His upper body is bare except for a plate of white and gold armor on his left shoulder and the left part of his chest and upper back. The plate protrudes up to protect his neck. He has a black snake bracelet around his left arm and wears an exomis tied over his left shoulder and decorated with a dark red sash at his waist.[1]
Personality
Narunosuke was a friendly and bashful Zanpakutō. He belonged to a cowardly Shinigami, and that trait was passed on to him as well. When the Gotei 13 began hunting the Tōjū, he had to join a group of Tōjū to find safety in numbers, but he kept his sanity, unlike his comrades.[1]
Plot
Beast Swords arc (anime only)
Note: Events occurring in this arc are only in the anime and do not constitute canon material.
Haineko finds the injured Narunosuke lying in a field of red Spider Lilies. Haineko tries to kill him, but she finds herself attracted to him and spares his life. She later treats his injuries in a hut near where she found him. Haineko unsuccessfully tries to convince Matsumoto not to treat him as a Tōjū. When Narunosuke asks about this, Haineko tells him that Matsumoto is trying to convince her boss. Narunosuke has a painful migraine, worrying Haineko, who asks if he needs more medical assistance. Brushing it off after the pain lessens, Narunosuke declines, and tells her that he feels safe with her. During the next visit, Narunosuke becomes anxious about his periodic migraines, and Haineko is forced to admit the truth to him. Disappointed, he claims that he never expected the Shinigami to agree, and states that it is only a matter of time before the Shinigami find his location, and that he should escape while he still can. He abruptly suffers another painful migraine, prompting Haineko to tell him he needs more time to recover. After stating that he was fully-healed thanks to her efforts and that he holds her in his debt for that, his migraine gradually gets more painful, and he unintentionally slaps Haineko when she tries to help. After regaining his composure, he apologizes to Haineko for the slap and states that the migraines are 'normal' occurrences, and every time he gets one, he starts losing more control.[1]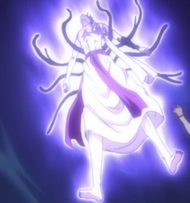 When Haineko returns to the hut, Narunosuke suffers from yet another, more painful migraine, causing his reiatsu to violently flair up. When he asks what is happening to him, she tries to convince him that it is nothing and that he should lay down for her to heal him. Not buying in to her lie, he aggressively pins her down in a rage, loudly points out the lie to her and gruffly asks about his condition again. Rangiku, who had followed Haineko, explains that he is turning into a Tōjū. Narunosuke's pain and anger quickly transform him into a Tōjū. He destroys the hut, forcing all of them to flash-step away from the wreckage. Forcing himself not to give in, he remains on the ground in pain, enabling Haineko to challenge Matsumoto. When Haineko and Matsumoto attack each other with their Shikai, Narunosuke, now a fully-transformed Tōjū, knocks Matsumoto away and attacks Haineko, but is blocked by Matsumoto, whom he knocks away once again. Haineko realizes that he cannot be helped any further, and once he lands on the ground, Haineko envelopes herself and Narunosuke in her Shikai. After apologizing to him, Narunosuke snaps out of his berserk state and the two to share a brief hug before Haineko kills him.[1]

Powers & Abilities
Spiritual Power
Bindings: The straps on Narunosuke's body can act as tentacles. He uses to attack Matsumoto, sending the lieutenant flying.[1]
References