Hello and welcome to the Bleach Wiki, a wiki dedicated to the Bleach series by Tite Kubo! We hope you enjoy your stay and help us by making new pages or contributing to the existing 2,294 pages we have here on the wiki!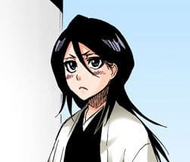 Rukia Kuchiki is the captain of the Thirteenth Division of the Gotei 13. She specializes in Kidō attacks, and her Zanpakutō is Sode no Shirayuki. While still in the academy she was adopted by Byakuya Kuchiki into the Kuchiki Clan, and transferred to the Thirteenth Division where she served under Jūshirō Ukitake.
Having recently obtained her Bankai, Hakka no Togame while training at the Soul King Palace during the war against the Wandenreich in Soul Society, Rukia fought against and defeated the Sternritter Äs Nödt. While the war progressed, she journeyed back to the Soul King Palace where she was one of many Shinigami to battle Gerard Valkyrie. However, she is overwhelmed by Gerard's monstrous power and told to meet up with Ichigo Kurosaki for the final battle.

Main article: Rukia Kuchiki
Renji: I'd take you onward myself
"
Listen. I'm only going to say this because you're the only one here to hear it. All this time, for almost as long as I can remember... decades at least, Rukia and I were separated by a distance so great, we couldn't even glimpse one another. But the one who brought us back together was you. That's why I decided. Whenever you found yourself unable to go on, I'd take you onward myself. Carry you if I had to. That's what I've done up to now, and I'll keep on doing it. Forever, until the day you die.
" -
Renji Abarai
to
Ichigo Kurosaki
in
Chapter 682
.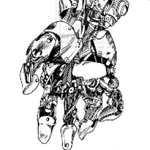 We have a NEW Featured User. It's Kman111 who has been here since 2015. He is usually seen reverting vandalism or bad, policy breaking edits along with other work including grammar work. He's relatively new but has made a big impression on us and the site as a whole. Check out what he has to say here where the team interviews him!
Which of the Visored had the best Hollow mask?

 
Chapter 686 was the last chapter of the Bleach manga. A live action movie based on Bleach was announced in the August 22nd edition of WSJ, and is set to release in Japan in 2018.(Link)
Welcome to the Bleach Wiki! Before you begin editing here, please have a look at our policies, which can be better understood by reading this blog and the blogs that are linked within it. Also check out our Parent's Info Page.
The

Arena

is back up and running with new match-ups! Cast your votes here!
Create blog post
Latest Posts



hi guys i was just wondering why the details of the light novals arent listed on the pages. is it cos they are not canon or something?

Read more >




Hey guys, so I've been writing a crossover story between two of my most favorite series, Bleach and Megaman. I've written about 15 chapters so far, and I would be delighted if you could give it a try…

Read more >

In the world of Bleach, it was first thought that the Soul King was the one that created everything – Soul Society, Hueco Mundo, the human world. But in one chapter of the light novel, We Do Knot Alw…

Read more >
See more >
Ad blocker interference detected!
Wikia is a free-to-use site that makes money from advertising. We have a modified experience for viewers using ad blockers

Wikia is not accessible if you've made further modifications. Remove the custom ad blocker rule(s) and the page will load as expected.