Kirikaze
Talk

11
2,044pages on
this wiki
Kirikaze (霧風, Mist Wind) is a Tōjū.
Appearance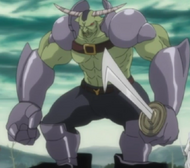 Kirikaze is very muscular, green-skinned and huge in stature. He has a pair of bovine horns on his head, brown-red eyes and a golden ring through his nose. He wears navy trousers with a dark red belt that is fastened by a golden buckle. He also wears armored boots and elbow-length gloves, while he has high-collared armored shoulder pads connected across his chest by a dark red strap, secured by a golden buckle. His weapon resembles an ordinary katana, although it is proportional to his own size and the tip of the blade is slightly ridged.[1]
Personality
Kazeshini notes that Kirikaze's master kept him under control. Now that he is a Tōjū, Kirikaze uses as much power as he wishes. Kazeshini also reveals that Kirikaze always had a bone to pick with his master.[1]

Plot
Beast Swords arc (anime only)
Note:Events occurring in this arc are only in the anime and do not constitute canon material.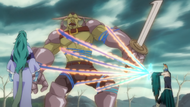 Kirikaze attacks and kills several Tōjū, engulfing them in flames and absorbing their Reiryoku. While he attacks a group of Tōjū, he is found by several Zanpakutō Spirits. Hōzukimaru attacks him with his Shikai, but Kirikaze blocks his attacks and then turns into mist and surrounds him. Senbonzakura uses his Shikai to free Hōzukimaru. As Kirikaze reforms, Tobiume, Haineko, and Wabisuke attack him, but are easily repelled. Kazeshini then traps Kirikaze's sword with his Shikai, only to be thrown to the ground. Ruri'iro Kujaku attempts to drain the Tōjū of its energy, but Kirikaze is able to absorb Ruri'iro Kujaku's power instead. When Kazeshini severs the vines connecting the two, Kirikaze turns into mist again and causes a strong wind, which forces the Zanpakutō Spirits back.
While the other Zanpakutō recover, Tenken slams his sword into the ground, sending a shockwave towards the Tōjū, who cancels it out with a similar attack. Gonryōmaru leaps into the air and fires a blast of electricity at Kirikaze, who turns into mist to allow the attack to pass through him. Kirikaze reappears behind Gonryōmaru and knocks him into the ground. When Zabimaru attacks him, the Tōjū again transforms into mist and then drops from the sky directly above Zabimaru. Before he can crush them, Renji Abarai moves the Zanpakutō to safety, while Izuru Kira immobilizes him with a Kidō. As the Shinigami arrive to help the Zanpakutō spirits, Kirikaze manages to break out and attempts to attack Rukia Kuchiki, but he is blocked by Sode no Shirayuki. He fends off attacks by Senbonzakura, Gonryōmaru and Hyōrinmaru. Realizing that their power is too little to defeat Kirikaze, the Zanpakutō Spirits combine their power with their masters, who attack and injure the giant Tōjū, leaving him unable to transform into mist. Taking advantage of this, the Zanpakutō give their remaining power to Renji, who uses his Bankai to kill Kirikaze.[1]
Powers & Abilities
High Spiritual Power: Kirikaze has substantial Spiritual Power, having absorbed the Reiryoku of many other Tōjū.[1]
Reiryoku Absorption: Kirikaze has the ability to absorb other spiritual beings' Reiryoku and add it to his own.[1]
Mist Transformation: Kirikaze can turn into mist in order to surprise his opponent, capture his prey or to dodge attacks. He is no longer able to use this ability after being weakened by the attacking Shinigami.[1]
Wind Generation: In his mist form he can produce a short windstorm, strong enough to lift most Human sized opponents. [1]
References