Kenpachi Zaraki vs. Nnoitra Gilga
Talk

2
1,874pages on
this wiki
Kenpachi Zaraki vs. Nnoitra Gilga
Combatants
Powers & Abilities
Damage Sustained/Casualties

Kenpachi is grievously injured.

Nnoitra is killed. Tesra is grievously injured.
Kenpachi Zaraki vs. Nnoitra Gilga is a fight initially between Captain Kenpachi Zaraki and the 5th Espada Nnoitra Gilga upon the arrival of Gotei 13 captains.
Prelude
Kenpachi comes to Ichigo's aid as he blocks an attack by the Arrancar Tesra. The Arrancar tries to attack, but before he realizes it, Kenpachi has dealt a fatal slash wound down his chest. Finished with Tesra, Kenpachi looks to Nnoitra to be his next opponent. When Ichigo questions what Kenpachi is doing in Hueco Mundo, he only responds by kicking Ichigo stating that he is in the way of the field of battle. Kenpachi then explains that Kisuke Urahara was asked by Captain-Commander Yamamoto to send them to Hueco Mundo in preparation for the Winter War.[1]
Battle
Nnoitra finally decides to attack and is blocked, though still impressing Kenpachi with his strike. Nnoitra then asks Kenpachi his name, with both men giving their name and rank.[2] The two opponents continue to fight with Kenpachi getting close to dealing a fatal blow to Nnoitra, but his sword won't cut when it makes contact on the Espada. Nnoitra manages to cut Kenpachi on his left shoulder and laughs telling him that his Hierro is unsurpassed by any current and former Espada. He then goes on to taunt Kenpachi that his blade will never be able to cut him.[3]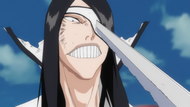 Kenpachi, undeterred, continues to fight Nnoitra with even more ferocity much to the Espada's surprise. Nnoitra then dodges and moves himself to a significant distance so that he can swing his weapon and launch it at Kenpachi. Dodging it, Kenpachi grabs the chain the weapon is attached to and reels Nnoitra in, grabs him by the face and slams him into the ground and attempts to skewer him with his Zanpakutō before the Espada narrowly escapes. Kenpachi questions why he dodged his attack, deducing that if he moved, it must mean the attack was dangerous. Kenpachi states that though Nnoitra claims that he can't be cut by Shinigami swords, he still seems to have some soft spots on him. Dismissing it entirely, Nnoitra jumps up and attacks him from above, though Kenpachi catches his blade with his bare hands then states that he has met a lot of annoying people and they all said that his sword can't cut them. But he has never met anyone whose eyes and throat can't be cut and he stabs his sword into Nnoitra's covered left eye and out the back of his head. Unaffected Nnoitra grabs his wrist much to Kenpachi's surprise, as the Espada moves himself in closer and thrusts his hand into Kenpachi's chest.[4]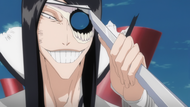 Nnoitra retracts his hand from the wound he just made and states that he bets Kenpachi can't understand what just happened. He then uses the tip of Kenpachi's Zanpakutō to lift up his eyepatch, showing that under it is the remnants of his Hollow mask as well as the placement of his Hollow hole. Nnoitra then explains that it is impossible for a person to have his head pierced and still be alive, but Kenpachi's sword did not reach his brain but simply went right through him. When Kenpachi starts to laugh he enrages Nnoitra who attempts to kick him, but Kenpachi grabs his ankle and apologizes for laughing. He then explains that if he is unable to cut him it means no matter how many times he slashes, the Espada won't die, thus removing the joy of killing him. On the other hand Kenpachi notes that if he cuts him enough times, he will die. Ecstatic at the idea that he can look forward to slicing his opponent up, the two continue to clash. After a few strikes, Kenpachi finally succeeds in cutting Nnoitra's forearm. They continue fighting on, fiercer than before, until Kenpachi cuts him again, as well as taking off a piece of the Espada's sword. Kenpachi then announces that it appears that he has finally gotten used to Nnoitra's Hierro strength. Kenpachi makes note that he did not have enough practice; therefore, his moves have not been as quick and he cannot control his own strength. He then thanks Nnoitra for warming him up and then asks that he be allowed to use his Zanpakutō to express his gratitude. He thrusts at Nnoitra who dodges and then prepares his own attack only to be cut again by Kenpachi. Trying again to gain an upper hand, Nnoitra fires a Cero at Kenpachi, who simply deflects it away from him with his hand. The Espada is somewhat surprised, but follows up with another hand thrust attack in order to impale Kenpachi once again. His movements are off and he only succeeds in removing Kenpachi's eyepatch as well as leaving himself open to be slashed directly down his chest by Kenpachi.[5]
Kenpachi then realizes that his eyepatch has been ripped off, and tells Nnoitra that now he sees what happens when his eyepatch is ripped off, still confused about the power increase until it is explained to him what the eyepatch really is. Infuriated, Nnoitra finally releases his Zanpakutō, which doubles his arms and heals the injury Kenpachi inflicted when his eyepatch was torn off. Nnoitra then asks how it feels seeing an Espada release their Zanpakutō for the first time. Though all he gets in response to his question is a smile from Kenpachi, who tells him that he has nice reiatsu and that it's been a long time as it was like the Reiatsu itself is sharpening his blade. Undeterred, Nnoitra tells him to come and cut him with his newly sharpened blade. Kenpachi wastes no time and goes on the offensive, but is surprised when his attempts are blocked and he is dealt a grievous wound across his chest. Nnoitra then sends Kenpachi flying away from him as he mocks him.[6]
Noticing that there is no movement from an unresponsive Kenpachi, Nnoitra sets his sights on Yachiru, but Kenpachi recovers and manages to cut off one of his arms. When Nnoitra comments on Kenpachi playing dead, he is corrected when Kenpachi states he was just thinking that with four arms Nnoitra is just going to keep blocking his blade, so seeing as he couldn't think of anything, his next best step was to just cut the arms off one by one. Nnoitra tells Kenpachi that he is crazy if he thinks he can cut off his arms and notes that he can't even cut off the one he already did, as he displays his ability to regenerate his arm. He then goes to attack, but Kenpachi blocks him, and is soon thrown back into a nearby structure. As Nnoitra mocks him, Kenpachi kicks out of the rubble and grabs him by the face and slams him into the ground, then he attacks as he manages to pin Nnoitra down, but Nnoitra reveals his two hidden arms and pierces Kenpachi's abdomen. Nnoitra then tells Kenpachi that he is going to use all six of his arms to take him out.[7]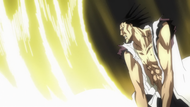 Nnoitra then generates another scythe weapon and tells Kenpachi that it is over. However, Kenpachi begins to laugh hysterically, much to Nnoitra's surprise. He then admits to how much he is enjoying the fight and notes that it isn't the end because the fight has just begun. Kenpachi then cuts through a nearby structure sending it flying at Nnoitra. The two go at with full force, with Kenpachi sustaining many injuries in the process. Nnoitra then cuts off a piece of the same structure, but Kenpachi cuts it in half before it can crush him. The two continue to fight with Kenpachi gaining more wounds, but relentlessly still continuing to fight with no stopping. After being critically wounded by Nnoitra, Kenpachi begins to realize that at this rate, he will end up dead. He then reluctantly decides to use kendō, though he admits that it's been quite some time since he has used it. When Nnoitra becomes confused, Kenpachi explains that the Captain-Commander made him learn it when he first joined the Gotei 13, but he never liked it and asks Nnoitra if he knew a sword is more powerful when you use two hands instead one. Nnoitra becomes bored with the conversation and charges at Kenpachi, who grips his sword with both hands and swings it down.[8]
Kenpachi manages to land a powerful blow, dealing Nnoitra a fatal wound to his chest almost severing him in half. He is surprised that the Espada is still alive and then turns to walk away. Nnoitra yells at him asking where he is going as the fight isn't over. Kenpachi explains he doesn't know what he is talking about, as the blow finished him and he is not about to be bothered with finishing off someone who can't even fight back. Undeterred, Nnoitra gets up and tells him the fight isn't over and taunts him to come back and continue fighting. Finally, Kenpachi gives in as Nnoitra moves to attack him, but Kenpachi lands another blow to his chest and Nnoitra falls to the ground. As he dies, Nnoitra makes eye contact with Nel who awakens in time to see him die.[9] Kenpachi stands over Nnoitra's corpse victorious, thanking him for the good fight.[10]
Aftermath
He then tells Ichigo to get his sword and yells for Orihime to come over and heal him; however, Coyote Starrk arrives to recapture her and he narrowly avoids both Kenpachi's and Ichigo's attack.[11]
When Ichigo hears from Aizen that he plans to destroy Karakura Town, he proceeds to run off. Kenpachi tells him not to be so hasty, he then tells him that everything is planned and not only did Urahara send the Captains to Hueco Mundo but also made it possible to wage war in Karakura Town.[12]
References