Kenpachi Zaraki vs. Byakuya Kuchiki
Talk

0
1,874pages on
this wiki
Kenpachi Zaraki vs. Byakuya Kuchiki
Combatants
Powers & Abilities
Damage Sustained/Casualties

Kenpachi is lightly injured.

Byakuya is lightly injured.

Kenpachi Zaraki vs. Byakuya Kuchiki is a fight taking place in the Zanpakutō Rebellion. It details the conflict between the Captains of the 6th Division and the 11th Division.
Prelude
As Kenpachi Zaraki blows away all of the other opponents with his incredible Reiatsu, he stands alone in the destroyed landscape. As the smoke clears, Byakuya Kuchiki appears, eying him intently. Byakuya remarks that Kenpachi released a large amount of Reiatsu to throw everyone else away, wondering whether it strained his body. Kenpachi merely smiles, stating that he never planned on fighting those weaklings. He continues, explaining that he doesn't care what happens to his body so long as he gets to fight Byakuya. [1]
Kenpachi goes on to say that if he dies in combat, he shall die laughing. He asks Byakuya whether he is going to make the first move, but Byakuya says that he doesn't have time to fight him. Kenpachi then states that he is going to attack since Byakuya refuses to.[1]
Battle
Kenpachi charges at Byakuya, locking swords with him as a shockwave ripples outwards. He laughs loudly as Byakuya releases his Zanpakutō, the pink petals immersing him. He moves away as Kenpachi cuts through the petals effortlessly, stating that those attacks were not sufficient to defeat him. Kenpachi releases a large amount of Reiatsu and condenses it into an attack, which Byakuya is able to deflect with his sealed sword. Byakuya stares at him momentarily, before using Senka and appearing behind Kenpachi. [1]
He slashes his sword at the 11th Division captain, only to be surprised that Kenpachi is able to block it. Kenpachi asks whether Byakuya thought he could not follow his Shunpo, to which Byakuya asks whether Kenpachi thought he could catch him with his sluggish speed. Amused at Byakuya's question, Kenpachi continues his onslaught against Byakuya, asking whether his speed is only good for dodging his attacks. In response to this, he uses Shunpo once more and appears above Kenpachi, promptly slicing his forearm. Kenpachi examines his injury, as Byakuya proclaims that his movements are too fast for Kenpachi. In order to test Byakuya's statement, Kenpachi charges at him, whilst Byakuya uses Shunpo to dodge his strike.[1]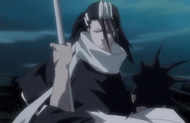 However, as Byakuya swings his sword down upon Kenpachi, he catches it with his bare hand, much to Byakuya's surprise. Whilst Byakuya is rooted in place, Kenpachi swings his sword at Byakuya and causes a plume of dust to rise into the air. As the dust clears, Byakuya pants from his injury. Kenpachi tells him that he is quite impressive to dodge just in time. Byakuya then asks why Kenpachi caught his sword, to which Kenpachi tells him that it was to make him fight seriously. Byakuya then surrounds Kenpachi with his Shikai and strikes. Kenpachi pants heavily, as Byakuya tells him to let him pass, threatening to kill him with his next attack. He laughs, telling Byakuya to come at him with his full power. Byakuya seeing Kenpachi's determination, finds that he has no choice, finally resolving himself to fight the 11th Division captain.[1]
Aftermath
Suddenly, the two opponents feel a huge rumbling sound in the distance. Ashigogi Jizō emerges, disrupting the battle. As the area is engulfed in a poisonous fog, Kenpachi wonders what just happened as Byakuya disappears from view. Byakuya appears before Ichigo, shortly before he is thrown by Senbonzakura into the poisonous gas exhumed by Ashisogi Jizō. Before collapsing from the poison, Ichigo can only look on as Byakuya disappears alongside Senbonzakura. Having poisoned many of the Shinigami in the area, Ashisogi Jizō reverts from its Bankai form. It goes up to inspect Ichigo, only to be surprised by Yachiru Kusajishi. Yachiru chases Ashisogi Jizō in a sort-of game before being caught by Kenpachi.[2]
Kenpachi berates Ashisogi Jizō for disrupting his fight with Byakuya Kuchiki. As he asks the struggling Zanpakutō spirit how he could possibly repay him, Captain Mayuri Kurotsuchi appears and promptly detonates his Zanpakutō. Ashisogi Jizō returns back to its unreleased sword form as it clatters to the ground.[2]
References