Ikkaku Madarame vs. Hōzukimaru
Talk

0
1,876pages on
this wiki
Ikkaku Madarame vs. Hōzukimaru
Combatants
Powers & Abilities
Damage Sustained/Casualties

Ikkaku is grievously injured.

Hozukimaru is lightly injured.
Ikkaku Madarame vs. Hōzukimaru is a fight which takes place during the Zanpakutō Rebellion between 11th Division 3rd Seat Ikkaku Madarame and his Zanpakutō spirit.
Prelude
As Ikkaku walks into the clearing, he is attacked by Hōzukimaru. As they cross blades, the stranger tells him he has been waiting for him. Wonders what he means, Ikkaku notices the stranger's weapon just as Hōzukimaru, spinning his spear in the air, sends it hurtling down near his feet. Dodging, Ikkaku, asking him if he truly is Hōzukimaru, tells him they will try "that".[1]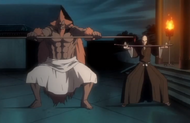 As they engage in their "Lucky Dance", Ichigo wonders what they are doing. Berating him, Ikkaku tells him he showed him it during their fight. When he states he cannot remember, Ikkaku, ignoring him, tells Hōzukimaru they were in sync, and he truly is his Zanpakutō. When Ikkaku asks him if his Zanpakutō's powers will return once he defeats him, Hōzukimaru asks him if he thinks he has what it takes.[1]
Battle
Unsheathing his sword, Ikkaku clashes with Hōzukimaru. Attacking Hōzukimaru ferociously, Ikkaku wonders aloud if his Zanpakutō was truly this weak. Telling him he is just getting started, Hōzukimaru, distancing himself, splits his Zanpakutō, coiling it around Ikkaku's head. Dodging, Ikkaku, swinging his Zanpakutō, Ikkaku dodges another thrust from Hōzukimaru's Zanpakutō, commenting upon his now intense fighting style.[1]
When Ikkaku tells him to start taking things seriously, Hōzukimaru, agreeing, activates his Bankai. Smiling at this, Ikkaku is thrown through the wall after Ichigo Kurosaki's fight with Gegetsuburi. As Ikkaku crashes into the stairwell, Ichigo comes over to assist him. As Hōzukimaru enters the fray, wondering if Ikkaku has any more fighting strength, Ichigo prepares to fight Hōzukimaru, but Ikkaku, stopping him, tells him this is his fight.[1]
As Ikkaku pants heavily, they prepare to fight again. As they charge at each other, Captain Suì-Fēng and the Onmitsukidō, appearing, tell the Zanpakutō to stay where they are. Appearing moments later, Captains Shunsui Kyōraku and Jūshirō Ukitake tell Ichigo and Ikkaku their work is done, for the area is secured. As Ikkaku tells Ukitake to wait, for his fight has not finished yet, Hōzukimaru tells him they will finish their fight another day.[1].
Aftermath
As Ikkaku tries to prevent Hōzukimaru from leaving, the Zanpakutō spirit, twirling his Bankai in the air, disappears in an explosion of red energy, sending the Onmitsukidō members flying backwards. As Suì-Fēng tells the Onmitsukidō to pursue Hōzukimaru, Ukitake tells her his Reiatsu has completely vanished. Suì-Fēng is approached by two members of the Onmitsukidō, who, asking her what to do with Gegetsuburi, reveal Lieutenant Marechiyo Ōmaeda is out cold, prompting Ukitake to suggest they bring him to the Shinigami Research and Development Institute.[1]
As Suì-Fēng leaves the area, Ukitake wonders where Ichigo disappeared to. Running after Hōzukimaru, Ichigo tells him he will not let him escape. As Hōzukimaru flees from Ichigo, pink petals immerse the Zanpakutō spirit, cutting Ichigo in the process. Cutting away the attack with his Bankai, he, noticing a figure standing above him on a tower, is shocked to see it is Captain Byakuya Kuchiki.[1]
References