Ichigo Kurosaki & Hollow Ichigo vs. Zangetsu & Muramasa
Talk

3
1,875pages on
this wiki
Ichigo Kurosaki & Hollow Ichigo vs. Zangetsu & Muramasa
Combatants
Powers & Abilities

Ichigo:

Hollow Ichigo:

Muramasa:

Zangetsu:

Damage Sustained/Casualties

Ichigo and Hollow Ichigo are victorious.

Zangetsu is freed from Muramasa's control.

Ichigo Kurosaki & Hollow Ichigo vs. Zangetsu & Muramasa is a battle in the Zanpakutō Rebellion where Muramasa released the spirit of Zangetsu in order to fight Ichigo Kurosaki. Having lost access to his Shinigami abilities, Ichigo draws on his Hollow powers to fight.
Prelude
After Rukia Kuchiki finishes her fight with Sode no Shirayuki, Ichigo is confronted by Muramasa, who reveals himself to be a Zanpakutō spirit.[1] When Muramasa reveals he knows Ichigo's name, Ichigo asks how he knows this. Muramasa says it is not important, but his goal is to free all Zanpakutō spirits from Shinigami control. Becoming angered by this, Ichigo, yelling at Muramasa, asks how to return Rukia's Zanpakutō back to normal. When Muramasa asks him what Zanpakutō are, Ichigo is confused by this question. He states a Zanpakutō is a soul born within their Shinigami's heart, and they share the same Reiatsu as their Shinigami, therefore they are always within their Shinigami. Explaining the development of a Zanpakutō, Muramasa details the process through which Shikai and Bankai are achieved. When Muramasa says a Zanpakutō does not have to live in symbiosis with their Shinigami, Ichigo asks what this means, and Muramasa reveals Zanpakutō have a will of their own, which shocks Ichigo. Muramasa says Zanpakutō have their own souls, which are just as important as a Shinigami's soul. When Ichigo expresses his disbelief in this idea, Muramasa says that is what makes Shinigami so arrogant. As Ichigo tries to counter this, Muramasa, continuing, says he understands a Zanpakutō's feelings, and can reach out to their souls. He reveals those who commiserate with his plan take on their true form. When Ichigo calls this impossible, Muramasa says any Zanpakutō who answers his call becomes an entity separate from their Shinigami.[2]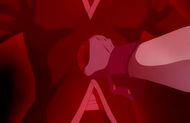 When Ichigo angrily asks why Zanpakutō listen to him, Muramasa says it is their desire, stemming from the Shinigami's oppression. When Rukia, managing to get out a few words, says she has never looked down on Sode no Shirayuki, Muramasa says she is the only one who shares this sentiment, as Sode no Shirayuki answered his summons. As Rukia begins to lose strength again, Muramasa says her part is done. When Rukia questions this, Muramasa reveals he will free every Zanpakutō from their Shinigami, with no exceptions. In order to do so, he helped Rukia get to the Human World to bring Ichigo back. Stating Muramasa will not get away with this, Ichigo says they should change locations. Muramasa agrees, and they head off. Ichigo attacks Muramasa, who, summoning his sword to defend, unleashes an attack, which Ichigo counters with Getsuga Tenshō, which Muramasa easily evades. As he searches for the Zanpakutō spirit, Ichigo begins to see the world warp around him. Calling out to Ichigo, Muramasa tells him to sheathe his sword. As Ichigo tries to attack different areas to find Muramasa, the world around him begins to spin. After falling down, he is pulled forward and pinned to the ground. Reappearing, Muramasa, kicking Ichigo's sword away, sticks his hand out and begins to recite a chant. As he does so, Ichigo spins in place as dark energy ripples around him. When he finishes the chant, Muramasa, reaching into Ichigo's chest, pulls out a chain as smoke fills the area. When the smoke clears, the manifested spirit of Zangetsu, appearing next to Muramasa, attacks Ichigo.[2]
Battle
As Zangetsu pushes Ichigo back, Ichigo, asking him what is going on, asks if they were not of one body and soul, but Zangetsu, not answering, appears behind Ichigo, knocking him into the wall, and fires a Getsuga Tenshō at him. Walking over, Muramasa, surprised to see Ichigo can still move, says it does not matter, as the fight is already over. Getting to his knees, Ichigo asks Zangetsu if he is really serious about this. When Zangetsu responds by firing another Getsuga Tenshō at Ichigo, as the smoke clears, Ichigo, with half of his mask on, stands grinning before Zangetsu and Muramasa.[2]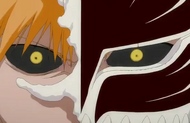 Opening his eyes, revealing Hollow Ichigo has taken over, he, lunging at Zangetsu, knocks him back with a multitude of hits. As Zangetsu, recovering, prepares to counter, Hollow Ichigo evades, grabbing Zangetsu by the face, and throws him back into a wall. When Muramasa asks who he is, Zangetsu, saying he is another soul who resides within Ichigo, fires another Getsuga Tenshō, which Hollow Ichigo counters with his own. As Hollow Ichigo goes to attack again, Zangetsu, evading multiple times, moves the fight elsewhere. As Hollow Ichigo's attacks continue, Zangetsu, effortlessly dodging, counters, cutting him across the chest. As the wound quickly regenerates, Zangetsu, attacking again, cuts Hollow Ichigo across the shoulder, sending him flailing to the ground. Appearing from the wound, a large creature attacks Zangetsu, who, initially dodging, is swallowed in the second attack. When Zangetsu break out, Hollow Ichigo, now having taken over more of Ichigo's body, emerges.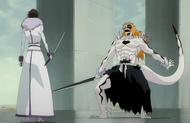 Hollow Ichigo is surrounded by a swirling black Reiatsu, which, enveloping him, explodes. When the dust settles, Hollow Ichigo has completely taken over Ichigo's body, from which lines of black Reiatsu emanate. As Muramasa is startled by this output of Reiatsu, Hollow Ichigo, jumping high into the air, crashes down on Zangetsu, going into a berserk rage. Zangetsu manages to block most attacks, but one, slipping through, cuts his arm. Hollow Ichigo headbutts Zangetsu, knocking him back, and fires a large Cero from the palm of his hand. Though Zangetsu counters with a Getsuga Tenshō, it does little to stop the monstrous Cero. As Zangetsu is knocked across the archway, Hollow Ichigo, looking on, is slashed from behind by Muramasa. As the wound closes up instantly, Hollow Ichigo, turning around, knocks Muramasa away. Slowly approaching Muramasa, he stumbles as his mask begins to crack. Saying he will not let Hollow Ichigo have his body, Ichigo, tearing the mask off of his face, is enveloped by blue and black Reiatsu, which, shooting out, destroys a large portion of the area. As the dust settles, Hollow Ichigo's body, cracked in several places, breaks apart, leaving Ichigo in his original form. Calling out for Zangetsu several times, a weakened Ichigo collapses.[2]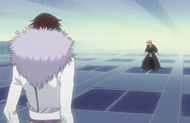 Awakening in his inner world, Ichigo, recalling his fight with Zangetsu, calls out to Zangetsu, questioning if he really left his body. Appearing, Muramasa confirms this for Ichigo. When Ichigo asks how Muramasa entered his inner world, Muramasa says it was easy with his special abilities. Questioning what Muramasa trying to accomplish, Ichigo asks what his wielder is thinking. When Muramasa says he killed his wielder. Ichigo is taken aback by this. Saying he has taken an interest in Ichigo, Muramasa asks about his Hollow powers. When Ichigo refuses to say anything, Muramasa says Ichigo's power is useless before him. Pulling out his Zanpakutō, Ichigo attacks, but Muramasa, sticking out his hand, knocks him out. Hearing a voice, which he believes is Zangetsu, calling to him, Ichigo, beginning to awaken, discovers Muramasa is the one standing before him. Standing up, Ichigo sees himself upside down and the colors around him distorted.[3]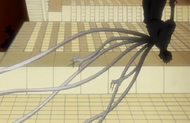 As Muramasa calls to him, Ichigo finds himself unable to move. As a hole opens in his chest, many white hands, slithering out, entangle him. As the world, flipping, changes to normal colors, Muramasa is revealed to be using his abilities on Ichigo. Pouring out of Ichigo, a white mass, slipping into Ichigo's inner world, turns black and begins to grow before forming into a black cloth, which, ripping apart, reveals Hollow Ichigo. Fascinated by Hollow Ichigo's existence, Muramasa asks who exactly Hollow Ichigo is. When he states he is Ichigo's true form, his instincts and his will, Muramasa realizes Hollow Ichigo had taken over during Ichigo's fight with Zangetsu. When Hollow Ichigo asks Muramasa who he is, Muramasa says he is a Zanpakutō, Zanpakutō answer his call, and he awakens their inner instincts. Saying he will awaken Hollow Ichigo's inner instincts, Muramasa, using his abilities to seemingly freeze Hollow Ichigo in place, approaches before Hollow Ichigo attacks.[3]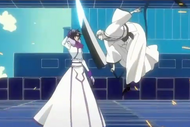 Hollow Ichigo and Muramasa have a short standoff before he, going into a berserk rage, slashes at Muramasa repeatedly. Dodging with little effort, Muramasa tells Hollow Ichigo to show him his real power. Charging at Muramasa, Hollow Ichigo attacks with great speed, which Muramasa makes note of. Beginning to wield his sword like a flail, Hollow Ichigo, getting behind Muramasa, throws it, sending Muramasa flying. When Muramasa asks if Hollow Ichigo is a Hollow and was in control of Ichigo on the outside, the only answer he gets is a maybe. As Muramasa, stating it does not matter anyway, says he has learned a Shinigami has another force they must suppress, Hollow Ichigo, accusing Muramasa of mocking him, says Ichigo does not suppress him. Hollow Ichigo says whatever Muramasa's plan is, it will not work, and he will devour Ichigo and take over his body for good. As Hollow Ichigo and Muramasa engage in combat once more, Hollow Ichigo, putting Muramasa on the defensive, taunts him. When Muramasa uses a technique, Hollow Ichigo, trying to escape, is halted in midair and slammed to the ground by the unseen force. As he tries to get up, he finds he cannot move. Looking up, Ichigo, seeing the reflection of Muramasa and Hollow Ichigo above, sees the many invisible threads which hold Hollow Ichigo captive.[4]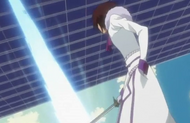 As Muramasa goes to finish off Hollow Ichigo, Ichigo, getting up, uses a Getsuga Tenshō to free Hollow Ichigo. Muramasa is surprised to see Ichigo recovered so quickly, and Hollow Ichigo questions why Ichigo saved him. When Ichigo says he does not know what Hollow Ichigo will do, but they have a job to do, Muramasa asks if Ichigo was protecting his Hollow powers. Saying Hollow Ichigo is a part of him and Muramasa is an outsider, Ichigo tells him to get out. When Muramasa says he cannot fathom a relationship between a Shinigami and a Hollow, Ichigo, stating he is Human, charges at Muramasa. Forcing Muramasa out through sheer willpower, Ichigo, opening his eyes back in Soul Society, tells Muramasa he will get Zangetsu back, and he will not lose.[4]
When Muramasa says he would not have expected a Shinigami to intrigue him as much as Ichigo has, Ichigo, telling him to cut the small talk, charges at him, only to have his attack blocked by Zangetsu. Telling his Zanpakutō he will fight to get him back, Ichigo asks Zangetsu what he has to say. Zangetsu says he wishes to know which of them is stronger, and is willing to fight Ichigo in order to determine this. As Ichigo watches as Zangetsu prepares to attack, Hollow Ichigo, calling to him, says since he cannot use his powers as normal, he will lend Ichigo assistance, so long as he does not use his mask. As Ichigo, grabbing his blade with both hands, prepares to attack, Zangetsu, activating Bankai, fires a powerful Getsuga Tenshō which knocks Ichigo across the archway. Out of breath, Ichigo, wondering if he has always wielded this kind of power, gets up and tries to activate his Bankai, which fails. Saying Ichigo cannot activate Bankai as long as he refuses to lend him his powers, Zangetsu fires another Getsuga Tenshō, which Ichigo dodges.
As Zangetsu fires another Getsuga Tenshō, Ichigo, attempting to use his mask, remembers Hollow Ichigo's instructions. Firing his own Getsuga Tenshō, which stops the other, Ichigo asks why Zangetsu wants to find out who is stronger. When Zangetsu, stating he has given all he can to Ichigo to make him stronger and no longer has anything to teach him, says should Ichigo die by his blade, so be it, Ichigo, resolving to prove just how strong he is, looks at his blade as Hollow Ichigo says using him will not be easy. Saying he knows, Ichigo tells him to get ready. As their battle resumes, Zangetsu attacks from above, but Ichigo dodges. Getting behind Ichigo, Zangetsu, knocking him to the ground, berates him for not using his full strength. Getting up, Ichigo, drawing on Hollow Ichigo's power, tells Zangetsu he has learned to use him before, going on the offensive, pushing Zangetsu back. Saying they will get nowhere stalling the fight, Zangetsu states the fight has gone on too long. As both opponents fire a Getsuga Tenshō at each other, with Ichigo's attack taking on a new, Hollow-like shape, the two attacks meet in stalemate before Hollow Ichigo decides to give Ichigo more of his power to prevent Ichigo from dying. The sudden surge in power amazes Zangetsu before he is swallowed by Ichigo's attack, which, exploding indiscriminately, is seen across Seireitei.[5]
Aftermath
As Zangetsu reverts to his sword form, Ichigo tells Muramasa he is next. When Muramasa, surprised, asks Ichigo if he had any hesitations in attacking his Zanpakutō, Ichigo states he did not, shocking Muramasa. When Ichigo states Zangetsu is a part of him, and he knew Zangetsu would accept him and his power, Muramasa, saying he understands, becomes ill. Repeating what Ichigo said, he, saying it is interesting, begins to grow sicker, and his body, beginning to fade, disappears in a flash of green light. When Zangetsu returns to his spirit form, Ichigo asks if he is alright. Saying he is alright now, since he is free of Muramasa's mind control, Zangetsu reveals Muramasa awakens a Zanpakutō's instincts and uses it to control them. When Ichigo asks if he is controlling all the Zanpakutō, Zangetsu, saying it is highly probable, tells Ichigo he truly saved him, prompting Ichigo to say Hollow Ichigo helped. When Zangetsu questions what Ichigo will do, he states he will go after Muramasa.[5]
References
↑

Bleach anime; Episode 232