Final Chapter·Zanpakutō Unknown Tales
Talk

0
1,876pages on
this wiki
Final Chapter·Zanpakutō Unknown Tales is the two hundred fifty-fifth episode of the Bleach anime.
Ichigo Kurosaki defeats Muramasa and the Zanpakutō Spirits return to their original form.
Summary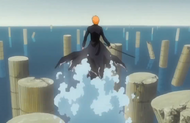 As the dome grows unstable and the Shinigami fight the Gillians outside, Ichigo's friends wonder what has happened to him since he was swallowed by the mass. On the inside, Ichigo finds himself in a strange location and wonders aloud where he is. Muramasa appears, asking Ichigo how he came, but he doesn't know, asking where they are. Muramasa explains that just as Ichigo's Zanpakutō resides in his inner world, he once did as well. Telling Ichigo the world would soon begin collapsing, he expresses his thanks for being able to settle the score with him as he materializes his sword and initiates a battle.
As they fight, Ichigo questions Muramasa's reason for fighting him, with Muramasa calling Ichigo naive in response, telling him he will finish him off. With his sword, Muramasa drives Ichigo into the water, where the two unleash their techniques. Coming out of the water, Ichigo unleashes an attack, only for Muramasa to evade it. With his power, Muramasa holds Ichigo down. As Ichigo questions him, he notices his reflection in the water, making it look as if many hands are binding his body. When Muramasa readies himself to kill Ichigo, the nearby pillars collapse, allowing Ichigo regain some movement as his Reiatsu begins flaring. Releasing a Getsuga Tenshō into the water, the reflection fades and allows Ichigo to move freely.
Ichigo, stating that Muramasa's technique is only possible when there is an available reflection, uses his power on the water, uplifting it momentarily and allowing him to press Muramasa in combat. After seemingly stabbing Muramasa, Ichigo finds that he has disappeared and reappeared behind him, at which point he slashes him. Turning around, Ichigo and Muramasa clash swords, with the latter stating that though he can't use certain abilities, there is still more he can do. After allowing himself to be stabbed again, Muramasa disappears and reappears, with many illusions of himself surrounding Ichigo.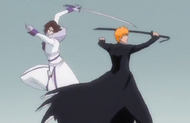 Together, the illusions and the real Muramasa attack Ichigo, evading his attacks and slashing him multiple times. After sending Ichigo crashing down Zangetsu talks to him and decides to assist him by becoming his eyes, stating they can do so if they form a perfect bond. With this, Ichigo is easily able to overpower Muramasa and avoid his illusion abilities as Maramasa tries getting behind him, but Ichigo avoids him. After sending Ichigo crashing down, Muramasa attempts to attack from behind, only for Ichigo to turn around and unleash a Getsuga Tenshō, sending Muramasa flying.
Understanding that Zangetsu is helping Ichigo, Muramasa attacks, but finds his blows easily repelled by the Shinigami, who tosses him aside. As Muramasa attempts to regain his composure, Ichigo states that mutual existence should be the relation between Shinigami and Zanpakutō, telling Muramasa he should know so. As they talk, the pillar they are on collapses, causing the two to have their battle over water. Zangetsu tells Ichigo the inner world is reaching its limits due to the animosity of the Hollows Muramasa absorbed. As the pillar Muramasa crashed into comes down on him, Ichigo watches as he's pushed underwater.
As Muramasa sinks, he thinks back to the times when he was in the inner world, but couldn't hear the voice of Koga Kuchiki, as well as his various actions up to the time Koga betrayed him. Ichigo calls out to Muramasa, snapping him out of his trance. Zangetsu warns Ichigo that they have to leave, or else they will remain trapped. As Muramasa returns, Ichigo questions him about the rebellion. Muramasa states that it is none of his concern and states that Kōga was powerful enough to have ruled over Soul Society, and that it was his pride in Kōga's abilities that motivated him. Muramasa, weakened, but still able to fight, clashes with Ichigo again. As they fight, Ichigo states that Muramasa even said that he was directly responsible for his master's death and tells him that despite everything, he still fought to release Kōga from his seal because deep down, he still desired to communicate with his Shinigami master.
Muramasa looks at his hand, noticing that it is becoming transparent. Muramasa moans in pain and a Hollow hole briefly forms in his chest as he struggles to suppress the Hollows. Zangetsu states that Muramasa's body of reiatsu could destroy Karakura Town if he turned into a Hollow. However, Ichigo replies that Muramasa won't become a Hollow and calls to him, saying he'll stay with Zangetsu forever. As Muramasa chastises him for saying that, the two begin arguing. Muramasa soon begins to form part of his Hollow Mask while Zangetsu continues to warn Ichigo, as he and Muramasa decide for one final clash as Muramasa rips off his mask.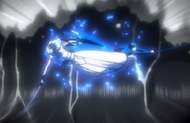 Outside the dome, the Shinigami and their Zanpakutō continue battling the Gillians. As Rangiku Matsumoto tells Captain Toshiro Hitsugaya they've eliminated them all, everyone notices the red dome increasing in size. On the inside, Ichigo and Muramasa continue their battle, with their final blow against one another causing the dome to crack and break down. As he is sinking into the water of Kōga's inner world. Muramasa figures it's ironic that he can hear Ichigo's voice just as Ichigo takes hold of his hand, enabling the two to leave his inner world.
On the outside, everyone notes the Hollow reiatsu to have vanished. They then notice Ichigo sitting next to Muramasa on the main island, holding his hand as the Zanpakutō Spirit wonders whether this is what it feels like to understand one's soul, which Ichigo confirms. Muramasa goes on to blames himself for Kōga's downfall. Ichigo reassures Muramasa, stating that everyone makes mistakes, so they just have to accept that and do what they can. Rukia Kuchiki and Orihime Inoue come across to the island and see the two speaking.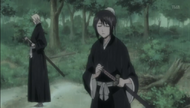 Muramasa begins losing strength as Ichigo tries to pick his hand up, and dematerializes back into a sword and disappears into energy, surprising Ichigo. Byakuya Kuchiki flash steps over to the island as well. As it begins to rain, the materialized Zanpakutō Spirits all feel strange and fade in the same fashion as Muramasa, returning to their Shinigami in their original forms. Byakuya marks it as his second time sincerely thanking Ichigo and quickly leaves as Ichigo appreciates the thanks.

Shinigami Illustrated Picture Book
As Ulquiorra Cifer sits in his chair and drinks tea, Ichigo angrily asks him why he's so calm, stating they should be returning to the Arrancar arc next. In response, Ulquiorra calls him naive as Nelliel Tu Odelschwanck appears and shows Ichigo the synopsis for the next episode, angering Ichigo since it makes him the last person to know. As Nel tells him his screen time has been reduced, Ichigo is most upset, being the main character. As the Shinigami collapses, Ulquiorra asks the viewers to wait with them.
Characters in Order of Appearance
Fights
Powers and Techniques Used
Techniques used:
Illusions
Muramasa's Unnamed Energy Wave Technique
Getsuga Tenshō (月牙天衝, Moon Fang Heaven-Piercer)
Shinigami techniques used:
Fullbring used:
Zanpakutō released:
Shikai:
Bankai:
Other Powers: