3rd Year High School Student! Dressed Up, and a New Chapter Begins!
Talk

9
1,877pages on
this wiki
3rd Year High School Student! Dressed Up, and a New Chapter Begins! is the three hundred and forty-third episode of the Bleach anime.
Seventeen months later, Ichigo continues living life as a normal teenage high school student in Karakura Town.
Summary
Ichigo's stats:
Name: Ichigo Kurosaki
Age: 17 years old
Hair color: Orange
Eye color: Brown
Occupation: High School Student
He cannot see ghosts.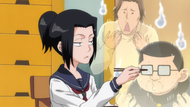 Seventeen months have passed since Ichigo's fight with Aizen. Ichigo is now seventeen, and is in his last year of High School. Just as expected, Ichigo's powers have not even begun to reappear, and now his spiritual senses are that of the average Human. As for his sisters, Yuzu and Karin, they have both just started High School. While Yuzu is mostly the same, Karin's awareness and spiritual abilities have increased since Ichigo has lost his, though it is not known why this has happened, nor is it known how Ichigo knows this since he himself states that she doesn't come to him to ask for advice.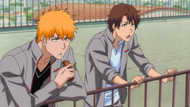 After his fight with Aizen, Sado and Orihime informed Tatsuki, Keigo, Mizuiro, and Chizuru about the whole situation with Aizen, the Soul Society, Hollows, and his Shinigami powers. Strangely and probably most surprising of all is that not only did they believe Sado and Orihime, but they also remained friends with Ichigo. In a way, it's almost as though nothing had changed personally between Ichigo and them. In Ichigo's place, Uryū has taken over the role of slaying Hollows and protecting Karakura Town, since according to Ichigo, Zennosuke Kurumadani is incompetent. Later during the day, Keigo and Ichigo talk some about Rukia. Keigo reveals that he misses her and wonders why she hasn't come to at least visit, but Ichigo points out that she is respecting the fact that they have to move on with their lives. Keigo does admit that it's probably for the best, since he doesn't want to deal with "any more scary stuff like that again".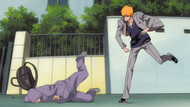 On their way home, Ichigo, Mizuiro, and Keigo, a thief runs by carrying a duffel bag, who is being chased by another man. Even though Ichigo has lost his powers, the training and experience he gained has not left him; as Ichigo easily runs past the pursuer and punches the thief to the ground. The man gets back up and pulls a knife out, but Ichigo easily dodges the attack and knocks the man out with another blow. Ichigo hands the strange man his belongings and refuses the reward (free Ramen). All Ichigo asks is that the man not tell anybody he was in a fight. While leaving, the stranger reveals that not only does he know Ichigo's name (which Ichigo didn't give out), but that he also has a "Substitute Shinigami's Combat Pass".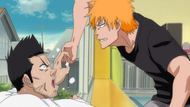 While sleeping that night, Ichigo has a dream about several Shinigami (including Rukia and Renji), but is suddenly woken up by Isshin; who was trying to attack him like he normally does. Ichigo is mad that Isshin woke him up from his dream and tries to push him off the window ledge Isshin threw himself on as punishment. When Isshin asks Ichigo what his dream was about, he says that he can't remember now (Ichigo is known for forgetting dreams). At school, Ichigo is seen trying to be recruited by many different school clubs. Ichigo shamelessly rents out his skills to the highest bidder, which ends up being the Soccer Team. The vice-captain, Satoda, successfully convinces him to join. Keigo is shown to be rather upset, since now he can't hang out with Ichigo as much. Ichigo meets up with Tatsuki after school, who asks why he quit the basketball team for soccer. Ichigo points out that his contract with them ended. Ichigo also learns that Tatsuki became an assistant instructor at her Martial Arts Dojo. Suddenly, Orihime from inside the school's third floor shouts down to Ichigo and Tatsuki. Then suddenly she grabs onto the drain pipe and slides down; which earns her a pop on the head and a lecture from Tatsuki about doing something dangerous.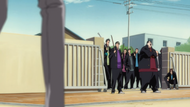 Before leaving, Tatsuki asks Ichigo if he remembered to tell his Boss about his deal with the Soccer team, which makes Ichigo a little upset. Ichigo calls her and is pretty much yelled at through the phone for only coming in 1 day last week and now he wants another week off. Ichigo says that's why he is calling to apologize, but she tells him that he either shows up to work or he's fired. Ichigo says fine, "I guess I had it coming", but she suddenly changes her attitude and tries to say he's not fired, but he hangs up. Suddenly, a group of gangsters from Miyasho High appears on the front gate of Karakura High, seeking Ichigo, who knocked out seven teeth from the thief he fought yesterday, who turns out to be one of their followers. Ichigo hides behind a wall, but then Uryū approaches the gangsters and recommends they leave. One of them thinks that he is Ichigo and moves to attack, but Uryū knocks the guy out with one blow. The leader, asks if he is Ichigo, but Uryū asks what about him even resembles Ichigo Kurosaki.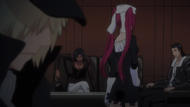 Elsewhere, strange man from yesterday gets onto an elevator and takes it to the fifth floor, where he inserts a card into a wall reader. The card has the words printed on it "Welcome to our Xcution". Inside are three of his supposed associates: a middle aged man cleaning some drinking glasses, a young boy playing a video game, and a woman sitting on a sofa. The man sits down on a leather chair, and is approached by a fourth woman who appears to be a teenage girl about Ichigo's age. She asks the stranger if he found "him". He replies that he did, and says that "The next Substitute Shinigami, is an interesting fellow".
Shinigami Illustrated Picture Book
Keigo explains the changes made to his hairstyle during the seventeen month break. He begins with the hairstyle he made during the month of December on his first school year, which because of a penalty in losing a Christmas party game his hair was made into a Mohican style. Apparently, Mizuiro made him do it. Unfortunately for Keigo, on the next day his teacher found out and castigated him, which made him shave his head bald. Keigo then explains on the summer of his second school year, after his hair grew back he did a fashionable perm on his hair, but Mizuiro comments that the perm was awful. Then during the fall of Keigo's second school year, he ditched the fashionable perm and went for a straight perm. But then he states the shocking part of that perm: it made his hair black (almost resembling Ishida's hair). Mizuiro then states that he's turning the viewers off, and then the screen turns black with the kanji for 'The End' shown.
Characters in Order of Appearance
Fights
None.
Powers and Techniques Used
Techniques used
Zanpakutō released
Bankai: