Conclusion?! Hisagi vs. Kazeshini
Talk

0
1,878pages on
this wiki
Conclusion?! Hisagi vs. Kazeshini is the two-hundred sixtieth episode of the Bleach anime.
Kazeshini has a change of heart when he is forced to look after a baby.
Summary
Hisagi, Kira, Iba, and Ikkaku run through a forest to get to the Rukongai, where apparently a Tōjū has been going around attacking civilians. On their way, they are attacked by a mischievous Kazeshini, whom Hisagi decides to fight off while the others continue their mission.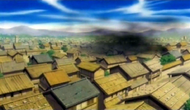 Once he has knocked Kazeshini down, Hisagi leaves to regroup with his fellow Shinigami. But by the time that Hisagi has found the three, they were already too late in catching the Tōjū.
Meanwhile, Kazeshini is approached by Haineko, Hōzukimaru and Wabisuke for his rebellious attitude towards his master, which in turn is causing other Shinigami to worry about the other Zanpakutō Spirits. He rebuffs their words and goes to find Hisagi in the Rukongai. He attacks him again while Hisagi was already fighting a Tōjū, though is easily knocked aside. Kazeshini chases after him.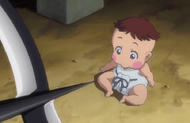 He ends up losing sight of Hisagi during the chase. However, Kazeshini does find a Tōjū attacking a Soul, killing the rogue Zanpakutō after his condescending comment towards him. Before the Soul perishes, he asks that Kazeshini takes care of his infant son. Kazeshini is reluctant to do so. He ends up making the infant cry, attracting attention from nearby people, forcing the spirit to take it with him anyway.
Kazeshini is forced to carry the infant with him throughout most of the day, before leaving him behind in a wooden shack. Eventually, a woman comes by and begins to take care of the infant. When Kazeshini returns to check on the infant, and by extension the woman taking care of him, a Tōjū arrives to cut him down. Kazeshini quickly kills the Tōjū, though is injured while doing so. He tells the woman to take care of the infant before abruptly leaving.
He later returns to Hisagi in the Rukongai, shortly after all the Tōjū were defeated, and they fight.

Shinigami Illustrated Picture Book
Kazeshini offers Kira with a sudden present to apologize for all the trouble he had caused, which Kira is reluctant to accept. But Kazeshini then spots Ichigo and attempts to give him one as well. Kira is more than a little concerned with Kazeshini's abrupt and sudden change in personality.
Fights
Characters in Order of Appearance
Powers and Techniques Used
Kidō used:
Zanpakutō released:
Shikai: