Byakuya and Renji, the 6th Division Returns
Talk

2
1,876pages on
this wiki
Byakuya and Renji, the 6th Division Returns is the two hundred fifty-fourth episode of the Bleach anime.
The Shinigami and their Zanpakutō Spirits try to deal with the Gillian.
Summary
As Ichigo Kurosaki continues battling Muramasa, the latter undergoes a transformation and turns into a large, red mass resembling a dome, enveloping Ichigo. At the same time, a Garganta in the sky begins expanding and numerous Gillian class Menos appear from the dome.
Aware that they're out of strength, Ichigo's friends attempt to escape. As a Menos aims a Cero at Rukia Kuchiki and Orihime Inoue, Sode no Shirayuki encases the Menos in ice before it can chance to fire, and shatters it. Rukia turns to see her Zanpakutō Spirit and is surprised to see numerous members of the Gotei 13 behind her with their own.
Renji Abarai apologizes for everyone being late, and the gang is confused as to what is going on as they believed the Zanpakutō were rebelling. Rukia asks what's going on, and Sode no Shirayuki explains that Mayuri Kurotsuchi undid their brainwashing. Tobiume then apologizes for the trouble they caused, and declares that it's time for them to repay the Shinigami and go on the offensive. Together, the spirits attack and destroy many Menos. As more Menos approach, everyone else prepares for battle.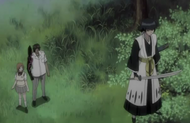 As one is about to fire a Cero, Captain Suì-Fēng intercepts and attacks it before it has the chance to aim, sending the attack into the sky and destroying it. Activating Shunkō, she tries to attack the mass that Muramasa has become, but is stopped by a volley of arrows from Uryū Ishida. Uryū, believing that attacking the mass could destroy Karakura Town, and possibly Ichigo, tells Suì-Fēng not to go in, but she states her job is to destroy the mass. However, before any more is said, Captain Toshiro Hitsugaya tells them their first priority should be to defeat the Hollows, which she agrees to. Before leaving, the young captain tells Ichigo's friends to sense his Reiatsu if they want to know how he is.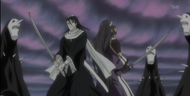 Despite their efforts, Tōshirō notes there are still too many of them and even with the Zanpakutō on their side, their situation is bad. Suì-Fēng also notes that though other Zanpakutō are being modified by Captain Kurotsuchi, they can't afford to wait for them. As the Menos continue to approach, Captain Hitsugaya notes that they'll need to fight them alone. At the same time, Byakuya Kuchiki and Senbonzakura join the battle, which the other spirits are far from happy about due to having been deceived by them.
While the spirits voice their frustration, Momo Hinamori tells them to focus on the task at hand. Rangiku Matsumoto tells them they aren't the only ones upset by the issue, with other Shinigami agreeing. Meanwhile, Renji attacks the Menos and reunites with Byakuya. Renji tells him that there are many who'd like to have a word with him about his actions, but before he can say any more, Byakuya simply tells him they should go, with Zabimaru telling Renji such is what he gets for trying to act cool with his speech.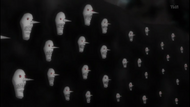 As Marechiyo Ōmaeda prepares to fight, he is attacked from behind by Gegetsuburi, who begins to argue with him over not using honorifics in his name. As the two continue arguing, they end up attracting a large number of Menos. As Izuru Kira is about to release his Zanpakutō, the group is saved by the arrival of Captain Sajin Komamura, who tells them to stop bickering. Meanwhile, Ichigo's friends, despite their efforts, are unable to sense his Reiatsu. Uryū fires a volley of arrows at the dome, but they are absorbed upon contact, with Rukia noting that Muramasa's Reiatsu is growing. As the group discusses what to do, the rip in the sky widens, and Menos start pouring in inexorably. While the Shinigami and the Zanpakutō voice frustration at the growing number of obstacles, the pressure of the dome increases further while the Garganta increases in size.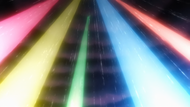 Hōzukimaru decides to go seal the Garganta, but Ikkaku Madarame warns him against it. As everyone prepares to fight the increasing number of Menos, Byakuya and Senbonzakura begin using their own Reiatsu to seal the Garganta. As everyone watches their efforts, they join them with contribute their Reiatsu to seal the Garganta, while simultaneously destroying the Menos and forcing others to retreat. Together, using spiritual energy, the group eventually succeeds in closing the Garganta, however, the mass continues to grow. Orihime questions whether Ichigo can be saved, but Rukia notes it's too dangerous to approach the dome and thus only Ichigo can save himself.

Shinigami Illustrated Picture Book
While Shūhei Hisagi is asleep, Kazeshini wakes him up so he can fight too. Shūhei awakens, surprised to see his Zanpakutō, who apologizes for beating him up, saying he'll be good from now on and the two embrace. However, Kazeshini is lying, and sticks his Kusarigama into Shūhei's shoulder, laughing at his master for believing him.
Fights
Characters in Order of Appearance
Powers and Techniques Used
Techniques used:
Shinigami techniques used:
Fullbring used:
Zanpakutō released:
Shikai:
Bankai:
Other powers: