Byakuya's Betrayal
Talk

0
1,878pages on
this wiki

Byakuya's Betrayal is the two-hundred fortieth episode of the Bleach anime.
Ichigo goes to attack Muramasa but Senbonzakura and eventually Byakuya show up to protect him.
Summary
Ichigo Kurosaki continues his search for Byakuya Kuchiki, but fails to sense his reiatsu. From above, Senbonzakura watches.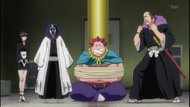 At the Shinigami Research and Development Institute, Ōmaeda complains to Mayuri, who plans to take apart his Zanpakutō Spirit in hopes of discovering the cause of the rebellion. Ignoring the lieutenant's protest, he is given a saw from Nemu, but is stopped by Ōmaeda before he can cause any harm, and is told to be more careful. Annoyed, he commands Nemu to attack Ōmaeda. The former puts his own safety first and asks that he attack his spirit, but are instead both attacked, while Mayuri leaves.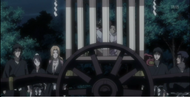 In the forests of Rukongai, the recently captured Haineko and Tobiume yell at their owners and other Shinigami to be released from inside a cage, exclaiming that their actions are inhumane. As the two spirits commence arguing with the other once again, they are taken to the Fourth Division's barracks. Hinamori and Rangiku then set off to find Hitsugaya, but crash into Ichigo. The three have a short conversation, with Ichigo confirming that Hitsugaya is safe, relieving the two females.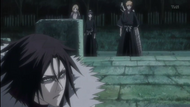 Suddenly, Muramasa appears from Hueco Mundo, visibly exhausted and coughing, then noticing the three shinigami behind him. Muramasa states that he and Ichigo must be connected by fate somehow, claiming that he will be useful for fulfilling his goals. Though he understands that spirit's reasoning, Ichigo takes out Zangetsu and prepares to fight him. Plainly, Muramasa raises his hand, causing Ichigo to wonder if he is trying to have Zangetsu turn against his owner again, but is reassured that he can no longer fall under Muramasa's influence. The spirit, however, paralyzes them, but is unable to keep going due to his unstable reiatsu, allowing Ichigo to charge at him. After his attack is blocked, Ichigo, seeing the spirit's power, demands to know who his owner is, only to be answered by Byakuya's Bankai. The blade fragments are deflected by Ichigo.
On their way to the Fourth Division, the shinigami escorting Haineko and Tobiume are rapidly knocked out by Byakuya through the use of Shunpō, his actions shocking the duo.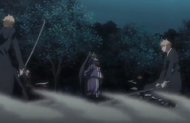 As Rangiku and Hinamori leave the battlefield, Senbonzakura tells Muramasa to stand back, while Ichigo asks if he is the one responsible for attacking him the previous night. When he is left unanswered, Ichigo charges at the spirit. He is sweeped away by blade fragments, only for Senbonzakura to realize he is attacking from above and appears next to him, asking if he really thought that would've carried out. Ichigo denies this, and after dodging multiple advances, he creates clones several with shunpō. The strategy is unsuccessful, and Ichigo tries to think back to when he faced Byakuya at Sōkyoku Hill, proceeding to unleash a Getsuga Tenshō, which overwhelms his opponent's Bankai.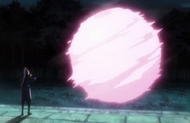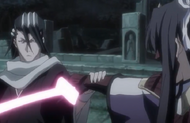 Impressed, Senbonzakura uses Gōkei to defeat Ichigo. Surprisingly, he appears unscathed by reacting in time and is seen donning his Hollow mask. Ichigo, while maintaining his glare, wonders if has no other choice, but to kill him, expressing his reluctance, as he is Byakuya's spirit, but resolves that there is no additional solution. Senbonzakura activates Senkei and grabs two swords. The two clash, dispelling the other's attacks. Both come out seemingly untouched, but Senbonzakura's mask abruptly cracks, making the spirit lose his composure, stating that he will regret disgracing him, but is stopped by the sudden appearance of his master, who gives the Zanpakutō a hard stare. Calming down, he obeys Byakuya's command.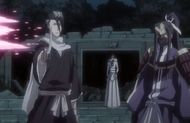 The supposedly missing captain tells Ichigo to leave, but before he can comprehend his words, Byakuya sends a Sōkatsui spell his way, resulting in a small explosion. Though angered, Ichigo listens as Byakuya states he will not allow Muramasa to be attacked, and that he joined them on his own will, so that he can obey his own inner ambitions. Amused, Muramasa asks what wishes to do, with the captain claiming his actions are to protect his pride. The three all then vanish.

Shinigami Illustrated Picture Book
As Tobiume and Haineko are being transported, they begin talking about their masters. Haineko says how she wishes they were attractive men instead of "crabby old hags", the latter statement drawing Tobiume's attention. Haineko then begins talking about Hinamori but Tobiume elbows her, saying how her master isn't a hag. She also adds how she won't forgive Haineko if she insults Hinamori again. Haineko sighs and simply asks why she doesn't return to her master then.
Characters in Order of Appearance
Fights
Powers and Techniques Used
Kidō used:
Techniques used:
Zanpakutō released:
Shikai:
Bankai:
Other powers:
Trivia
In the ending sequence, Senbonzakura is shown with a fractured mask, matching the damage inflicted by Ichigo during the episode, whereas in previous episodes, the ending showed an intact mask.