Emergence of the Tōjū
Talk

0
1,875pages on
this wiki
Emergence of the Tōjū
Emergence of the Tōjū is an event taking place in the Tōjū Campaign. It is the first conflict with the Shinigami and the new threat spawned from Muramasa's powers, the Tōjū.
Prelude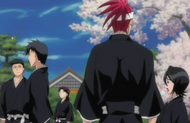 At the Kuchiki Manor, Lieutenant Renji Abarai and Rukia Kuchiki are relaxing among the 6th Division members, when Captain Byakuya Kuchiki arrives to greet them. The other division members eagerly welcome his arrival, as Rukia asks Renji whether he should be greeting him as well. Renji says it is okay, as he states that the others should use this opportunity to spend time with their Captain. As the division members crowd around Byakuya, Rukia comments that they look overly nervous. Renji comments that he is surprised Byakuya allowed the use of his manor for the flower viewing. [1]
Rukia comments that everyone was exhausted after the Zanpakutō Rebellion, so it was the least he could do for tricking them. Renji then realizes that the manor was destroyed previously, accusing Rukia's Zanpakutō of doing the damage. He states that the repair work has yet to begin, as Rukia explains that the Kuchiki Clan's near-infinite wealth and secret connections fixed it up in no time. However, Renji is called by another Division member, moving away from Rukia. As she notices that he left her presence, she sighs.[1]
The Arrival of the Tōjū
As Rukia wanders the pathways of the manor by herself, she comments upon the neglecting nature of Renji. However, she hears a piercing scream, causing her to turn in the direction of the noise. In one of the serving rooms, two unusual figures run rampant, destroying trays of food and ornaments, as the vassals flee in fear. Rukia rushes towards the doorway, and observes their actions for several moments. She tells them to stop defiling their house, which ultimately alerts the two beings to her presence.[1]
She asks who they are, telling them to control themselves. Rukia reaches for her katana, but is surprised to find it missing from her side. She then realizes that she left it behind, as one of the figures charges at her with a cleaver. He brings the weapon smashing down upon the ground, but Rukia dodges his strike, skidding to the ground behind him. However, she falls off the wooden platform, crashing as the two figures tower over her, raising their weapons. Rukia curses her uselessness, as Sode no Shirayuki releases her Shikai command.[1]
The Zanpakutō spirit releases Tsugi no mai, Hakuren, as Rukia jumps out of the way of her attack. The wave of ice proceeds to envelop the two beings. As they struggle to overcome the attack, Rukia moves out to safety. The figures seem undaunted by Sode no Shirayuki's onslaught, proceeding to charge once more towards Rukia. However, Sode no Shirayuki appears in their path, stating that there is no escape for them. Rukia is surprised to see her, as she previously believed she had returned back to her katana. [1]
One of the figures charges at Sode no Shirayuki, his triple-pronged claw clashing with her katana. She manages to push him to the ground, as he stumbles away in an attempt to flee. Sode no Shirayuki reiterates that she would not allow them to leave, attempting to release her Some no mai attack upon him. However, the other figure ambushes her, preparing to bring his cleaver down upon her. Before he can, he is cut down by a tirade of pink petals, falling down to the ground forthwith.[1]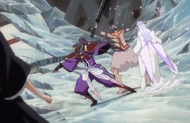 Senbonzakura then reveals himself, asking whether Sode no Shirayuki was injured. She replies that she is alright, asking the same of her Shinigami master. Rukia points an accusatory finger at the pair, wondering how they can stand before her. They reveal to her that that was never what they agreed to, and states that it was the Shinigami's misunderstanding that led to them believing they had returned back to their katana. Byakuya appears on the scene, glaring at Senbonzakura.[1]
Mayuri's Discovery
However, before he can ask what transpired, the figure is immersed in a cloud of smoke, as he reverts into an ordinary katana. At the Shinigami Research and Development Institute, Byakuya and the others approach Captain Mayuri Kurotsuchi, who proclaims it to be a rare occurrence of their meeting. Rukia explains the reason for their visit, in which their Zanpakutō are still maintaining their materialized forms. Mayuri asks what the problem is in that, to which Rukia is surprised at his indifference over the issue.[1]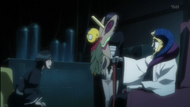 He explains further, stating that his job was to free them of their brainwashing, but not to revert them back to their sword-states. Mayuri shows her an example, in which his katana transforms into Ashisogi Jizō's materialized form, proceeding to circle them, before returning back to his sword. He states that he hasn't the time to confer with them over trivial matters, but Rukia brings up the issue of the Zanpakutō found at the scene. Mayuri explains that that is a so-called "rampant Zanpakutō", which Muramasa materialized with his powers.[1]
He explains further, stating that Muramasa not only released the Zanpakutō of seated members and Captains, but of unseated members as well. He states that, since some Shinigami were unable to force their swords to submit to them, when they were released by Muramasa, they inadvertently killed their masters. Lieutenant Nemu Kurotsuchi explains that Zanpakutō die once their Shinigami dies, but states that there must be an abnormality present within them. Mayuri states that they are an entirely new species, dubbing them "Tōjū".[1]
Byakuya asks him why the Tōjū reverted to normal, but Nemu states that they do not know, as there is no Reiatsu present. Mayuri states that he might be able to uncover more information about them, if they are able to capture the one they let escape. He goes back to his computer, before imparting one more piece of information to them: that a Tōjū can use its powers to its fullest, and is essentially in a constant Bankai state. He informs them that even a low-level sword can easily overpower them, telling them not to die.[1]
The 10th Division Party
As Byakuya, Rukia, and the two Zanpakutō leave the S.R.D.I, Rukia contemplates the difficulty of this new development, asking her brother for his opinion. As Byakuya turns to face her, Senbonzakura states that they are merely ruffians who defiled the Kuchiki Manor, with Sode no Shirayuki agreeing to this statement. Rukia berates them, saying that they were the ones who damaged the Manor. Sode no Shirayuki ignores her master, wondering how they will be able to capture the missing Tōjū.[1]
Renji comes onto the scene, informing his captain that it is time for the changing of the Seireitei guard. He instructs Rukia to take care of this incident in his stead, stating that Senbonzakura will stay by her side. As Byakuya leaves alongside Renji, Senbonzakura comes up with a plan to lure out the Tōjū, in which they destroy one of the barracks, and hope he will come out of hiding. Rukia dismisses this idea, prompting Sode no Shirayuki to suggest freezing Seireitei alongside the Tōjū.[1]
Rukia wonders why violence is the only solution to them, wondering whether they understand how inconvenient that would be. Sode no Shirayuki then suggests another plan. At the 10th Division barracks, the division members are enjoying themselves, as Sode no Shirayuki congratulates them on their hard work, prompting them to drink sake. Lieutenant Rangiku Matsumoto and Haineko are the first to drink, as Sode no Shirayuki complements their drinking ability.[1]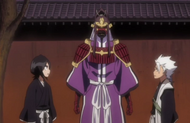 As they continue the festivities, Rukia is annoyed at their idea of a plan. Captain Tōshirō Hitsugaya wonders what is going on, as Rukia explains that this is a party. Hitsugaya wonders why they are doing this, to which Senbonzakura states that it is for the capture of a rampant Zanpakutō. He explains the events that occurred at the Kuchiki Manor, speculating that he could emerge if they held another party. After the party ends, half of the 10th Division is lying intoxicated upon the ground, as Rukia observes that he hasn't shown up.[1]
Sode no Shirayuki believes it to be because the party was not loud enough, prompting Rukia to believe that they did this in order for them to party. Hitsugaya points out that Senbonzakura is lying drunk next to Haineko, as Rukia wonders what he is doing. Captain Hitsugaya then takes his leave, as Rukia apologizes to him for what they have done. Hitsugaya reassures her, stating that his subordinates deserved some time off after Muramasa's incident. Sode no Shirayuki truthfully apologizes to her, stating that her plan didn't work.[1]
Sode no Shirayuki's Feelings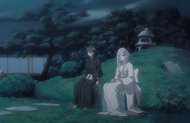 Rukia comforts her Zanpakutō spirit, stating that they weren't very lucky. As the two sit by the pond, she tells her master that she enjoys talking with her. Rukia wonders what is wrong, to which Sode no Shirayuki states that they are just weapons to be used for destruction, if not for the guiding hand of their Shinigami masters. She says that Muramasa took advantage of her desire to walk on her own, using it to manipulate her. Sode no Shirayuki states that she believed she could do things independently back then.[1]
The Zanpakutō spirit states that this recent incident has changed her viewpoint, believing that she is truly nothing without her Shinigami master. Rukia denies that this is true, stating that she has been there for her during her past battles, and she has given her immeasurable support and protection. She states that the sole reason for her resolve was because Sode no Shirayuki was by her side. Rukia tells her never to doubt her abilities or her worth again, as they hold hands.[1]
The Tōjū Returns
Rukia and Sode no Shirayuki are alerted to the Tōjū's Reiatsu, as a cry for help is heard from afar. The two proceed to move out, coming across the figure wreaking havoc in one of the buildings. Several Shinigami clamber away from the rampant Zanpakutō, as he prepares to kill them. However, Rukia states that he should be captured, and appears in his path, telling him to stop. Sode no Shirayuki appears by her side, as the Tōjū laughs wildly, releasing purplish Reiatsu from his body.[1]
He transforms into a rapidly spinning twister, as Rukia draws her sword in preparation to face off against the Tōjū. However, she is thrown back by the force of his attack, crashing into a nearby building. Sode no Shirayuki calls out in concern for her, as the Tōjū appears before Rukia, preparing to cut her down. Her Zanpakutō states that she will not allow that, releasing a fine mist of ice, which surrounds the Tōjū. As he slashes at the icy mist, Rukia is able to sneak out unnoticed.[1]
As the Tōjū turns to face Sode no Shirayuki, he morphs back into a twister, propelling himself towards her. She uses Shunpo to evade his strike, as he swivels around for another attack. Sode no Shirayuki stops his movements with a blast of her ice-type abilities, but the Tōjū manages to break through, cutting several slivers of her hair. He reverts to his original form, slashing at her repeatedly with his claws, which she dodges in succession. Sode no Shirayuki states that she is in no position to fight back and needs to keep her distance.[1]
Rukia releases Hadō #33 Sōkatsui at the preoccupied Tōjū, knocking him off balance. He emerges enraged, transforming into the twister again. Rukia readies her Kidō, stating that she will not leave Sode no Shirayuki's side. As he rapidly advances towards them, Rukia fires off another Sōkatsui spell, as Sode no Shirayuki readies her attack. Rukia's Kidō knocks him backwards, but before he can recover, Sode no Shirayuki releases her Some no mai, Tsukishiro attack. The Tōjū tries to outrun the attack, but is engulfed in ice.[1]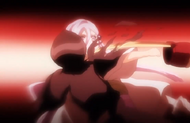 The ice pillar then shatters, cracking into pieces on the ground. Sode no Shirayuki is about to congratulate her master on their victory, but the Tōjū releases his claws at them as a last resort attack. Rukia notices this, pushing Sode no Shirayuki out of harms way, but injuring herself in the process. The claw embeds itself into the wall, as Rukia tackles her Zanpakutō to the ground. The Tōjū roars in pain, charging at the two promptly. Rukia stumbles to get up, as Sode no Shirayuki catches her, fleeing from the Tōjū's attack.[1]
As they emerge unscathed, Rukia holds her hand out to Sode no Shirayuki. Her Zanpakutō spirit states that she understands, as the enraged Tōjū steps into the clearing. She then reverts into her Shikai state, materializing in Rukia's hand. As the Tōjū cuts apart the doorway, charging at Rukia, she releases Tsugi no mai, Hakuren upon the advancing figure, engulfing him in a torrent of ice. As Rukia emerges victorious over the Tōjū, she smiles at her katana.[1]
Aftermath
Rukia and Sode no Shirayuki then appear before Captains Shunsui Kyōraku and Jūshirō Ukitake, reporting to them the situating regarding the rampant Zanpakutō. Kyōraku asks what became of the Zanpakutō after she captured it, to which she explains that she sent it to the 12th Division's Shinigami Research and Development Institute, as he states that that was a wise decision. Rukia asks her captain whether the Tōjū will become a serious threat to Soul Society, as he tells her that they likely haven't seen the last of them.[1]
He states that they have received several reports indicating the existence of more Tōjū, as Kyōraku notes that the Zanpakutō have materialized once again. Ukitake says that this couldn't come at a worse time; considering that the rebuilding of Seireitei has yet to begin. In the background, Sōgyo no Kotowari chases each other around the building, prompting Ukitake to tell them to be quiet. Sode no Shirayuki reassures her, stating that the Zanpakutō spirits will do what they can to assist the Shinigami.[1]
Rukia agrees, saying that she has full trust in her Zanpakutō spirit.[1]
References