Byakuya Kuchiki vs. Senbonzakura
Talk

0
1,875pages on
this wiki
Byakuya Kuchiki vs. Senbonzakura
Combatants

Captain Byakuya Kuchiki

Powers & Abilities
Damage Sustained/Casualties

Byakuya is uninjured

Senbonzakura is uninjured
Byakuya Kuchiki vs. Senbonzakura is a fight that takes place in the initial stages of the Zanpakutō Rebellion, the results of which prove pivotal in the coming events.
Prelude
Following the manifestation of the Gotei 13's Zanpakutō spirits, fighting breaks out throughout the Seireitei as the spirits begin attacking their former masters and any Shinigamiin the immediate vicinity.[1] Rukia Kuchiki and Renji Abarai run through the chaos and burning buildings, not entirely sure of what exactly is happening and wondering where Byakuya Kuchiki is. They are soon confronted by Gonryōmaru, who walks out of a burning building in front of them, having just destroyed it. Kazeshini then appears behind them in order to block off any escape. The two Shinigami confirm that they can't use their Shikai in this fight just as both Zanpakutō move to attack them.[2]
Feeling slightly overwhelmed, Rukia and Renji jump into the air in order to evade their destructive attacks. Rukia is immediately followed by Gonryōmaru, narrowly avoiding a fatal blow from his sword at the last minute as he attempts to stab her, striking her shoulder instead. Nearby, Renji engages in battle with a crazed Kazeshini. He frets as Gonryōmaru moves in to finish Rukia. However, his attack is interrupted by Byakuya who, from the top of a close building, incapacitates Gonryōmaru using Bakudō #61. Rikujōkōrō.[2]
Rukia and Renji are stunned by Byakuya's appearance, but he reminds them to remain alert just as Muramasa shows up with Senbonzakura by his side. Senbonzakura then moves forward, pointing his sword at Byakuya, challenging him to a fight.[2]
Battle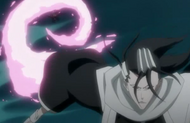 Byakuya advises Rukia and Renji to leave before using Shunpo to engage Senbonzakura in battle. They clash swords several times, moving across the roofs as their fighting intensifies. Senbonzakura taunts Byakuya, informing him that with his Zanpakutō merely in its sealed state, the captain has no chance against its true powers. Senbonzakura then proceeds to release his Shikai and Byakuya uses Shunpo to get away in order to evade the many blades of his own Zanpakutō being used against him. Senbonzakura uses the blades to pursue Byakuya across the roofs of the Seireitei before finally catching up to him and completely engulfing him, appearing to have defeated him as he crashes into the ground with a huge explosion.[2]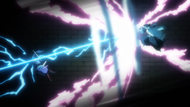 The force of the attack pushes Byakuya through several buildings and into the underground passage ways below, where he speeds away from the attack, seemingly unharmed despite the damage that was created. Senbonzakura soon catches up with his former master and the two soon enter into close combat again. They clash swords several times over and over before Senbonzakura uses his released form to attack Byakuya again, forcing him to use his sword to defend himself. Eventually, using his skills with a sword and then using Kidō to attack, Byakuya is able to defeat the manifested spirit of his Zanpakutō.[3]
Aftermath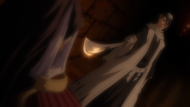 Defeated, although uninjured, Senbonzakura regains control of his own actions and submits to Byakuya, referring to him as his master. He further explains his actions as a result of hearing a voice inside of him that told him to follow his instincts and to act independently of his Shinigami host. The Head of the Kuchiki Clan does not appear surprised by this and goes on to explain the history of Kōga Kuchiki and the disgrace the episode had dealt his clan. The two of them then decide to move forward with an elaborate plan of apparent betrayal so that they could find where Kōga had been sealed so that Byakuya could kill him and clear the dishonor he had done to his clan.[3]
References
↑ Bleach anime; Episode 230