Byakuya's Betrayal: Revealed
Talk

0
1,875pages on
this wiki
Byakuya's Betrayal: Revealed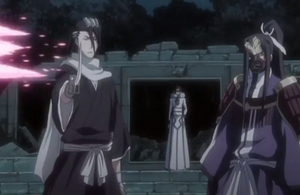 Byakuya's Betrayal: Revealed is an event taking place in the Zanpakutō Rebellion, focusing upon the pivotal incident in which the 6th Division Captain, Byakuya Kuchiki, reveals his allegiance to the Zanpakutō's cause.
Prelude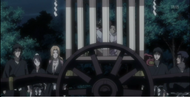 After Lieutenants Rangiku Matsumoto and Momo Hinamori defeat their Zanpakutō, they are immediately secured inside a carriage despite their attempts to reason with their Shinigami masters. The lieutenants ignore these pleas and tell the Shinigami operating the carriage to take Haineko and Tobiume immediately to the 4th Division barracks, as they proceed to leave the area. In their wake, another figure leaves in pursuit of the carriage. As the two Shinigami run, Momo senses Tōshirō Hitsugaya's Reiatsu weakening, as they proceed to go to the scene.[1]
Muramasa's Return
Ichigo Kurosaki crosses their path, as Rangiku crashes into him and promptly crushes him. She realizes that she accidentally sat upon Ichigo and berates him for commenting upon her weight. Later, Rangiku asks whether he knows if Captain Hitsugaya is alright, to which Ichigo relays the aftermath of the fight to her. However, the three of them realize something is wrong, as Muramasa emerges from a Garganta, panting heavily. He states that he hasn't fully calibrated to his new body, sensing the presence of Ichigo and the others.[1]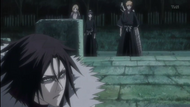 Muramasa states that he foresaw their meeting here, to which he assumes fate is somehow implicated. Ichigo merely states that he is going to defeat him, and that is the only thing that brings them together. Muramasa raises his hand to Ichigo, who wonders whether he will try and subjugate his Zanpakutō from him, to which Zangetsu reassures him, stating that the same trick does not work twice. Muramasa coughs repeatedly, as Momo senses his unstable Reiatsu, to which he sends out an energy wave, proceeding to bind them with his spiritual threads.[1]
Senbonzakura's Intervention
However, they are freed from his attack when Muramasa enters another coughing fit and blood streaks from his eyes. Ichigo takes advantage of this temporary distraction to charge at Muramasa, attempting to cut him down. However, he is blocked by the sudden appearance of Senbonzakura. He pushes Ichigo back, as Muramasa smiles to himself. Ichigo asks the Zanpakutō who his master is. Senbonzakura simply states that he will figure it out in time. As Senbonzakura releases his Bankai, Ichigo realizes that it is Byakuya Kuchiki's Zanpakutō. As the blades turn into the miniscule pink petals, Momo intervenes by releasing Bakudō #39 Enkosen, which she uses to shield herself and Rangiku from the attack.[1]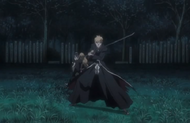 The shield however, is unsuccessful, as Rangiku pushes her out of the way. Ichigo dispels the attack with a Getsuga Tenshō, commenting upon Senbonzakura's strength. He correctly identifies Senbonzakura as the Zanpakutō of Byakuya Kuchiki, which pleasantly surprises the Zanpakutō that he remembered. Meanwhile, the prison carriage moves slowly along, as the Shinigami guards sense a massive amount of Reiatsu being released. One of them comments that it is the 6th Division captain's Reiatsu, as an unknown figure proceeds to subdue the guards. Haineko and Tobiume ask the figure what he means by doing this.[1]
At the battlefield, Momo and Rangiku back off to allow Ichigo to fight Senbonzakura alone. Ichigo realizes why he has the same Reiatsu as Byakuya, as he asks the Zanpakutō spirit whether he was the culprit behind the attack last night, to which Senbonzakura remains silent. Ichigo charges at Senbonzakura, who releases a swarm of pink petals, which he is able to dodge. As Senbonzakura walks into the clearing, Ichigo has vanished. Senbonzakura correctly predicts Ichigo's next movements to come from above him.[1]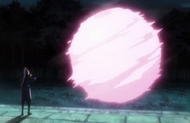 Senbonzakura intercepts Ichigo's attack, appearing behind him. He asks him whether he believed such an attack would prove successful against him, pushing Ichigo back, the pink petals in close pursuit. Ichigo evades all of his attacks, appearing behind Senbonzakura. Senbonzakura intercepts his attack again, forcing Ichigo to go on the defensive. He observes Ichigo's movements closely, as he uses Shunpo to create a multitude of clones. Ichigo appears above Senbonzakura, who blocks Ichigo's attack with his petals.[1]
Ichigo tells Senbonzakura to think back to his original fight with Byakuya and releases a black Getsuga Tenshō. The attack is able to break through Senbonzakura's shield, hurtling him into the nearby structure. Senbonzakura pants heavily and decides to trap Ichigo inside his Gōkei. He explains the physiology behind the attack, as the writhing mass contracts slightly before exploding. Senbonzakura states that he is finished, as Rangiku calls out to him. However, Ichigo is unscathed, having donned his Hollow mask. Senbonzakura commends the abilities of his opponent.[1]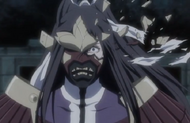 Ichigo ponders whether it is correct to kill Byakuya's Zanpakutō, deciding that he has no choice, but to do so. Senbonzakura asks why he is hesitating and releases Senkei. Ichigo fires a point-blank black Getsuga Tenshō that is met by Senkei. The two attacks collide together before imploding, sending a shock wave hurtling throughout the area. Ichigo's Hollow mask dissipates, as Senbonzakura claims that his Reiatsu claimed victory over him. Ichigo asks why he thinks so, as a fragment of Senbonzakura's mask shatters promptly.[1]
The Betrayal
Senbonzakura clutches his left eye, wondering what occurred. Ichigo apologizes, stating that he has no chance of defeating him without the assistance of his Shinigami master. They argue briefly, as Senbonzakura prepares to attack Ichigo once more. However, Senbonzakura is stopped by Byakuya, who tells him to stop. The Shinigami are surprised by his sudden appearance, as Rangiku wonders what he is doing here. Byakuya faces Ichigo, and tells him to pull back, as Ichigo asks whether he is preparing to fight him.[1]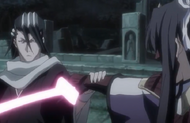 However, Byakuya states that that is not the case and fires Hadō #33 Sōkatsui at Ichigo. He asks why Byakuya did that, who states that he will not allow him to attack Muramasa. Ichigo asks him why he is protecting Muramasa, to which he states that he is doing this of his own free will. Muramasa laughs, stating that he finds Byakuya to be an interesting Shinigami. Muramasa asks what motivates Byakuya, to which Byakuya responds that it is his desire to protect his pride. Byakuya then repeats his warning, stating that Ichigo will die if he persists to impede Muramasa's objectives.[1]
New Revelation, Dissension within the Kuchiki clan!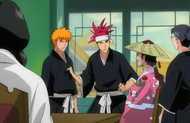 The next morning, Ichigo relays the events to Captains Shunsui Kyōraku, Jūshirō Ukitake, and Retsu Unohana. Lieutenant Renji Abarai refuses to believe that Byakuya has really changed sides, to which Kyōraku tells him to calm down. Ichigo persists, stating that Byakuya should be considered an enemy henceforth. Renji frustratedly walks away, staring outside a window. The Shinigami stare into space in a despondent fashion, distracted over what to do in the current situation. With Genryūsai Shigekuni Yamamoto currently missing and Byakuya now a traitor, Kyōraku wonders what else is going to happen.[2]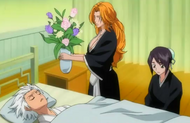 Ukitake attempts to lighten the mood, stating that Captain Hitsugaya regained his Zanpakutō. He then outlines the main problem with the Shinigami's methods in regards to fighting their Zanpakutō. Unohana interjects, relaying a report from the 12th Division that claims if someone other than the Shinigami master defeats their Zanpakutō, it is probable that the spirit will become permanently destroyed. The other Shinigami are surprised at this new development, prompting Ichigo to ask what they should do in combat with other Zanpakutō. [2]
Kyōraku tells them that the only thing they can do is hold back, as his lieutenant suggests to keep the information about Byakuya's betrayal between the people present. However, he disapproves of this idea, believing it will provoke dissension between the already demoralized Gotei 13. Renji speaks out, asking how Rukia will take the news. Ukitake volunteers to tell his subordinate, claiming that she will have to take it as the truth.[2]
Rukia is shocked at the news, to which Ukitake confirms that his allegiance with the Zanpakutō is the truth. Rukia sighs, but Ukitake tries to reassure her, stating that he may have some ulterior motive to joining their cause. She stares out of the window, wondering what he hopes to achieve by allying himself with Muramasa and the Zanpakutō. Meanwhile, inside the Zanpakutō cave, the Zanpakutō spirits are surprised when Muramasa returns to their company alongside Byakuya Kuchiki.[2]
Senbonzakura appears behind them, questioning Byakuya's aims behind assisting him. He assigns his former master a task to prove his allegiance to their land. He tells Byakuya to kill the Zanpakutō of his sister, Rukia Kuchiki. Sode no Shirayuki and the other materialized spirits are surprised at this suggestion. Initially, they are against it, but find that it makes sense as killing Sode no Shirayuki would render his sister's existence as a Shinigami pointless. As such, they believe that he is unable to complete the task. With this in mind, they believe they have seen through the Shinigami's deception and prepare to kill Byakuya [2]
Aftermath
The 6th Division Captain, Byakuya Kuchiki]], is shown to seemingly have betrayed the Gotei 13 and joined with the rebelling Zanpakutō. Byakuya Kuchiki then proceed to defeat Sode no Shirayuki, much to the surprise of the other Zanpakutō. Following this, Byakuya travels to the 6th Division barracks with Senbonzakura, proceeding to hand Sode no Shirayuki's broken katana to Rukia. As Senbonzakura raises his blade in an attempt to cut her down, Renji intervenes and blocks his strike. Zabimaru appears on the scene, preparing to fight Senbonzakura, as Renji faces off against his captain.[2]
References