Home
Talk

285
2,086pages on
this wiki

Hello and welcome to the Bleach Wiki, a wiki dedicated to the Bleach series by Tite Kubo! We hope you enjoy our stay and help us by making new pages or contributing to the existing 2,086 pages we have here on the wiki!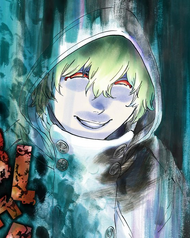 Gremmy Thoumeaux is a member of the Wandenreich's Sternritter with the epithet "V" - "The Visionary", which grants him the ability to create anything with his imagination. Yhwach had kept him locked up for most of the invasion, but released him on the second day. Gremmy eventually encountered 11th Division Captain Kenpachi Zaraki and began fighting him, discovering that he truly wished to obliterate his opponent for the first time in his life in the process. During this battle, he displayed the sheer power that his epithet granted him by hitting Kenpachi with an endless barrage of attacks and nearly destroying the Seireitei at one point.
Main article: Gremmy Thoumeaux
Which of Ichigo Kurosaki's battles was your favourite?

 
The

Arena

is back up and running with new match-ups! Cast your votes here!
Bleach Wiki now has a Tumblr account, which you can check out at this link.
Episode 366 was the last anime episode, but the manga is still ongoing and has entered its final story arc. The English dub continues as normal.
Create blog post
Latest Posts




Does anyone else know if Grimmjow will make an appearance again other than his "return"? And why was he NOT going on a killing spree and trying to axe-murder everyone? Did he make some sort of agree…



Read more >
See more >