Hello and welcome to the Bleach Wiki, a wiki dedicated to the Bleach series by Tite Kubo! We hope you enjoy our stay and help us by making new pages or contributing to the existing 2,200 pages we have here on the wiki!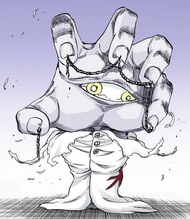 Pernida Parnkgjas is a Sternritter and a member of Yhwach's Schutzstaffel with the Schrift "C" - "The Compulsory". It is also the left arm of the Soul King.
Like Mimihagi, Pernida was separated from the Soul King at some point in the past, and under unknown circumstances joined the Wandenreich, where it was made a Quincy by Yhwach. It later joined the battle against the Royal Guard when Yhwach summoned it alongside the other Schutzstaffel to fight them, only to be taken out in short order by Ōetsu Nimaiya, which forced Yhwach to revive it with Auswählen. After Yhwach absorbed the Soul King, Pernida and the other Schutzstaffel are sent out to fight the invading Shinigami, where Pernida confronts and begins battling Mayuri Kurotsuchi and Kenpachi Zaraki.
Main article: Pernida Parnkgjas
Mayuri's Despair
"
Just now, did you feel...despair? Can it be you truly felt despair? Really? What was that? Maybe I misheard? I'm afraid I can't hear you. Let me take a better look at your face! Because it couldn't possibly be, now, could it? You, who lectured me about what it means to be a scientist! The very thought of it is preposterous. A mere artificial life-form dying? What part of that warrants despair? You remember what you said to me, don't you? To a scientist, perfection is worthless. Perfection is despair. You detest perfection. Correct? If she has died, then that is wonderful! She died because she was not perfect! Her death represents an opportunity to create something still greater! That should be your reaction, should it not...?
" - A hallucination of
Szayelaporro Granz
to Mayuri in
chapter 643
.
Which of these was your favorite Arrancar backstory?

 
Welcome to the Bleach Wiki! Before you begin editing here, please have a look at our policies, which can be better understood by reading this blog and the blogs that are linked within it. Also check out our Parent's Info Page.
Bleach Wiki has now started a new YouTube Channel. We update with regular Podcasts with Reviews and you can check it out here.
The

Arena

is back up and running with new match-ups! Cast your votes here!
Bleach Wiki now has a Tumblr account, which you can check out at this link.
Episode 366 was the last anime episode, but the manga is still ongoing and has entered its final story arc.
Create blog post
Latest Posts




Title: GODS NEVER DIE

Nanao: Huh...huh...I can't believe this is over!

Lille: Oh...you thought this was OVER?

Shunsui: Dammit Nanao, you jinxed us!

The scattered light that had fallen to the ground comes…

Read more >
See more >