Home
Talk

285
2,142pages on
this wiki

Hello and welcome to the Bleach Wiki, a wiki dedicated to the Bleach series by Tite Kubo! We hope you enjoy our stay and help us by making new pages or contributing to the existing 2,142 pages we have here on the wiki!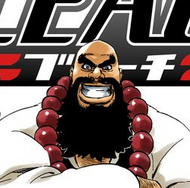 Ichibē Hyōsube is a Shinigami and the leader of the Royal Guard that protects the Soul King, as well as the one who determines the names of all things.
During the Wandenreich's second invasion of Soul Society, Ichibē and the other members of the Royal Guard confront Yhwach and his elite Sternritter when the latter invade the Soul King Palace. When Ōetsu Nimaiya is incapacitated, Yhwach confronts Ichibē, who challenges him to fight and quickly overwhelms him in a display of his Shunpo and Kidō prowess, revealing his ability to manipulate names with his brush in the process. Ichibē uses the Shikai and Shinuchi of his Zanpakutō, Ichimonji, to change Yhwach's name to Black Ant, but is defeated when Yhwach uses The Almighty to counter his abilities. Soon afterward, when Ichigo Kurosaki and his friends arrive, Ichibē resurrects himself with Ichigo's help and informs them of the situation before asking Ichigo to stop Yhwach.
Main article: Ichibē Hyōsube
My Name Is Yhwach
"As I already told you, I can see everything. Before the power I hold, such notions as 'understanding' and 'countermeasures' become meaningless. All that I see with these eyes is powerless before me. Do you still think me a mere nameless being? My name is Yhwach. The man who will steal everything from you."
-
Yhwach
to
Ichibē Hyōsube
in
chapter 610
.
Which of these do you think is the scariest character?

 
Welcome to the Bleach Wiki! Before you begin editing here, please have a look at our policies, which can be better understood by reading this blog and the blogs that are linked within it. Also check out our Parent's Info Page.
Bleach Wiki has now started a new YouTube Channel. We update with regular Podcasts with Reviews and you can check it out here.
The

Arena

is back up and running with new match-ups! Cast your votes here!
Bleach Wiki now has a Tumblr account, which you can check out at this link.
Episode 366 was the last anime episode, but the manga is still ongoing and has entered its final story arc.
Create blog post
Latest Posts
Hey Guys

This here is a rushed post I'm about to fly to London!! Had a more relaxed start this week to see how it suits. This is Chapter 621!!





Don't forget our Twitter, our YouTube Channel and our NEW…



Read more >
See more >