Bleach: The DiamondDust Rebellion
Talk

13
1,875pages on
this wiki
Bleach: The Diamond Dust Rebellion
Execute Tōshirō Hitsugaya!
Kanji
もう一つの氷輪丸
Romaji
Gekijōban Burīchi Za Daiyamondo Dasuto Reberion
Theme Music
Hikari no Rock
Release Date
Theatrical - Japan
December 22, 2007
DVD - Japan
September 6, 2008
Theatrical - US
August 18, 2009
DVD - US
September 8, 2009

Bleach: The Diamond Dust Rebellion (劇場版BLEACH The DiamondDust Rebellion もう一つの氷輪丸, Gekijōban Burīchi Za Daiyamondo Dasuto Reberion Mō Hitotsu no Hyōrinmaru?, Full Japanese title "Bleach the Movie: The Diamond Dust Rebellion, Another Hyōrinmaru") is the second animated film adaptation of the anime and manga series Bleach. The film is directed by Noriyuki Abe and co-written by Michiko Yokote and Masahiro Ōkubo, and the theatrical release was on December 22, 2007. The theme music for the movie is "Rock of Light" (光のロック, Hikari no Rock) by Sambomaster.
The film's tagline is Execute Tōshirō Hitsugaya! (日番谷冬獅郎を処刑せよ。, Hitsugaya Tōshirō o shokeiseyo.?)
To promote the film, the opening and closing credits of the Bleach anime from episode 151-154 use footage from the film. In addition, Tite Kubo published a special manga chapter, focusing on Hitsugaya's past, to further promote the film.
The film was released on September 8 2009 in North America.
Plot summary
Attack on the Royal Procession
High above the living world, a large cloud quickly soars across the skies. Within it, the servants of the Royal Family partake in some form of escort duty with a large procession of carts and entertainers, surrounded by ceremonial guards as they slowly make their journey. Far below the ensemble of royalty, several unseated Shinigami watch over the proceedings, acting as security. Lieutenant Matsumoto appears behind them, asking for a report on the event's current situation.
Reporting all is well, one of them questions as to what the item they are protecting, the Ōin, actually is. She explains it is a treasure of the Royal Family, and that even she herself is unaware of its nature, as anybody outside of the Royal Family is forbidden from even looking at the treasured item. She affirms that no matter what it is, it is the duty of the Tenth Division to watch over the proceedings and guard the Ōin.
Returning to her captain, Tōshirō Hitsugaya, Matsumoto reports that no lookouts have detected any abnormalities. Commenting on how impressive the procession is up close, Hitsugaya cynically replies that fanfare will always follow authority around. Suddenly, they sense an approaching presence, just before it strikes one of the Royal Family's carts at high speed. Seeing it knocked over, both Shinigami quickly move to contain the threat.
Bursting into flames, two connected balls of electricity emerge from the wrecked cart. Spinning at high speed, they quickly dispose of the ceremonial guards nearby, before being confronted by Matsumoto and several unseated Shinigami. Lashing out with an electrified cord, the unseated members are quickly killed in an explosion, before the cord is sent flying towards Matsumoto, who quickly defends herself with her Zanpakutō, which becomes ensnared by the enemies weapon. The smoke clears, revealing a female blue-haired Arrancar, who sends an electric current down the cord in an attempt to kill Matsumoto. Before the charge can reach her, the lieutenant activates her Shikai, negating the electricity and giving her an opening to attack.
Back at the ensemble, a second elemental ball emerges from the wreckage, this one made of flames, which immediately begins incinerating the remaining travelers before Hitsugaya intervenes, quickly revealing the fireball to be another female Arrancar with red hair. Demanding to know who they are, he quickly freezes her blade, causing the young woman to immediately back off, laughing as she runs. Hitsugaya quickly gives chase, only to pause on top of the wrecked cart.
Hesitating upon sensing a large spiritual presence, an unseen attacker, taking advantage of this pause, impales the young captain with his Zanpakutō. Hitsugaya jumps back to get some distance between himself and this new attacker, who, emerging from the smoke, reveals himself to be a masked Shinigami. Shocked at the sudden appearance, Hitsugaya is attacked and can only defend himself, while below Matsumoto arrives on the scene, demanding to know where the Ōin is. On top of the wreckage, the masked man comments on how their fight brings back old memories, causing Hitsugaya to immediately try and remove the mask from his face.
Hitsugaya catches only the man's cloak, while he and the two Arrancar girls escape, leaving the captain conflicted. Calling out to him, Matsumoto can only watch as he makes the decision to pursue the unknown attacker. Before being able to chase him herself, the fire causes an explosion, and she can only try to control the aftermath of the chaotic event which just transpired. With the remaining ceremonial guards trying to contain the raging fire, an unseated Shinigami arrives to report that all of the known assailants have escaped, and they have sustained severe casualties due to the attack. Matsumoto is unable to respond, still shocked over the sudden disappearance of her captain.
Confinement of the Tenth Division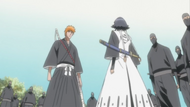 Later, Ichigo Kurosaki runs across the clouds, having taken notice of an unknown barrier which has been erected in the area. Cutting through it with his Zanpakutō, Ichigo arrives at the site of a massacre, with bodies strewn across the field and the wreckage of several carts. Ichigo is quickly surrounded by dozens of Onmitsukidō members, who quickly prove to be hostile. Only the intervention of their captain, Suì-Fēng saves Ichigo from an unnecessary conflict. Revealing herself to be the one who placed the barrier nearby, she, taking notice of the hole he had cut through it, demands to know why he is there. Without answering, Ichigo instead asks what happened, referring to the bloody corpses nearby. Considering her words, Suì-Fēng mentions that normally there would be no need to tell a Substitute Shinigami about the circumstances, but instead chooses to inform him of the situation anyway.
Outside of the barrier, Uryū Ishida is seen arriving on scene as well, noticing the light from Ichigo's intrusion on the distance. Back inside the barrier, Ichigo is left shocked by Suì-Fēng's explanation. Before he can ask any further questions, the captain repairs the barrier, ejecting Ichigo from the massacre scene. From behind, Uryū appears, commenting on how he was aware of the barrier since it was erected, and asks what Ichigo discovered. Before he can inform him, the latter is distracted by the sudden appearance of snow, which Uryū explains is a result of him hiding his Reiatsu. At that moment, a heavily injured Hitsugaya, emerging from the nearby trees, collapses before their feet.
Meanwhile, in Soul Society, the Gotei 13 captains (with Matsumoto observing) are seen discussing the situation at hand. Reporting that they could not find the Ōin, Suì-Fēng reveals Hitsugaya purposely erased his own Reiatsu from the area, implying treason. Unable to remain quiet, Matsumoto, interrupting the captain's report, defends her captain, despite the evidence proving otherwise. Intervening, Captain-Commander Yamamoto declares the entirety of the Tenth Division are hereby placed under house arrest, and depending on the outcome of the situation, the whole division may be abolished.
Not accepting this decision, Matsumoto attempts to take responsibility, as her men are innocent of any crime. Yamamoto reminds her of her position, and that it is futile to try and take the blame. Reaffirming their goals of reclaiming the Ōin and capturing the person most related to the incident, Tōshirō Hitsugaya, he declares it to be a special emergency order before dismissing the meeting. In the barracks of the Tenth Division, the lieutenant of the First Division, Chōjirō Sasakibe, relays Yamamoto's decision, and explains that until Hitsugaya is captured or the situation at hand is resolved, the men and women of the Tenth Division will be restricted to their barracks, and their Zanpakutō will be confiscated.
Arriving in time to witness Matsumoto relinquish her Zanpakutō despite protests from the division, Renji Abarai and Rukia Kuchiki attempt to comfort her, claiming Hitsugaya will return soon. Seemingly unconvinced, Matsumoto laments how often the people close to her leave without a word, thinking back to Ichimaru's sudden departure. With the confiscation of the Tenth Division's Zanpakutō, Renji and Rukia are forced to leave. Before that, Matsumoto requests they look into Hitsugaya's history for her, as she is convinced he and the masked man are connected somehow.
The Fugitive, Tōshirō Hitsugaya
While asleep, Hitsugaya recalls the days when he was still learning at the Shin'ō Academy. It is here he met another young student, who was determined to become strong and to risk his life in defense of Soul Society. It is through their time together that they develop into friendly rivals, with the unnamed student claiming he would not lose out to the genius, and asking if they'll always be friends. The memories are abruptly cut short by a violent scene of Hitsugaya's friend being killed, which wakes him from his sleep.
Finding himself in the Kurosaki Clinic, Ichigo, entering the room, explains how he had found him unconscious and brought the captain to his house. Trying to get some answers from Hitsugaya, Ichigo is only met with deflective answers, which annoys him. Stating he no longer cares, Hitsugaya bursts out, revealing his intent to get back the Ōin, and that it is something a Substitute Shinigami shouldn't be concerned with. Claiming to need some extra rest, Hitsugaya lies down again until Ichigo leaves the room, only then revealing his intent to leave.
Waiting until the following morning, Hitsugaya leaves Ichigo's home without his captain's haori, leaving it on Ichigo's desk. Trying to leave unnoticed, he quickly discovers Ichigo waiting for him on the street, claiming he didn't have to sneak out. Questioning Hitsugaya's motivation and actions, Ichigo reveals his knowledge of Kusaka, the man from Hitsugaya's memories. Trying to leave, the captain attacks Ichigo with his Zanpakutō when the latter tries to stop him. Not rising to the challenge, Ichigo declares that Hitsugaya has two choices: he can either contact the Onmitsukidō and surrender, or return to Ichigo's house and recover.
Before an answer can be given, the two are attacked by the same two Arrancar girls from before, a fireball launched between them from above. Demanding he hand over Hitsugaya, they threaten to take him by force. Below, Ichigo, realizing Hitsugaya is seriously considering going with them, calls him out on it. Attacking the Substitute Shinigami, he send them both skidding down the street. Pleading with Ichigo to let him go, Hitsugaya kicks the young man into a nearby yard, which gives the Arrancar girls an opening to attack, striking him with another fireball and electrical stream.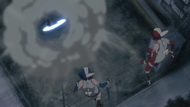 When Ichigo emerges from the attack with only a bloody head wound, the girls combine their attacks to form a more powerful blast. Ichigo fires a Getsuga Tenshō to counter it, and proceeds to fire a second one, which the Arrancar narrowly dodge. Unbelieving of Ichigo's strength, the two choose to retreat rather than continue fighting, with Hitsugaya attempting to follow. Despite his best attempts, Ichigo, finally succumbing to his head wound, blacks out after watching Hitsugaya leave.
Investigating the Situation
Later in the day, Ichigo is found unconscious by Renji and Rukia. Woken up through rather unorthodox methods, Ichigo quickly realizes Hitsugaya is long gone, and that it has been hours since he lost consciousness. Recounting what transpired back at the Kurosaki Clinic, Rukia asks Renji to return to Soul Society and inquire about the Kusaka that Hitsugaya had mentioned, and to return the captain's haori to Matsumoto. Stating it to be a dirty job, Renji is still forced to go, as Rukia wouldn't be allowed to contact Matsumoto.
Meanwhile, Hitsugaya, unable to catch up with the Arrancar girls, reminisces about the past again. He remembers when he stood before the Central 46, where it was decided only one may wield Hyōrinmaru. Claiming he will abandon the Zanpakutō if that is the case, he is instead forced to fight with Kusaka over the ownership of Hyōrinmaru. Waking from his daze, Hitsugaya is revealed to have been taking shelter in an abandoned, run-down building. Struggling, due to his injury, he limps away from the spot.
Back in Soul Society, Kusaka stands on top of a building, with the twin Arrancar girls, kneeling behind him, reporting Hitsugaya has not been in contact with the Gotei 13. Kusaka decides to leave him for now and watch the situation unfold further, stating that as long as they wield the same power, Hitsugaya won't have a place in Soul Society, and will be forced to obey him instead.
In the Human World, Ichigo, Rukia, Orihime, Uryū, Sado, Urahara, and Yoruichi are all present for Rukia's elaboration on Hitsugaya's background. Because his time in the Shin'ō Academy was well before Rukia was accepted into the Kuchiki Clan, she herself did not have interactions with the man. Even though they both came from Rukongai, they had been in separate districts, with Hitsugaya instead growing up with Hinamori. However, due to the latter still recuperating, and her having been told any important stories being unlikely, they are unable to pursue her as a lead. Orihime states Hitsugaya must be a strong person, only for Ichigo to quickly retort, asking how a strong person could make the people around him sad. Deciding they can't find out any more through discussion, Urahara asks for the others to search for Hitsugaya in the meantime, while he looks into the matter separately.
Having returned to Soul Society, Renji encounters trouble getting into Matsumoto's residence, as Marechiyo Ōmaeda (on the orders of his captain) is refusing him entry. Bickering for a short time, the arrival of Shunsui Kyōraku and his lieutenant quickly changes Ōmaeda's mind. Once inside, Renji is quick to ask about Kusaka, a name which Matsumoto cannot recall ever being mentioned before, becoming depressed about knowing so little about her captain. Nanao interjects, reminding them of what they do not know, such as what their relationship is, and what Kusaka has to do with the case. Kyōraku asks what will happen if he does, and Matsumoto can only reply with questions. Stating that all one has to do is inquire to find out about somebody else, Nanao is quickly roped into investigating Kusaka herself, but not before she forces her captain into helping too. Finding Nanao's frustration towards her captain amusing, everyone except Renji breaks into laughter.
Focused on the task at hand, Renji, bringing everyone back to earth, presents Matsumoto with the package he had brought with him. Looking inside, Matsumoto finds her captain's haori enclosed, and shocked at the large amount of blood on the inside. Renji states how Ichigo described the severity of the injury, making Matsumoto question why he left despite it. Unsure how to feel, Kyōraku, mentioning how everyone is worried about him, wonders what he is doing.
An Increasingly Complicated Incident
Once again remembering the past while unconscious, Hitsugaya relives the moment when Kusaka also acquired Hyōrinmaru as his Zanpakutō spirit. Overjoyed at the idea of having the same power as his friend, Kusaka runs towards Hitsugaya, before the latter awakens, ending the memory. Finding himself nearby a lake, Hitsugaya, begins to travel across the city, using his Zanpakutō as a walking stick, as his injury is now impeding his movement. Slowly but surely, he moves towards the outskirts of the city.
Back in Soul Society, Nanao and Kyōraku are hard at work investigating. Nanao comments on how she had gone through the registry, going back up to 50 years, and in that entire time, there had not been a single soldier named Kusaka. Kyōraku suggests he could have been registered in the Shin'ō Academy, to which Nanao replies that while his name doesn't appear, the year Hitsugaya graduated in is a name short, and the student missing is a resident of North Rukongai. It is here they find the record of a resident named Sōjirō Kusaka, with the only problem being this Kusaka is deceased. Mulling over the possibility he is simply missing from the registry, Kyōraku finds it hard to believe the two could possibly be connected if this Kusaka is listed as deceased. Opting to go for a walk and think things over, Kyōraku leaves Nanao alone to look into how Sōjirō Kusaka met his end.
While out walking, Kyōraku realizes he is being followed by an unknown individual, who is making no attempt to hide their presence. Running into a side ally to lure the stalker in, he is left surprised when the person from behind suddenly vanishes, and a new individual appears ahead. Identifying his target as Shunsui Kyōraku, the unknown man notes that Kyōraku's appearance is misleading of his true capabilities. Wanting to know who it is who knows so much about him, Kyōraku is given no time to think as the man, stating he is about to be cut down by Tōshirō Hitsugaya, launches a wave of ice towards the captain. Recognizing the Zanpakutō, he is shocked and determined to find out the man's true identity. Knocking off the assailant's mask with his next blow, Kyōraku is stunned by what he discovers underneath.
Back in the living world, Hitsugaya has taken up shelter in an isolated shrine, far away from the city. However, he, realizing the Gotei 13 has discovered him, is surrounded by a team led by Lieutenants Hisagi Shūhei and Izuru Kira. who demand the captain gives himself up peacefully, Hitsugaya, emerging from the shrine, refuses to follow the emergency orders given, attacking the two. Kira calmly asks him to stand down, or his his actions will be viewed as rebellion, and Hitsugaya retorts that they are the ones who should stand down. As Hisagi prepares to arrest him, Hitsugaya, declaring him a dead man, overpowers the two, sending Hisagi flying across the court. Recovering from the blow, he activates Bakudō #62. Hyapporankan, launching a hail of large rods towards Hitsugaya. Despite trying to avoid the spell using Shunpo, one of the rods makes contact, going through Hitsugaya's left shoulder. Picking himself up and removing the rod, Hitsugaya, still refusing to back down, resorts to using his Bankai, an action which Ichigo senses from afar.
Back in Soul Society, Kyōraku, revealed to have been defeated by his attacker, is in a critical state. As Retsu Unohana prepares to begin surgery, Nanao is outside the medical room weeping, blaming herself for what befell Kyōraku. Jūshirō Ukitake, arriving in time to comfort her, reminds her that the only way he could have been defeated is if his opponent caught him off guard or was genuinely more powerful, neither being a situation she could hold herself responsible for. He tells her that the Sixth Division is currently investigating, and the attacker will be found and caught. At the scene of the attack, the Sixth Division Captain Byakuya Kuchiki and Renji quickly deduce that the Zanpakutō used is in fact Hyōrinmaru, with all evidence pointing towards Hitsugaya as the assailant. A messenger arrives, informing Ukitake that the men sent to apprehend Hitsugaya in the living world were defeated and left severely injured.
In the living world, Ichigo and his friends lament over the situation, which is quickly spiraling out of control. Desperate, Ichigo asks Uryū to track down Hitsugaya's Reiatsu, only to be told he can't do that in the current situation. Having searched for him all night, Orihime falls to her knees from fatigue, causing Ichigo to decide they should head home and rest, resuming their search in the afternoon. As she reassures him she is fine, Rukia interjects, reminding her they won't find him any quicker by being in a hurry.
Encounter with the Substitute Shinigami
Calling another meeting of the Gotei 13 captains, Yamamoto relays Hitsugaya's recent actions. Suspecting him of defection, a new order is given out: his capture is the top priority, and if he offers resistance, they are to execute him. In the living world, as Ichigo is woken by his alarm clock, Rukia bursts from his cupboard, on the phone with Renji, and relays to him the latest orders. Objecting to the severity of them, Rukia suspects there was no deliberation, and there is no longer a chance for a pardon. Calling out from the phone's speakers, Renji claims they now know who Kusaka is. Repeating Kusaka's full name, he explains that he was a classmate of Hitsugaya who died right before graduating from the Shin'ō Academy. Before being able to continue, the two are attacked as the wall behind them explodes inward, damaging the Kurosaki Clinic. Ichigo jumps out of the wreckage in his Shinigami form, with Rukia following behind, and they quickly find themselves confronted once again by the two Arrancar girls who had attacked earlier, now with their leader present. Noting his abnormal power, both Ichigo and Rukia are shocked when the man reveals his possession of Hyōrinmaru.
Meanwhile in Soul Society, Ukitake watches over his fallen friend, as Kyōraku lies unconscious before him. Commenting on the reverse situation, and how he is meant to be the one sick in bed, Byakuya interrupts by mentioning there is something bothering him; how the attack on Kyōraku, and the squad sent to the living world confronting Hitsugaya himself occurred within too short a span of time for an individual to move between worlds.
Back in the living world, the masked Shinigami reveals his mastery over Hyōrinmaru's Shikai state, launching an ice dragon towards Ichigo while ensnaring his arm with its chain. With the red-haired Arrancar girl keeping Rukia occupied, Ichigo is forced to confront the masked man himself. When asked how he possesses that Zanpakutō, the man states it is because he is Hyōrinmaru's master. Upon crossing blades, Ichigo briefly glimpses into the man's memories, furthering his confusion.
In Soul Society, Ukitake and Byakuya approach Mayuri Kurotsuchi, captain of the Twelfth Division, in his main headquarters in the Shinigami Research Institute. When asked if it is possible for two identical Zanpakutō to exist, he replies by stating a Zanpakutō is born from the soul of a Shinigami, and that it is impossible for a single Zanpakutō spirit to have multiple Shinigami contracts. Ukitake asks if it is possible for Mayuri to prove that it isn't possible, mentioning Hyōrinmaru as the Zanpakutō in question. Elated at the challenge, Mayuri immediately sets his sights on the archives, where he would most likely find the records of the two.
Continuing the fight in the living world, Ichigo defends himself from the blue-haired Arrancar, sending her towards Rukia to deal with. Turning around, he, seeing the masked Shinigami approaching from below, uses Shunpo to narrowly dodge an attack from both him and the red-haired Arrancar from above. Appearing on top of the power lines, Ichigo demands the masked man identify himself. Naming himself as Sōjirō Kusaka, he recounts his murder at the hands of Tōshirō Hitsugaya in the chambers of the Central 46, shocking Ichigo. He explains that since Hitsugaya is now a fugitive in the eyes of Soul Society and has no home to return to, Ichigo remains the only definitive element which could ruin his plan.
Resuming his attack on Ichigo, the two clash swords a second time. This time, the memory Ichigo is exposed to goes on for an extended period of time. Both Hitsugaya and Kusaka are standing in a misty clearing out in the mountains, and both are clearly surprised to see each other. However, the scenery quickly changes to that of the Central 46 chambers, the members reiterating that it is not allowed for two Shinigami to share the same Zanpakutō. In order to decide which of them can retain Hyōrinmaru as their own, they are forced into a fight, where only the winner may leave. Objecting to the idea, Hitsugaya's protests are quickly silenced by the presiding members. Flashing ahead in time, the fight has clearly taken place, as Kusaka is seen covered in ice. Breaking it apart, they are about to resume before a large number of Onmitsukidō members appear. Informing the two that Hitsugaya is the decided owner, they quickly subdue and impale Kusaka from all sides before he can react. Not dying, he continues to fight back, questioning the need for him to die. When one of the Onmitsukidō critically injures Kusaka, his last words plead that he had only fought for the Soul Society before, his Zanpakutō disintegrating in his hands, he falls to the ground dead.
Breaking out of the memory, Ichigo is left dazed as his opponent removes his mask, confirming himself to be the real Sōjirō Kusaka, before launching an immense amount of ice at Ichigo, who jumps back to avoid the onslaught. Stating Hitsugaya will be forced to walk the same path as himself, Kusaka launches another ice dragon, which directly hits Ichigo, who crashes to the ground, and creates an enormous prison of ice. Leaving his Arrancar subordinates to finish off Rukia, Kusaka, putting his mask back on, leaves. Not giving up, Rukia, continuing the fight, launches Hadō #33.Sōkatsui.
Meanwhile, trapped within the ice, Ichigo awakens within his inner world, Zangetsu standing over him. When he asks what it is he saw whenever he crossed swords with Kusaka, Zangetsu refers to it as the resonance of a Zanpakutō revealing its past. Stating it's Soul Society's ultimate law to maintain peace, Ichigo questions whether they take people's feelings into consideration. Finding the idea amusing, Zangetsu states the feelings of an individual are minuscule when compared to the needs of the world; no matter how strong one's opinions are, they are still beyond comparison. When he comments on the unstable nature of humanity, and how it is inevitable that one would become corrupted, Ichigo retorts, stating Hitsugaya would never become like that. Asking how he would know, Ichigo reflects on his feelings when his mother was killed, and how he had affected the people around him. Realizing Hitsugaya is going through the same thing as him, Ichigo understands what the former is trying to do.
Outside of his inner world, Ichigo, awakening, activates his Bankai. Rukia and the Arrancar girls who had been fighting this entire time are surprised by his sudden revival. When asked where Kusaka went, Rukia apologizes about his escape. Stating they need only know defeat the twins, Ichigo tells Rukia he now knows what Hitsugaya is trying to do, and that he needs to tell him something, no matter what happens.
The Assault on Soul Society
In an industrial building far away, Hitsugaya makes his way to the lowest level, where he encounters Kusaka, the latter finally unmasking himself before Hitsugaya. As Kusaka reminisces on the nature of the Gotei 13, and Hitsugaya's reasons for staying, Hitsugaya tells him to leave the others out of it, and to tell him where the Ōin is hidden. Revealing to have had it the entire time, Kusaka, activating the treasure, explains it is the key to realizing his dream. As Hitsugaya questions how Kusaka knows about the Ōin's power and how to use it, both are transported to another location. Sensing the disturbance, Rukia suspects it's the power of the Ōin, which the Arrancar girls confirm. Declaring Ichigo to be a risk, they summon a multitude of Hollows to deal with the Substitute Shinigami.
Back in Soul Society, the sky above the Sōkyoku Hill begins to crackle with golden lightning, drawing the attention of the Gotei 13. A message is sent out to everybody by Hell Butterfly, informing them that the Reiatsu of both Tōshirō Hitsugaya and the likely thief of the Ōin has appeared on top of the Sōkyoku Hill. Calling back all of the search parties in the living world, the forces in Soul Society mobilize to confront this turn of events. Surprised to find himself and Kusaka on top of the hill, the latter explains that the Ōin holds the power to move time, space, and matter, depending on the will of its user. As Hitsugaya begins to understand what this means, Kusaka explains that after his death, he was transported to Hueco Mundo and reincarnated there, which led to his determination in finding the Ōin and using its power to have his revenge upon Soul Society.
Asking Hitsugaya to cut the Ōin with his Bankai, Kusaka laughs maniacally as his plan begins to come together. At this moment, Renji, Ikkaku Madarame, and Yumichika Ayasegawa arrive on the scene, with Ikkaku informing the fugitives of their orders to arrest both Hitsugaya and Kusaka. Complimenting Ikkaku's abilities, Kusaka states that the 3rd Seat is no match for him. Feeling goaded, Ikkaku jumps forward to attack before being stopped by Hitsugaya, who defends Kusaka. Seeing his wound, Ikkaku comments that he must be serious if he's still willing to fight.
In the living world, Ichigo and Rukia are struggling against the sheer number of Hollows. Just as he is about to be surrounded, Ichigo is saved by the timely arrival of Uryū, who subdues the Hollows from a distance. As Uryū states he can fire his arrows quicker than they can summon Hollows, Ichigo is left aggravated due to almost being hit. With the red-haired Arrancar creating an enormous ball of fire, both Ichigo and Uryū prepare to deal with it, only for Sado to step in and meet the attack head on with his El Directo, the impact of both blasts creating a sizable explosion. As Uryū and Sado state Urahara has prepared the gateway to Soul Society and they will deal with the twins, Ichigo and Rukia quickly leave to save Hitsugaya.
On the Sōkyoku Hill, the remaining Gotei 13 forces finally converge, surrounding the two fugitives, who are still combating Renji and the others. With the captains stepping forward, they are warned by Suì-Fēng to stand down and surrender. Calling them pathetic, Kusaka, activating the Ōin in preparation, calls on Hitsugaya to cut it with his Bankai, claiming to bring an end to their hate and suffering. Realizing things are escalating, Suì-Fēng orders the majority of their forces to attack, who charge forward. Before reaching the two fugitives, they are cut off by a Getsuga Tenshō fired from above, leaving the Shinigami in a daze, as Ichigo and Rukia land from above.
Asking if killing and fighting are the only things Shinigami can do, Ichigo is cut off by Suì-Fēng, who states the Gotei 13 have a duty, and that if Ichigo continues to interfere, she will have him killed too. Before the fighting can resume, Yamamoto appears from behind, telling all of them to halt. The majority of the Shinigami present kneel as the old man walks by, Matsumoto, Kyōraku, and Nanao following behind. Glad to see his friend up again, Ukitake expresses his relief, only for Kyōraku to reply he would have nightmares if an innocent man is condemned. Confronting Kusaka, Yamamoto comments on the arrogance of his plan to use the Ōin's power to become the King of Soul Society. Retorting that it is they who are arrogant, Kusaka begins to activate the Ōin once more, only for Hitsugaya to attack him before being pushed back, refusing Matsumoto's attempts to help. Kusaka is left confused as to why Hitsugaya is attacking him. Stating he is only trying to atone for his crimes, Hitsugaya resumes his attack on Kusaka, while Rukia explains the criminal's past.
Ichigo explains that Hitsugaya wants to stop Kusaka on his own, rather than as a captain of the Gotei 13, because he blames himself for what happened to his friend. Realizing Hitsugaya never intended to join him, Kusaka decides to cut the seal with his own power, rather than rely on his friend's Bankai. Cutting the Ōin in half, Kusaka is engulfed in a pillar of energy, calling out to his friend. Ichigo steps in before Hitsugaya, reminding him he doesn't have to do it alone. When Hitsugaya still believes he should be the one to do it, Ichigo resorts to punching him away, asking him if he even considered how the people around him felt seeing his suffering. Using his own experiences as an example, Ichigo manages to convince Hitsugaya to let his friends help him.
As they prepare to fight, the pillar of energy surrounding Kusaka disperses, revealing the transformation which had been taking place inside. Having transformed into a large, bipedal ice dragon, Kusaka declares this to be the power of the Ōin, with Ichigo and Hitsugaya left shocked by his grotesque form. Unable to hold back his own excitement, Kenpachi Zaraki rushes forward and shatters Kusaka's midsection with his initial attack. When asked if he is done already, Kusaka responds by grabbing Kenpachi's Zanpakutō and creating a mass of spiked ice around the two, which breaks apart almost immediately after. Both Kusaka and Kenpachi are launched off of the cliff, with the former mocking the latter's attempts to harm him. Kenpachi shocks Kusaka by becoming elated he hasn't died already, and assaults the transformed Shinigami as they both hurtle towards the ground.
Landing a blow on the 11th Captain, Kusaka sends him down towards the earth with a hail of ice. Thinking his opponent dead, Kusaka flies to a nearby tower which, upon landing, freezes over, and creates a pillar of ice. As he marvels at how spectacular the Ōin's power is, the Arrancar twins return to him, severely injured, apologizing for their defeat. Freezing them with his power, Kusaka glows as his energy starts to rise again, causing the tower of ice to immediately branch out and grow, its arms quickly reaching the Sōkyoku Hill and spreading all over Seireitei.
Final Clash with a God
Visibly shaken by Kusaka's display of power, Yamamoto rallies the Shinigami, telling them to not be afraid. Reminded of their duty, the Gotei 13 quickly jump into action, with the majority of the captains and lieutenants leading the charge. Attacking first, Byakuya and Renji's attacks are easily deflected, with the latter being thrown to the ground far below. Several others, including Suì-Fēng and Sajin Komamura, attempt to surround Kusaka, only to be blown away by a powerful shock wave, which destroys the ice branches leading to him, causing the remaining attackers (Ichigo, Rukia, Hitsugaya and Matsumoto) to fall to the ground as well.
A large black sphere of energy forms around Kusaka, expanding to cover a large area of the Seireitei. Shocked by this, Nemu asks Mayuri if it is the result of Kusaka unleashing all of the Ōin's power. He explains that rather than it being the Ōin's full power, the sphere is instead a result of the treasure going berserk, due to Kusaka breaking the seal without a Bankai. Reminding them of the Ōin's nature, he warns the other captains that unless the growing sphere of Reiatsu is contained, it will expand to cover all of Seireitei, obliterating everything within its confines. Realizing what this means for them, Yamamoto steps forward to take action.
Inside the sphere of energy, the Shinigami who were knocked to the ground recover and regroup. Regaining consciousness, Hitsugaya sees Matsumoto standing over him while holding up a large rock, stopping it from crushing the small captain. Reminding her captain that it's the lieutenant's job to watch his back, they realize Ichigo and Rukia have landed nearby. Seeing they are all unharmed, Renji, appearing, points out the situation to them, showing Kusaka's ice tower has transformed into a colossal stone fortress. Unsure of what to do next, Yoruichi and Suì-Fēng appear nearby and update the others on the situation, explaining that outside the barrier, the remaining captains are holding the sphere back with the full power of their own Bankai. They, inside of the barrier, are to climb the tower and kill Kusaka before the Ōin's power can expand any further. Calling from a distance, Ikkaku and Yumichika, claiming to not want to miss out on the fun, join them.
From the fortress's base, a multitude of Hollows are summoned in order to defend Kusaka while he is unable to move. Not wasting any time, Yoruichi and Suì-Fēng, running ahead, fend off the Hollows using Shunkō, allowing the others to move ahead unhindered. Before leaving, Matsumoto returns Hitsugaya's haori to him, who accepts it, now that he is fighting alongside his comrades. Splitting into two groups, Ichigo takes one path with Renji and Rukia, while Hitsugaya heads the other way with Matsumoto, Ikkaku, and Yumichika as backup.
Following a pathway which leads up along the castle walls, Ichigo's group quickly encounters a large, armored Hollow with an open stomach, which holds a ball of fire. Realizing the Hollow is the red-haired Arrancar from before, Renji jumps forth to defend them from a fireball the Hollow launches at them, Cutting the flames in two. Rather than explode harmlessly, the two halves turn around and attack Renji from behind, hitting him directly and creating a large explosion. Renji activates his Bankai in time and, emerging unscathed, quickly sends the length of Zabimaru up the tower, giving Ichigo and Rukia a chance to quickly ascend.
On the other side of the fortress, Hitsugaya's group is seen climbing the fortress by jumping up the platforms that jut out from the wall. Coming under attack from the blue-haired Arrancar (who has undergone a similar transformation), they find her lightning bolts difficult to counter. Meanwhile, Yoruichi and Suì-Fēng encounter the transformed red-haired Arrancar. Acting as a decoy, Yoruichi distracts it long enough for Suì-Fēng to use Suzumebachi's special ability, Nigeki Kessatsu. Suì-Fēng turns her back and begins to leave, not realizing the Hollow has begun to regenerate. Charging up a Cero, the flame Hollow fires the powerful beam at the Second Division's captain, who is only saved by Yoruichi using her Shunkō to counter the blast.
Still struggling with the lightning-powered Hollow, Hitsugaya's group finds itself pressed against a wall. Preparing themselves for another barrage, the group is thrown off-balance when an enormous amount of Reiatsu surges from underneath the fortress's leg. Matsumoto asks if the fortress is moving, only for Ikkaku to correct her, recognizing the Reiatsu's signature. Far below, the leg of the fortress is being pushed up by the unrestrained force of Kenpachi's Reiatsu, who has regained consciousness without his eye-patch attached. Laughing maniacally, commenting on how awesome the situation is from his perspective, he slashes vertically alongside the castle, severing one of the legs and distracting the flame-powered Hollow long enough for Yoruichi and Suì-Fēng to begin their counter-attack.
Without anything to stop them now, both Hitsugaya and Ichigo's groups meet up at the pinnacle of the fortress, only to be met by a large force of Menos Grande of both Gillian and Adjuchas levels. Activating their respective Shikai and Bankai, both groups begin to defend themselves from the Hollow while slowly making their way forward. Their progress is almost completely halted when the Hollow quickly reveal themselves to be near immortal, due to the Ōin's influence, regenerating from almost nothing, despite the power of the groups' attacks. Realizing the only way to get through is to blast a hole in the Hollow's defenses that will last long enough for Ichigo to make it through with his Bankai's speed, Rukia shares her plan with the others.
Understanding her intent, Matsumoto begins to explain that if she, Ikkaku, and Yumichika combine their attacks, they should be able to do it, only to be cut off by Ikkaku, who claims to be able to do it himself. Realizing the severity of the situation, he asks them to keep what he is about to do a secret, before shocking them with the reveal of his own Bankai. Before they are given a chance to attack, they realize all of the Menos present have begun charging a barrage of Cero. Unprepared for the barrage, they are surprised when an immense wall of blades appears, protecting them from the attack. Finding themselves within Senbonzakura Kageyoshi, Senkei, Byakuya reminds them of their purpose, and that the captains restraining the Ōin's power cannot hold out forever.
Refocused, the group prepares to attack as Byakuya disengages his Senkei technique, transforming the protective wall of blades into a whirlwind, which consumes the nearby Menos. Having powered up his own Bankai, Ikkaku attacks alongside Renji, creating a powerful blast which blows aside the remaining Hollow, allowing Hitsugaya and Ichigo (now with his Hollow mask) to speed towards the ice tower which holds up Kusaka. The latter sends out several ice dragons to defend himself, which Ichigo easily dodges with his enhanced speed, leaving Hitsugaya to counter them with his own attack. Reaching Kusaka first, Ichigo is forced to counter a powerful blast from him, which gives Hitsugaya enough time to attack from below with Daiguren Hyōrinmaru, creating another ice dragon, which constricts Kusaka's body and bites into his neck.
A circle of runes materializes above the two ice dragons just as Ichigo appears above them, stabbing his Zanpakutō into Kusaka's forehead and firing a point-blank Getsuga Tenshō, which destroys the ice dragon's head and wings. Time seems to freeze for the Hollows down below, while the Shinigami look at where the battle has just concluded. Removing his Hollow mask, Ichigo lowers himself to the ground, just as the rest of the ice dragon's body shatters and a beam of light shoots into the sky, erasing the sphere of Reiatsu which had been growing. The Hollows begin to die and disintegrate as the Ōin's power disappears.
Resolved Bonds
Landing next to Ichigo, Hitsugaya, deactivating his own Bankai, watches as the beam of energy dissipates, revealing Kusaka, who is still alive, though barely. Encouraging Hitsugaya to go to him, Ichigo watches as the two resolve to finish the fight themselves. Baring their identical Zanpakutō, the two clash, as Kusaka remembers the original fight, where Hitsugaya had defended him, only for Kusaka to attack him out of desperation and selfishness. Returning to the present, Kusaka's Zanpakutō falls to the ground broken, and Hitsugaya is the victor. Fading away, Kusaka remains adamant about his death, claiming his existence will continue on. Comforting him, Hitsugaya reminds him they will always be friends, before Kusaka fades away for good.
Realizing it is finally over, the Shinigami below begin to relax and celebrate, with Yumichika asking Ikkaku who he thought won. Berating them for even asking, Matsumoto claims the answer is obvious. As she looks towards the ice tower, a stream of blue light soars into the sky, followed by several golden tendrils of energy. The Ōin, beginning to reconstruct itself, falls from the sky, landing before Ichigo, who picks it up, asking how something so small could cause so much trouble. Approaching Hitsugaya, Ichigo is surprised when the former thanks him. Assuring Hitsugaya Kusaka most likely regretted his actions, Ichigo throws him the Ōin, commenting that Kusaka was probably happy to have been able to finish their fight.
Later, Hitsugaya is seen visiting a grave, placing Kusaka's bloodied cloak and broken Zanpakutō before it. Saying goodbye, he turns away and leaves with Matsumoto, apologizing for putting her through so much for his own selfish pursuits, and thanking her for standing by him in the end. Surprised, Matsumoto asks if he said anything, which he immediately denies, causing the former to complain about going back to work. As she urges him to leave early, suggesting a nearby hot spring, Hitsugaya merely responds by telling her to go by herself, causing her to further nag him about going.