Asuka Katakura (片倉 飛鳥, Katakura Asuka) was the 6th Seat of the 3rd Division of the Gotei 13.[1] His captain is Rōjūrō Ōtoribashi.
Appearance
Asuka has shoulder length, black hair, formed into a bang on the right side of his face. Under his Shinigami robes, Asuka sports a white shirt and a collar.
Plot
The Thousand-Year Blood War arc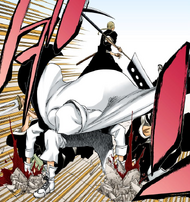 Along with Lieutenant Izuru Kira and his fellow Third Division officers, he is present near the base of one of the pillars of blue flame created by the Wandenreich. When Taketsuna Gori complains that he is tired of waiting and hopes that the enemy emerges soon, Asuka criticizes him. After a member of the Reishi Investigation Team tells them there is a Quincy inside the flame, Izuru orders them to attack. However, Izuru is heavily wounded before he can do anything. Third Seat Rikū Togakushi orders the remaining Shinigami to use their Shikai to attack. Asuka quickly releases his Shikai, but is immediately overpowered and was slammed head first into the ground by the Wandenreich member.[2]
Powers & Abilities
Zanpakutō
Katakage (片陰, One-Sided Shadow; Viz "Summer Shade"): Although largely unseen, in its sealed form, it appears to resemble a normal katana with a rectangular tsuba.[3]
Trivia
Like his fellow Third Division seated officers — Rikū Togakushi and Taketsuna Gori — the name of Asuka's Zanpakutō is a poetic, seasonal word. "Katakage" (片陰, One-Sided Shadow) is a term used to describe to "(place in the) shade" from the sun, especially on summer evenings.
References
↑ Bleach manga; Chapter 494, pages 8-15
Titles
Preceded by
Unknown
6th Seat of the 3rd Division
? - 2003
Succeeded by
Unknown
Gotei 13

1st Division
Captain-Commander Shunsui Kyōraku • Lieutenant Nanao Ise • Lieutenant Genshirō Okikiba
2nd Division
Captain Suì-Fēng • Lieutenant Marechiyo Ōmaeda
3rd Division
Captain Rōjūrō "Rose" Ōtoribashi • Lieutenant Izuru Kira • 3rd Seat Rikū Togakushi • 5th Seat Taketsuna Gori • 6th Seat Asuka Katakura
4th Division
Captain Isane Kotetsu • Lieutenant Kiyone Kotetsu • 3rd Seats Yasochika Iemura & Hanatarō Yamada • 8th Seat Harunobu Ogidō
5th Division
Captain Shinji Hirako • Lieutenant Momo Hinamori
6th Division
Captain Byakuya Kuchiki • Lieutenant Renji Abarai • 9th Seat Mihane Shirogane
7th Division
Captain Tetsuzaemon Iba
8th Division
Captain Lisa Yadōmaru • 3rd Seat Tatsufusa Enjōji
9th Division
Captain Kensei Muguruma • Lieutenant Shūhei Hisagi • Lieutenant Mashiro Kuna • 20th Seat Toshimori Umesada
10th Division
Captain Tōshirō Hitsugaya • Lieutenant Rangiku Matsumoto • 7th Seat Kōkichirō Takezoe
11th Division
Captain Kenpachi Zaraki • Lieutenant Ikkaku Madarame • 3rd Seat Yumichika Ayasegawa • 10th Seat Makizō Aramaki
12th Division
Captain Mayuri Kurotsuchi • Lieutenant Akon
13th Division
Captain Rukia Kuchiki • 3rd Seat Sentarō Kotsubaki • 6th Seat Hidetomo Kajōmaru
Former Members
Left Service
Captain Yoruichi Shihōin • Gin Ichimaru • Shūsuke Amagai • Sōsuke Aizen • Sajin Komamura • Ginrei Kuchiki • Love Aikawa • Kaname Tōsen • Isshin Shiba • Kirio Hikifune • Tenjirō Kirinji • Ōetsu Nimaiya • Senjumaru Shutara • Ichibē Hyōsube

Lieutenant Marenoshin Ōmaeda • Chikane Iba • Seinosuke Yamada • Ginjirō Shirogane • Jin'emon Kotsubaki • Yachiru Kusajishi • Hiyori Sarugaki

4th Seat Jirōbō Ikkanzaka

Dishonorably Discharged
Captain Kisuke Urahara • 3rd Seat Kōga Kuchiki • 4th Seat Kagerōza Inaba
Killed In Action
Captain-Commander Genryūsai Shigekuni Yamamoto

Captain Retsu Unohana • Kenpachi Kiganjō • Jūshirō Ukitake

Lieutenant Chōjirō Sasakibe • Sōjun Kuchiki • Nemu Kurotsuchi • Kaien Shiba

3rd Seats Heizō Kasaki & Miyako Shiba • 4th Seat Shinobu Eishima • 6th Seat Izaemon Tōdō
Ad blocker interference detected!
Wikia is a free-to-use site that makes money from advertising. We have a modified experience for viewers using ad blockers

Wikia is not accessible if you've made further modifications. Remove the custom ad blocker rule(s) and the page will load as expected.