Hello and welcome to the Bleach Wiki, a wiki dedicated to the Bleach series by Tite Kubo! We hope you enjoy our stay and help us by making new pages or contributing to the existing 2,145 pages we have here on the wiki!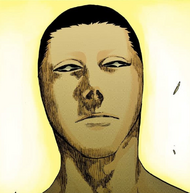 The Soul King is the lynchpin of existence who regulates the flow of souls and keeps it from destabilizing the realms, as well as the father of Yhwach.
During the Wandenreich's second invasion of Soul Society, Yhwach ascends to the palace and, after he and his Schutzstaffel defeat the Royal Guard, stabs the Soul King in the chest. Soon, Ichigo Kurosaki and his friends confront Yhwach, but he merely tricks Ichigo into cutting the Soul King in half, which begins destabilizing the worlds. However, Jūshirō Ukitake, through the process of Kamikake, manages to stabilize the Soul King with Mimihagi, his right hand, buying Ichigo and the others some time to fight Yhwach. Unfortunately, Uryū Ishida gives Yhwach the opportunity to absorb Mimihagi and its powers for himself, which causes the destruction of the realms to begin anew, and Yhwach soon dissolves into a mass of black creatures that Jugram Haschwalth notes are the manifestation of the Soul King's unrestricted power, which had been sealed by the Shinigami.
Main article: Soul King
Sacrifice
"From the day I learned of the reason I had survived, I was always thinking of this day which would surely come. My life was saved from certain death. If I can offer it for the sake of the Gotei 13, I have no regrets."
-
Jūshirō Ukitake
to
Kisuke Urahara
in
chapter 616
.
Which of these do you think is the scariest character?

 
Welcome to the Bleach Wiki! Before you begin editing here, please have a look at our policies, which can be better understood by reading this blog and the blogs that are linked within it. Also check out our Parent's Info Page.
Bleach Wiki has now started a new YouTube Channel. We update with regular Podcasts with Reviews and you can check it out here.
The

Arena

is back up and running with new match-ups! Cast your votes here!
Bleach Wiki now has a Tumblr account, which you can check out at this link.
Episode 366 was the last anime episode, but the manga is still ongoing and has entered its final story arc.
Create blog post
Latest Posts
Hey guys!!

this one is extra long so i won't bore with more discussion so you can check it out here and don't forget to subscribe and such!!

-Sun

Read more >
See more >